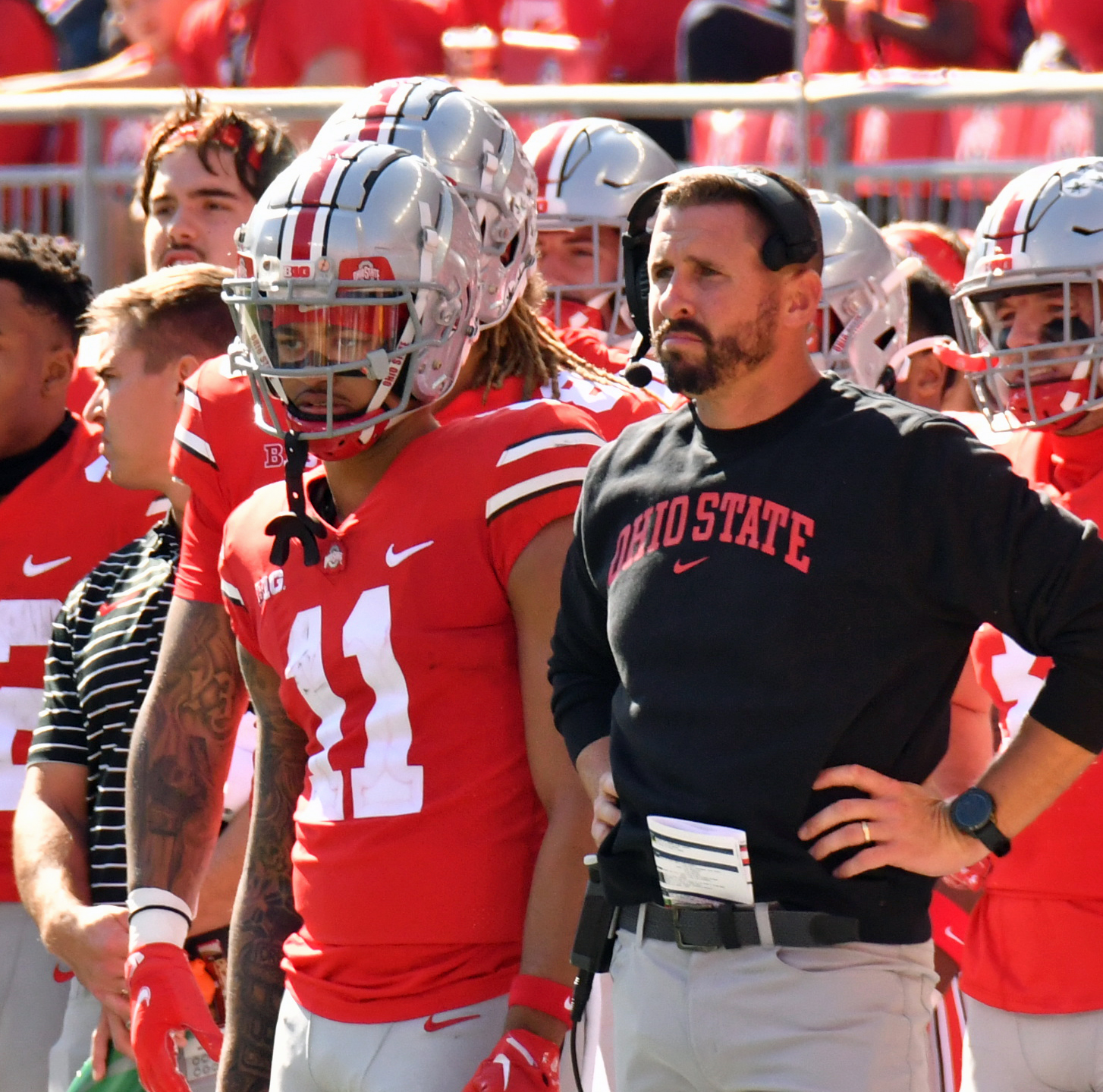 Wide receivers coach and passing game coordinator Brian Hartline will be taking over as offensive coordinator for Ohio State football, the team announced Friday.
Hartline takes over for former offensive coordinator Kevin Wilson, who left the program following its loss to Georgia in the College Football Playoff to become the head coach at Tulsa.
"Brian has been successful in every football capacity for which he has been engaged," Day said. "He has progressed incredibly well from college to NFL receiver, and then from quality control coach to wide receivers coach to passing game coordinator. He figures things out quickly and he is more than ready to now transition to offensive coordinator."
Few position coaches in college football have enjoyed as much success as Hartline has in his receivers room. After never having done so before in school history, OSU had multiple 1,000-yard receivers on its team in back-to-back years in 2021 and 2022. Chris Olave and Garrett Wilson, who set that mark in 2021, were each taken with first-round picks in the 2022 NFL Draft. Third-year wideout Jaxon Smith-Njigba is projected as a first-rounder in 2023.
"Brian has also developed his receivers at an unprecedented level and he has recruited as well or better than anyone in the country. Now he'll be recruiting for our entire offense and I think that is something that will be really positive for our program."
He's consistently pulled in top-flight recruits as well, with Smith-Njigba and Wilson joining third-year Julian Fleming, second-year Emeka Egbuka and incoming freshman Brandon Inniss as consensus five-star prospects Hartline has signed.
ESPN's Kirk Herbstreit reported that Ohio State head coach Ryan Day told him in a pre-production meeting for the Playoffs that he would be taking a step back from play calling duties in 2023. If that proves to be the case, Hartline would take up the mantle as the team's play caller.
Hartline played wide receiver for the Buckeyes from 2006 through 2009 before enjoying a seven-year NFL career, six seasons with the Miami Dolphins and one with the Cleveland Browns. He joined OSU's staff as a quality control coach in 2017 before being promoted to full-time wide receivers coach in 2018 following the firing of Zach Smith. He was promoted again to passing game coordinator in 2022 and now reaches full offensive coordinator status.
With Hartline filling in for Wilson as offensive coordinator, Ohio State's offensive staff is now set for the 2023 season. Joining Hartline is newly-promoted tight ends coach Keenan Bailey, running backs coach Tony Alford — who was promoted to also be assistant head coach for the offense — quarterbacks coach Corey Dennis and offensive line coach Justin Frye, who was promoted to running game coordinator.