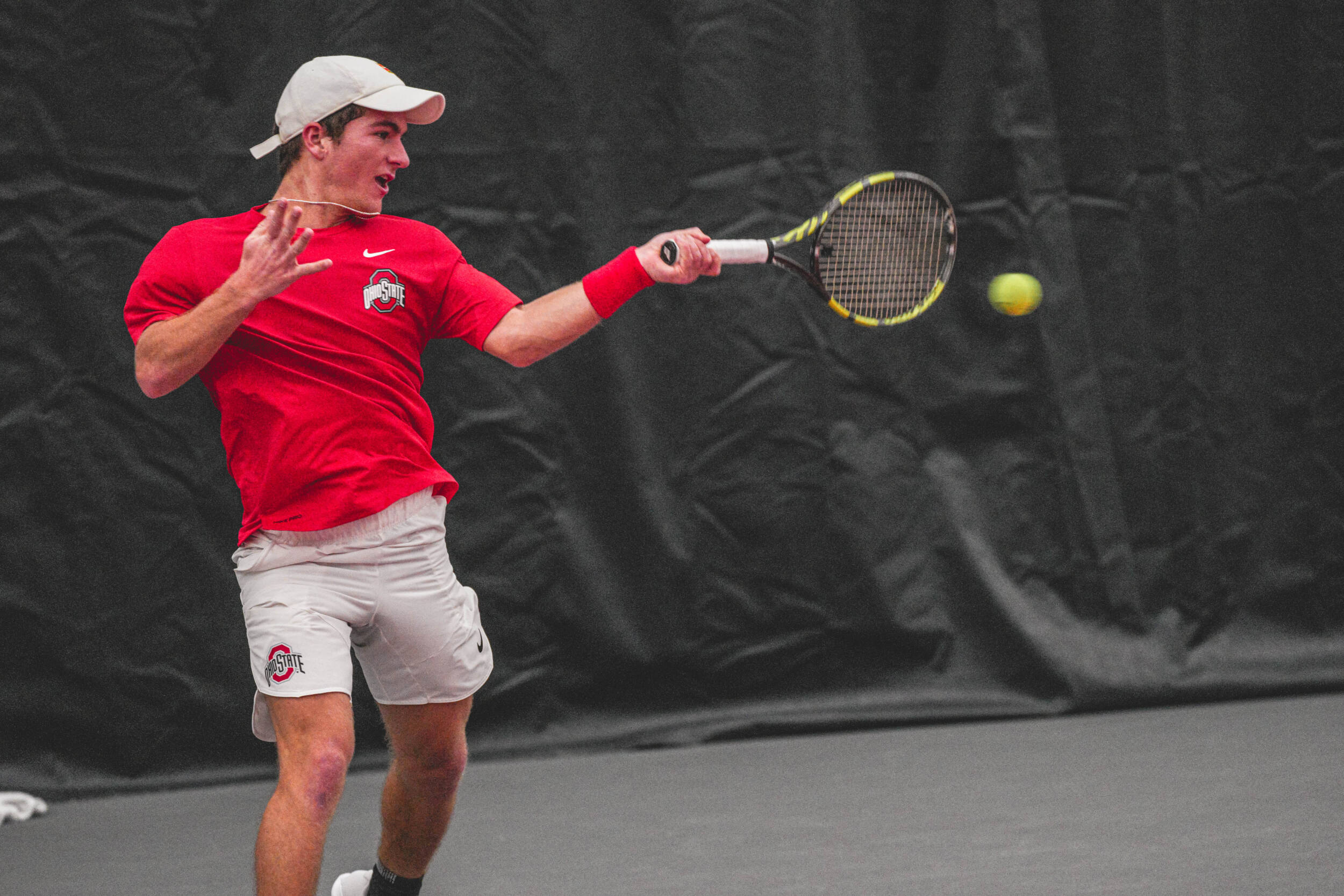 Men's tennis is heading into the final few rounds of the ITA Indoor Championships with a huge wave of momentum.
No. 1 Ohio State went on the road and beat No. 5 Virginia 4-1 Saturday before returning home to the Ty Tucker Tennis Center and knocking off No. 10 Baylor 4-0. OSU's record now stands at 12-0 with three victories against top 10 opponents.
The Buckeyes lost the doubles point against the Cavaliers, getting swept in three matches, but won four straight singles bouts to take the dual 4-1. Senior Justin Boulais knocked off No. 29 Chris Rodesch, while No. 28 James Trotter, Jack Anthrop and No. 75 Robert Cash closed out the victory.
Against the Bears, OSU didn't lose a single match. Two wins in doubles carried that point before Cash, Trotter and No. 9 JJ Tracy closed out the win.
Women's Hockey Dominates St. Thomas
Still clinging to the No. 1 spot in the USCHO poll, Ohio State's women's hockey team won two contests against St. Thomas by a combined 11-1 score this past weekend at OSU ice rink, improving its record to 27-3-2 on the season.
The Buckeyes jumped out to a 2-0 lead before closing a 6-1 victory Friday, receiving one goal each from forwards Makenna Webster, Emma Maltais, Paetyn Levis, Gabby Rosenthal, Emerson Jarvis and Emma Peschel. Maltais' score came shorthanded.
Goaltender Quinn Kuntz then posted a 17-save shutout Saturday as OSU outshot St. Thomas 51-17 in a 5-0 victory. Again, each goal came from a different scorer.
Off the ice, 18 Buckeyes also picked up some academic recognition from the WCHA, being named to the All-Academic team.
Of the recipients, graduates Madison Bizal, Sophie Jaques, Paetyn Levis, Emma Maltais and Gabby Rosenthal are all four-time winners of the academic award. Fourth-years Brooke Bink, Jenn Gardiner, Quinn Kuntz and Ramsey Parent are all three-time recipients.
Magee Named Freshman Of The Week
After breaking though for the first goal and first point of his collegiate career, Ohio State men's lacrosse freshman midfielder Dillon Magee earned Big Ten Freshman of the Week Tuesday.
Magee picked up two goals and an assist in the team's win over Cleveland State Saturday, helping the Buckeyes move their record to 3-0 to start the season.
OSU beat Cleveland State in a high-scoring 19-12 affair.
Magee and Ohio State's season continues Feb. 19 against North Carolina, the fourth consecutive home match for the squad.