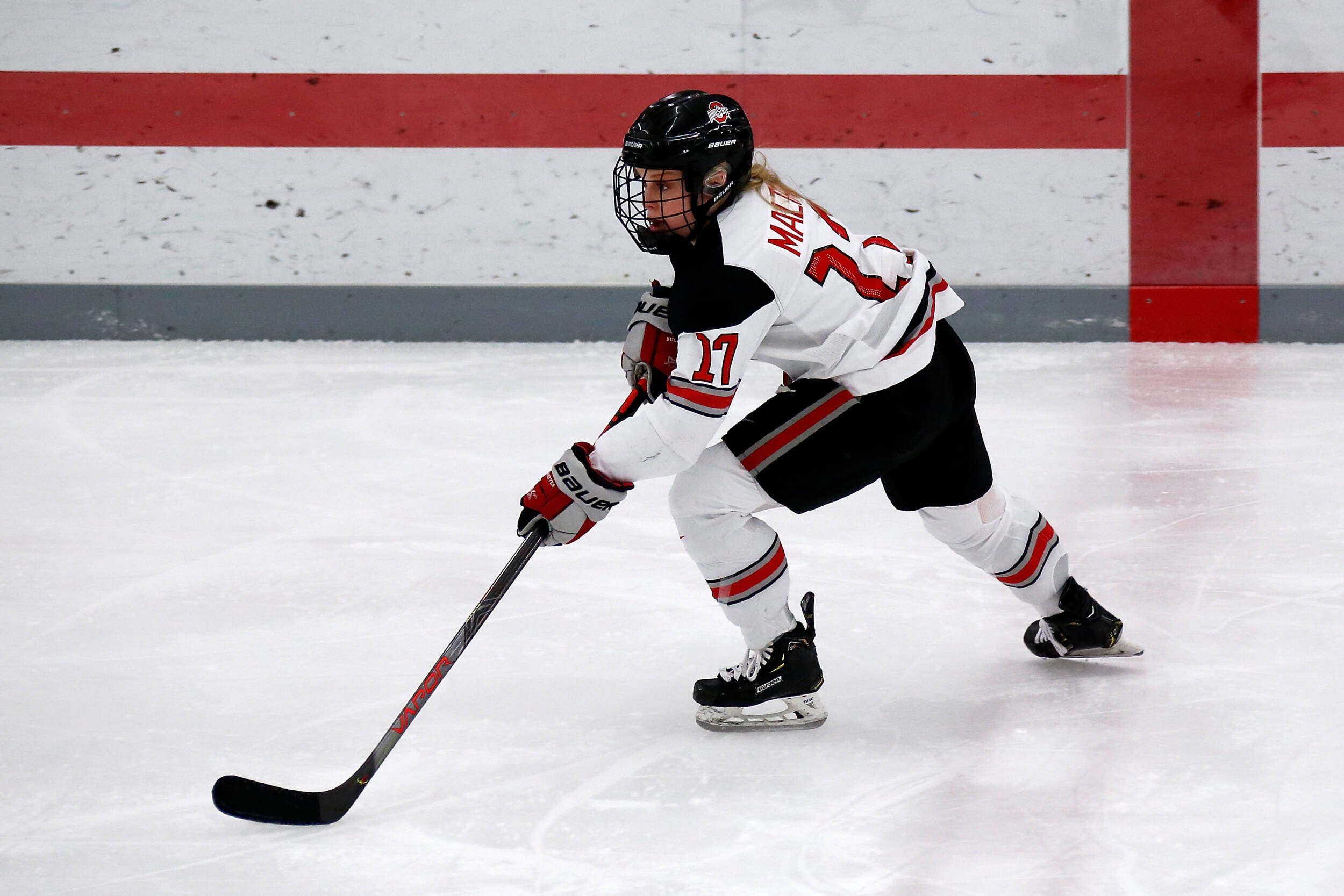 For the first time in program history, the Ohio State women's ice hockey team had two teammates named American Hockey Coaches Association (AHCA) All-Americans in the same year. 
Jincy Dunne, a fifth-year senior defender, earned first-team All-American honors, while Emma Maltais, a junior forward, received second-team All-American accolades.

For the second year in a row, Dunne was named a first-team All-American, following a second-team All-American laurel as a sophomore. The O'Fallon, Mo., native became just the fourth defensive player in the past 10 years to earn first or second team ACHA All-America three times, joining three Olympians.
"It just really is an honor," Dunne said. "I'm just so grateful because, especially in our league, it's so competitive. There are so many great players out there, players that are very deserving of it, and I'm just really fortunate to have been at Ohio State and to have had the coaches and the support that I've had that really push me on and off the ice."
Ohio State head coach Nadine Muzerall has seen Dunne transform into one of the best skaters in school history. Dunne was just a redshirt freshman when Muzerall arrived in Columbus, but in three short years, the coach has seen her develop into a three-time captain, and now, a three-time All-American.
"It's just impeccable," Muzerall said of Dunne's third All-American honor. "Jincy is just so deserving of it. And the best part about Jincy, which not everyone sees, is the behind the scenes things and how she contributes to our program. She's such a role model and a leader. I hope that USA Hockey recognizes this accomplishment because she's in a very selective class."
Beyond her individual accomplishments, Dunne has helped Muzerall guide the Ohio State women's ice hockey program to new heights. When Muzerall joined the program, the team had a losing record, but it has quickly become a national contender with two NCAA appearances in three years (the tourney was canceled in 2020 due to the coronavirus).
"I'm lucky that she wants your best, your very best," Dunne said of Muzerall. "She gets more out of you than you think you can get out of yourself, so I'm grateful for her that she did push me. And when it was hard, I had teammates who encouraged me and I had a family that supported me, so I could really go nowhere but up."
Dunne concluded her senior season with 17 goals and 82 assists in her Buckeye career. With 99 career points, the three-time captain ranks third in Ohio State history for career points by a defenseman. Additionally, she is second in career assists by a defenseman, only behind Tessa Bonhomme, who is the only other Buckeye to receive AHCA All-America First Team honors.
Capping off a record-breaking year, Maltais became the sixth Buckeye to be named  a second-team All-American, a short list which includes Dunne as a sophomore.
"I'm so honored to be named an All-American," Maltais said. "I never even dreamed I would get this honor and it's so amazing to be listed alongside the other names in this group. To have a teammate that's on the first team is even better.
"Jincy deserves this more than anyone. She works so hard and she's such an amazing player. I'm so lucky to be on her team and I'm proud of her as well, and I'm also just truly honored to be there."
Maltais made an incredible impact on the ice for the Scarlet and Gray as a junior, leading the team with a program-record 59 points on 19 goals and 40 assists. In addition to the scoring record, Matlais' 40 assists also established a new single-season program record, last set in 2005.
The Burlington, Ontario, native also became just the sixth Ohio State player, and the first since 2012, to be named a Patty Kazmaier Memorial Award Top 10 Finalist. In just three years, Maltais has tallied 142 career points, which already places her fifth in school history and 28 points away from the No. 1 spot.
"Emma has worked so hard behind the scenes," Muzerall said. "She has really been grinding it out and she's grown into being a 200-foot hockey player, and a more mature hockey player. She's so dangerous away from the puck as well with the puck, and both Emma and Jincy have such great vision. They're both very selfless and they're always looking to make a play or pass. 
"The honor of an All-American is a recognition of the individual talent, but they would have much preferred to have a shot at an NCAA title, because it's always about the team and not about themselves."
Dunne has helped lead Maltais through her three-year standout Buckeye career as a team captain. She also expressed the tremendous impact Maltais has had on turning around the program with her commitment to excellence on and off the ice. 
"She's one of the hardest workers that I've ever seen," Dunne said. "I see how she trains and how disciplined she is and how she's asking questions and wants to get better, but also how she pushes herself and pushes others. She just really took off this year and really helped lead our team, so I'm just super proud of her and of how she's developed the last three years, how hard she works, and the type of  person and teammate she's become."
While one Buckeye will leave a lasting legacy in Dunne, another will continue to push the program to the top of women's ice hockey in Maltais. 
"When you have two All-Americans in the same year and on the same team, it's really showcasing the direction that the Ohio State women's hockey program is going in," Muzerall said. "We're growing our depth and our talent and I'm glad it's being recognized nationally."
For four free issues of the weekly print edition of Buckeye Sports Bulletin, no card required, sign up at the link here: http://www.buckeyesports.com/subscribe-4issue-trial/