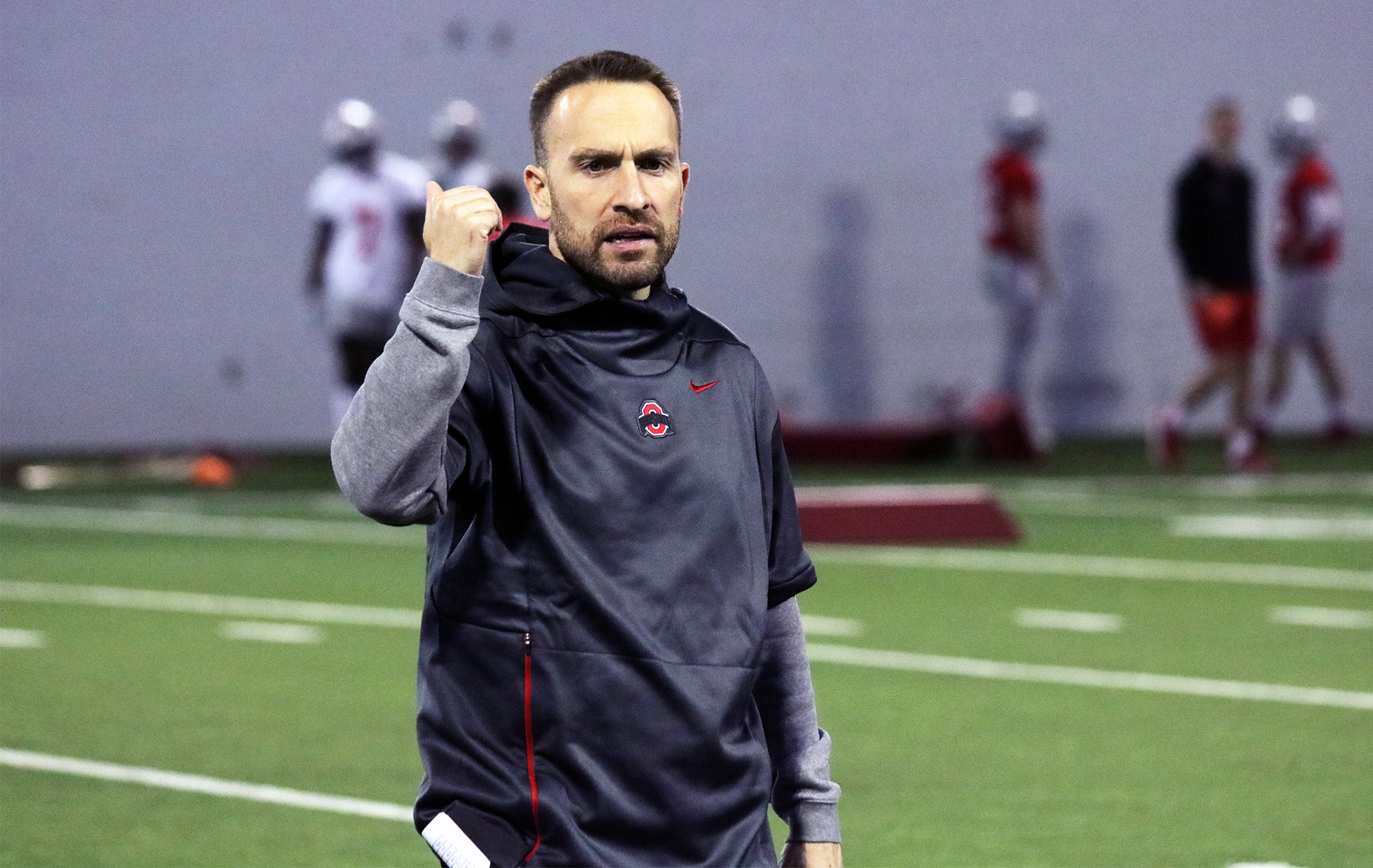 At times in 2018, it felt as though Ohio State's defense suffered from tunnel vision. From play calling, to scheme, to even the actual technique that players on the field were taught, the silver bullets felt less loose, less free, and much more constricted than in years past in a system that resulted in more breakdowns than big plays.
It appears many of those issues stemmed from coaching, and that media and fans weren't the only ones who took notice of the struggles, because one of Ryan Day's first moves as head coach was moving on from essentially the entire defensive staff.
With a clean slate, Day made four hires that signaled exactly what he wanted: flexibility. In Jeff Hafley, Day found a nickel defense expert with NFL experience and a resume packed with versatile defenses. In Matt Barnes and Al Washington, he found young coaches who have produced plenty of talent at their position, and young coaches that emphasize speed above all else. In Greg Mattison, he found a steadying force to keep everyone in check, and lead the new group of coaching talent.
While the Buckeyes have yet to take the field with their new staff, it appears that Day's hires had the intended impact. Ohio State's defense has been faster, more versatile, and most importantly, simplified this fall.
Much of that appears to stem from the first of those new hires: former 49ers defensive backs coach, Jeff Hafley. Hafley was lauded by NFL players and coaches for his ability as a technician, but his defenses both in San Francisco as well as in Cleveland and Tampa Bay. He preaches reading and reacting, simple schemes, and, apparently, a heavy dosage of zone defense.
This came as a bit of a shock to Ohio State's players, specifically their defensive backs. As Damon Arnette put it, if he was asked about zone defense last season, he would've have said that "we're a press corner team man, we press, that's what we do. Every play" as he did to the media when asked about it earlier today.
However, Arnette has seen the light, as have his partners in the backfield. He mentioned specifically that last year's every down press coverage approach was a bit much.
"You can't do that. They don't do that every play in the league, so why do we have to do it every play?"
Arnette isn't alone in noticing the differences from last year to this, and isn't the only to attribute those changes to the reintroduction of zone defense into Ohio State's playbook. Jeff Okudah had a similar experience with the first year co-coordinator.
"When [Hafley] first got here, I didn't know we were going to play cover three like that. I wasn't used to playing so much zone, so it was kind of difficult at first. Once we've seen the results that come from that, it's kinda hard to go back to press man."
On its face, the shift from such a heavy press into zone seems like a tough proposition. Ohio State was playing almost exclusively press defense last season, just as they did in 2017. You must go back to 2016 to find consistent zone usage from the Buckeyes, and Damon Arnette is the only defensive back on this roster expected to play that saw any significant playing time back then. Most of the defensive backs at Ohio State have only ever played man in Columbus.
That change may not be as hard as it seems, however, In fact, as Okudah tells it, the zone is a whole lot easier on the bodies of Buckeye defenders than the press was.
"When you play so much press man, you don't really realize the toll it takes on your body of the course of a 14 game season. Running back and forth, always being fatigued. When we're able to mix up the coverages, play some zone, it's a relief on your legs, and you're able to analyze the game more, sit back, look at the quarterback, read what he wants to do."
The zone isn't just a relief on defensive backs with weary legs. It's also a calculated gamble on Ohio State's ability to make plays, from a coaching staff that seems much more willing to leave the playmaking up to players rather than attempting to create big plays with overly complicated schemes.
"It's just allowing you to play with eyes on the quarterback every play. We've been making a lot more plays looking at the ball, on crosses, and just playing in space," Arnette said. "I like playing in space. It makes it fun, it makes the receivers and the quarterback guess what you're doing. If you line up in press every time, they can guess what you're in."
Now, the zone is not Ohio State's new press, in that they aren't planning on using it every play this season. There will still be press, still be man coverage, and still be situations where Okudah, Arnette, or Shaun Wade will need to make a play one-on-one against a receiver. This is not a full-scale remake, tearing down the studs. It's a remodel. A much-needed introduction of versatility, and an even more needed simplification of a bloated and outdated playbook.
Ohio State isn't looking back at their struggles anymore. That was what the spring and summer were for. The changes have been made, the scheme is set, and installation, as well as execution is well under way. The Buckeyes are a week out from their first game with the new look defense, and unlike last season, they seem excited about it. Almost as excited as they are to move on.
Does this fix everything? It's hard to say until we see it in action. What we do know: there's a level of confidence in the defensive backs room that we didn't see last season. As Damon Arnette and Brendon White put it:
"The bullets are back."