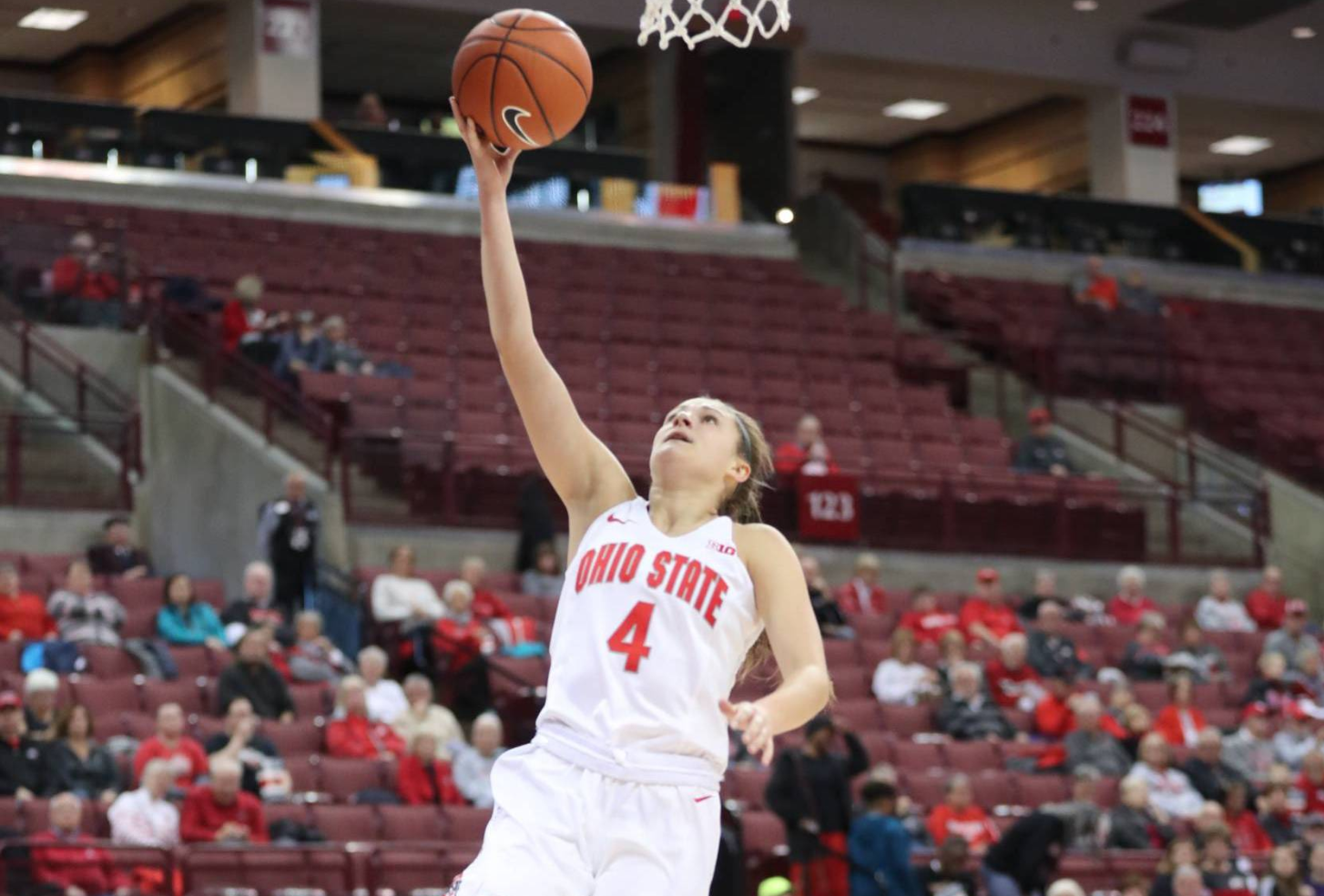 Just a year after Ohio State was able to pull away late in a 69-56 victory, the Buckeyes and Cincinnati faced off again, this time battling from start to finish in a hotly contested game that went past four quarters.
In their first test, the Buckeyes were out rebounded, committed more turnovers and made less free throws. They still managed to pull out a win, 78-73, in overtime.
But it looked like the extra frame could have been avoided altogether.
With 35 seconds left in regulation and Ohio State up four points, Cincinnati guard Antoinette Miller drove to the lane, hit the basket and forced a foul, making the free throw to make it a one-point game, 61-60.
From there, freshman Madison Greene was forced to the line to hit massive free throws. She delivered on one of two, and Cincinnati got the ball back with 26.4 seconds to go.
Miller hit another key shot, tying the game at 62 with 16.9 seconds to go. Both teams had another shot at the end of the fourth, but neither found the bottom of the net, and the game went to overtime.
In the final frame, both teams found a scoring touch, but led by seven points from freshman guard Jacy Sheldon — her only seven points on the night — the Buckeyes prevailed with a five-point win.
Greene played a big role all night, coming off the bench and adding 13 points while starting the game a perfect 4-for-4 from the field before missing her final two shots.
Ohio State's defense came up big against Cincinnati, forcing the Bearcats to 32.9 percent shooting on the night, including making only two three pointers on 17 attempts as a team.
After a 35-29 halftime lead, Ohio State battled to keep its lead throughout the third quarter, and took a slim 52-51 advantage into the final frame thanks to seven points by freshman Kierstan Bell, as well as a five-point, three-assist performance by Janai Crooms.
Crooms broke a career high with 12 assists, adding 10 points for her first career double double.
Junior guard and Oklahoma State transfer Braxtin Miller was crucial for Ohio State, finishing the game with a team-high 18 points helped out by 3-of-4 shooting from three just three days after air balling both three-point attempts in a five-point effort against Valparaiso.
Ohio State struggled in the turnover department, giving up 21 of them, which resulted in 26 Cincinnati points.
The Bearcats relied on Iimar'I Thomas for much of the game, with the forward scoring 25 points on the night, while also adding 12 rebounds. Antoinette Miller was key for Cincinnati down the stretch, scoring most of her 20 points in the fourth quarter and overtime.
After piling up the points in its exhibition and season opener against Valpo, as well as much of this game, Ohio State struggled to put the ball in the basket in the fourth quarter, making only three of its 11 shots. But the team survived on its defensive play, forcing the Bearcats to shoot 4-for-21, creating a low-scoring 11-10 final quarter that led to overtime.
The Buckeyes will play their first game in Value City Arena Sunday against Ohio.
Photo Credit: Courtesy of Ohio State Athletics
For four free issues of the weekly print edition of Buckeye Sports Bulletin, no card required, sign up at the link here: http://www.buckeyesports.com/subscribe-4issue-trial/