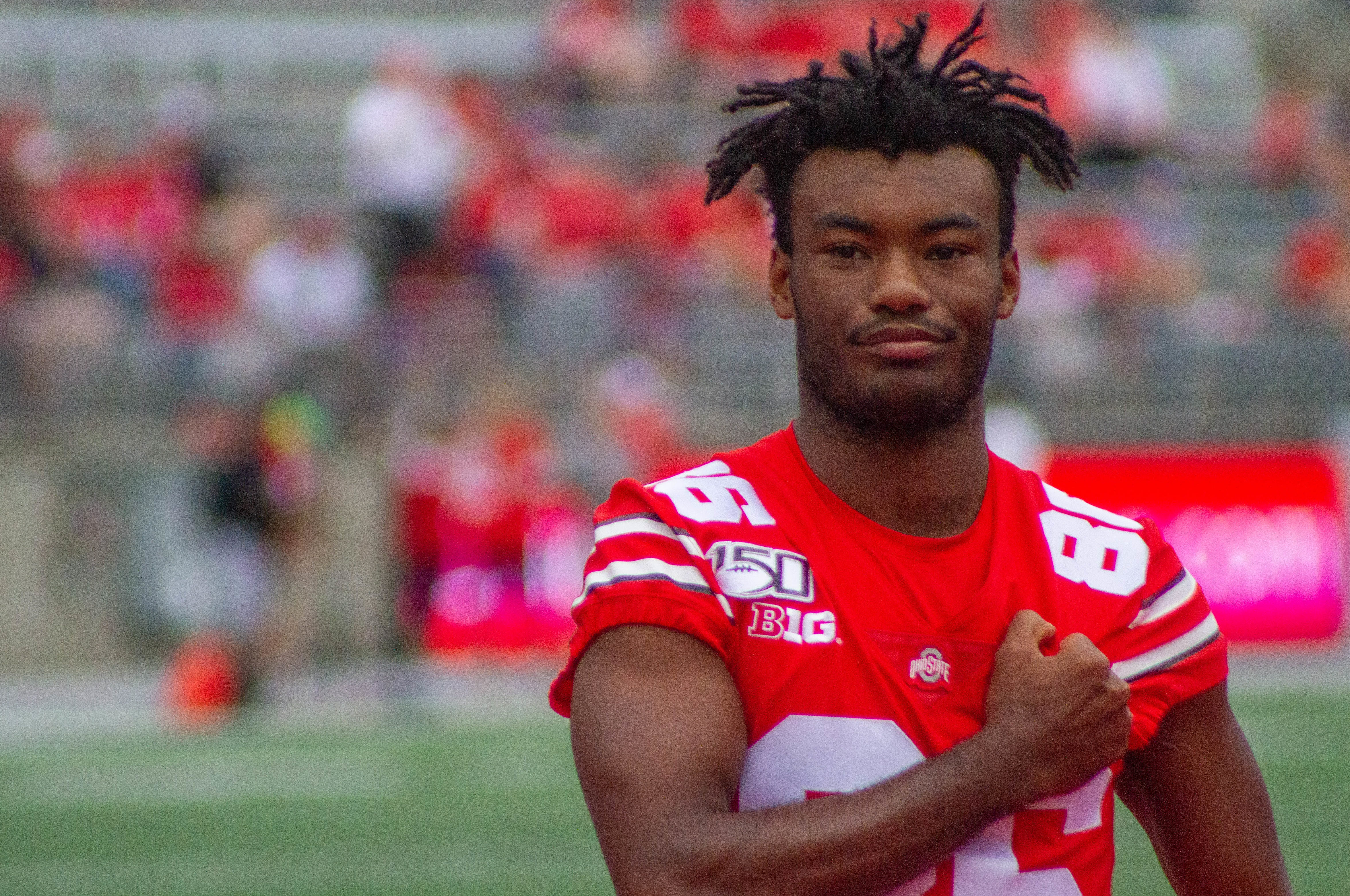 Ohio State junior wide receiver Chris Booker became the latest newcomer to have his black stripe removed following Wednesday evening's practice.
🚫▪️STRIPE ALERT‼️ Congratulations @cbooks13 on getting your stripe off‼️#GoBucks #ToughLove pic.twitter.com/eFmfqVHAwK

— Ohio State Football (@OhioStateFB) September 11, 2019
The 6-0, 185-pound Booker — who hails from St. Louis John Burroughs, the same high school as former Buckeyes running back Ezekiel Elliott — began his college career at the University of Dayton. He then transferred to Ohio State, where he starred on the club football team under head coach and former Buckeye Sports Bulletin staff writer James Grega.
Booker hauled in 14 passes for 371 yards and seven touchdowns in only four games for the club team in 2018. He has yet to see playing time through two games this season, but has clearly made an impact on scout team in practice.
| NAME | POSITION | YEAR | DATE OF BLACK STRIPE REMOVAL |
| --- | --- | --- | --- |
| LOGAN HITTLE | LB | JR* | 3/21 |
| CADE KACHERSKI | LB | FR* | 3/21 |
| BEN SCHMIESING | LB | FR | 3/21 |
| JUSTIN FIELDS | QB | SO | 3/ 25 |
| DARRYL SINCLAIR | CB | SO* | 3/25 |
| MAX WRAY | OL | FR* | 4/1 |
| RYAN BATSCH | SAF | FR* | 4/1 |
| GARRETT WILSON | WR | FR | 4/8 |
| AUSTIN KUTSCHER | WR | FR* | 4/8 |
| ZACH HARRISON | DE | FR | 4/12 |
| JONAH JACKSON | OL | SR* | 8/6 |
| HARRY MILLER | C | FR | 8/8 |
| JAMESON WILLIAMS | WR | FR | 8/8 |
| RYAN JACOBY | OL | FR | 8/12 |
| MARCUS CROWLEY | RB | FR | 8/12 |
| CADE STOVER | LB | FR | 8/13 |
| BRYSON SHAW | SAF | FR | 8/15 |
| NOAH POTTER | DE | FR | 8/15 |
| STEELE CHAMBERS | RB | FR | 8/15 |
| CRAIG YOUNG | LB | FR | 8/19 |
| DANNY VANATSKY | QB | FR* | 8/19 |
| ZAID HAMDAN | DT | FR* | 8/24 |
| DAWAND JONES | OT | FR | 9/4 |
| ENOKK VIMAHI | OG | FR | 9/4 |
| CHRIS BOOKER | WR | JR | 9/11 |
*Redshirt