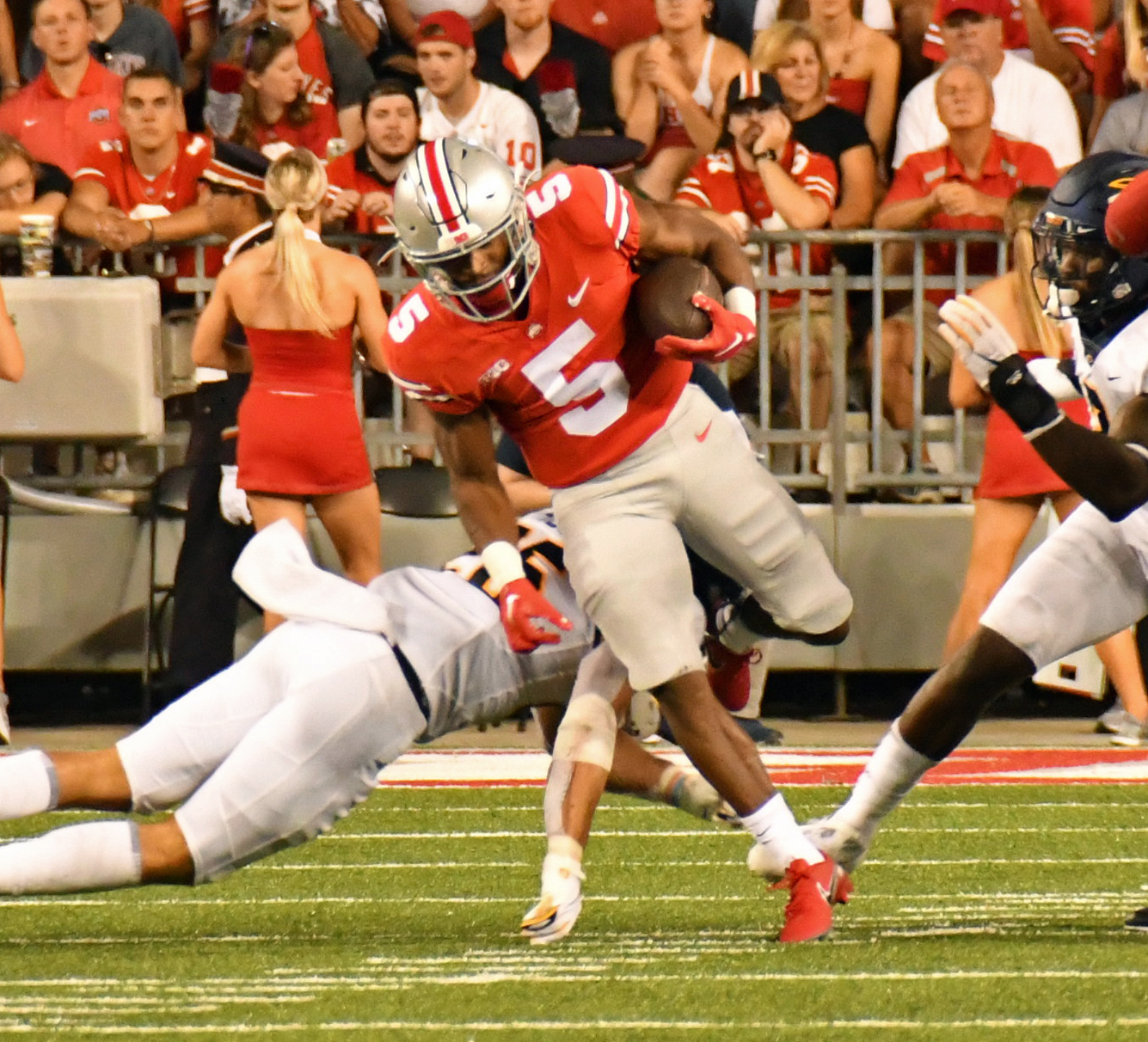 Following Ohio State's 77-21 win over Toledo on Saturday, the Buckeyes are staying at No. 3 in the most recent AP Top 25 poll released Sunday.
Ohio State checks in at No. 3 – with one first-place vote – behind No. 2 Alabama and No. 1 Georgia. The following four spots remain unchanged with Michigan at No. 4, Clemson at No. 5, Oklahoma at No. 6 and USC at No. 7. Kentucky, Oklahoma State and Arkansas round out the top 10.
Penn State jumped up eight spots to No. 14 following the Nittany Lions' 41-12 win on the road against Auburn, but that's it in terms of Big Ten teams in the AP Top 25 poll. Michigan State fell out entirely following the Spartans' 39-28 loss to Washington, though Michigan State is the leading vote getter among unranked teams. Minnesota and Wisconsin are also receiving votes.
The biggest rise in the poll belonged to No. 15 Oregon, who jumped 10 spots after defeating BYU by a 41-20 margin, and the biggest drops belonged to the Spartans, who fell out of the poll from No. 11, and Miami (Fla.), who fell 12 spots from No. 13.
Others receiving votes include Michigan State (91), Florida State (85), Appalachian State (77), North Carolina (72), Washington State (62), Cincinnati (52), Oregon State (49), Minnesota (48), Kansas (23), Syracuse (seven), LSU (six) and Wisconsin (four).
| | | | |
| --- | --- | --- | --- |
| Rank | Team | Points | Change |
| No. 1 | Georgia (3-0) | 1,569 (59) | N/A |
| No. 2 | Alabama (3-0) | 1,492 (3) | N/A |
| No. 3 | Ohio State (3-0) | 1,473 (1) | N/A |
| No. 4 | Michigan (3-0) | 1,364 | N/A |
| No. 5 | Clemson (3-0) | 1,268 | N/A |
| No. 6 | Oklahoma (3-0) | 1,257 | N/A |
| No. 7 | USC (3-0) | 1,197 | N/A |
| No. 8 | Kentucky (3-0) | 1,096 | +1 |
| No. 9 | Oklahoma State (3-0) | 1,071 | -1 |
| No. 10 | Arkansas (3-0) | 920 | N/A |
| No. 11 | Tennessee (3-0) | 866 | +4 |
| No. 12 | NC State (3-0) | 781 | +4 |
| No. 13 | Utah (2-1) | 684 | +1 |
| No. 14 | Penn State (3-0) | 666 | +8 |
| No. 15 | Oregon (2-1) | 592 | +10 |
| No. 16 | Ole Miss (3-0) | 585 | +4 |
| No. 17 | Baylor (2-1) | 494 | N/A |
| No. 18 | Washington (3-0) | 485 | Unranked |
| No. 19 | BYU (2-1) | 381 | -7 |
| No. 20 | Florida (2-1) | 360 | -2 |
| No. 21 | Wake Forest (3-0) | 345 | -2 |
| No. 22 | Texas (2-1) | 339 | -1 |
| No. 23 | Texas A&M (2-1) | 309 | +1 |
| No. 24 | Pittsburgh (2-1) | 181 | -1 |
| No. 25 | Miami (Fla.) (2-1) | 123 | -12 |