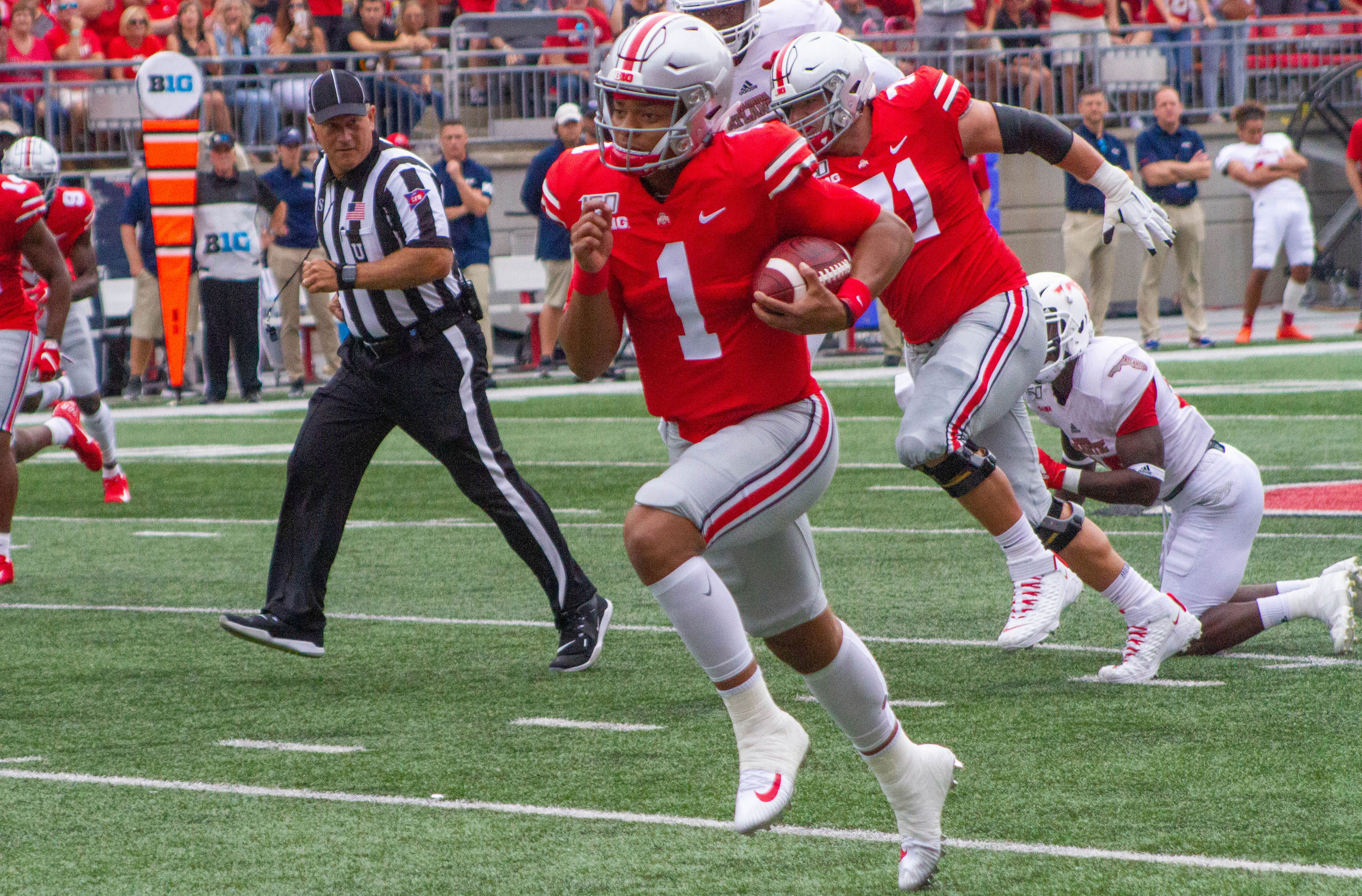 With one week in the books, Ohio State is standing solid in the Amway Coaches Poll. The Buckeyes are fifth in the rankings, with no changes ahead of them, and only three total changes in the top ten, as Florida drops from eighth to tenth, Notre Dame moves from ninth to eighth, and Texas moves from tenth to ninth.
The largest rise in the poll comes from Auburn, jumping up three spots from 16th to 13th after their 27-21 victory over Oregon. The Ducks, meanwhile, were the largest faller, from 13th to 18th. Only two teams, Northwestern (17-7 loss to Stanford) and Iowa State (29-26 win over Northern Iowa) dropped out of the top 25, with Boise State and Nebraska filling the vacated 24 and 25 spots.
Just as with the preseason poll, this week's poll has seven Big Ten teams in it. Ohio State leads the way at five, followed by Michigan at seven, Penn State at 14, Wisconsin up one spot to 16, Iowa at 19, Michigan State at 20, and Nebraska up one spot to 25.
Rank
Record
Points
1st-Place Votes
Previous
Change
High/Low
1
Clemson
1-0
1594
58
1
—
1/1
2
Alabama
1-0
1540
6
2
—
2/2
3
Georgia
1-0
1435
0
3
—
3/3
4
Oklahoma
1-0
1395
0
4
—
4/4
5
Ohio State
1-0
1340
0
5
—
5/5
6
Louisiana State
1-0
1260
0
6
—
6/6
7
Michigan
1-0
1155
0
7
—
7/7
8
Notre Dame
1-0
1055
0
9
1
8/9
9
Texas
1-0
1044
0
10
1
9/10
10
Florida
1-0
990
0
8
-2
8/10
11
Texas A&M
1-0
932
0
11
—
11/11
12
Washington
1-0
868
0
12
—
12/12
13
Auburn
1-0
857
0
16
3
13/16
14
Penn State
1-0
774
0
14
—
14/14
15
Utah
1-0
738
0
15
—
15/15
16
Wisconsin
1-0
568
0
17
1
16/17
17
UCF
1-0
513
0
17
—
17/17
18
Oregon
0-1
422
0
13
-5
13/18
19
Iowa
1-0
395
0
19
—
19/19
20
Michigan State
1-0
382
0
20
—
20/20
21
Washington State
1-0
324
0
21
—
21/21
22
Syracuse
1-0
263
0
22
—
22/22
23
Stanford
1-0
249
0
23
—
23/23
24
Boise State
1-0
164
0
27
3
24/NR
25
Nebraska
1-0
94
0
26
1
25/NR