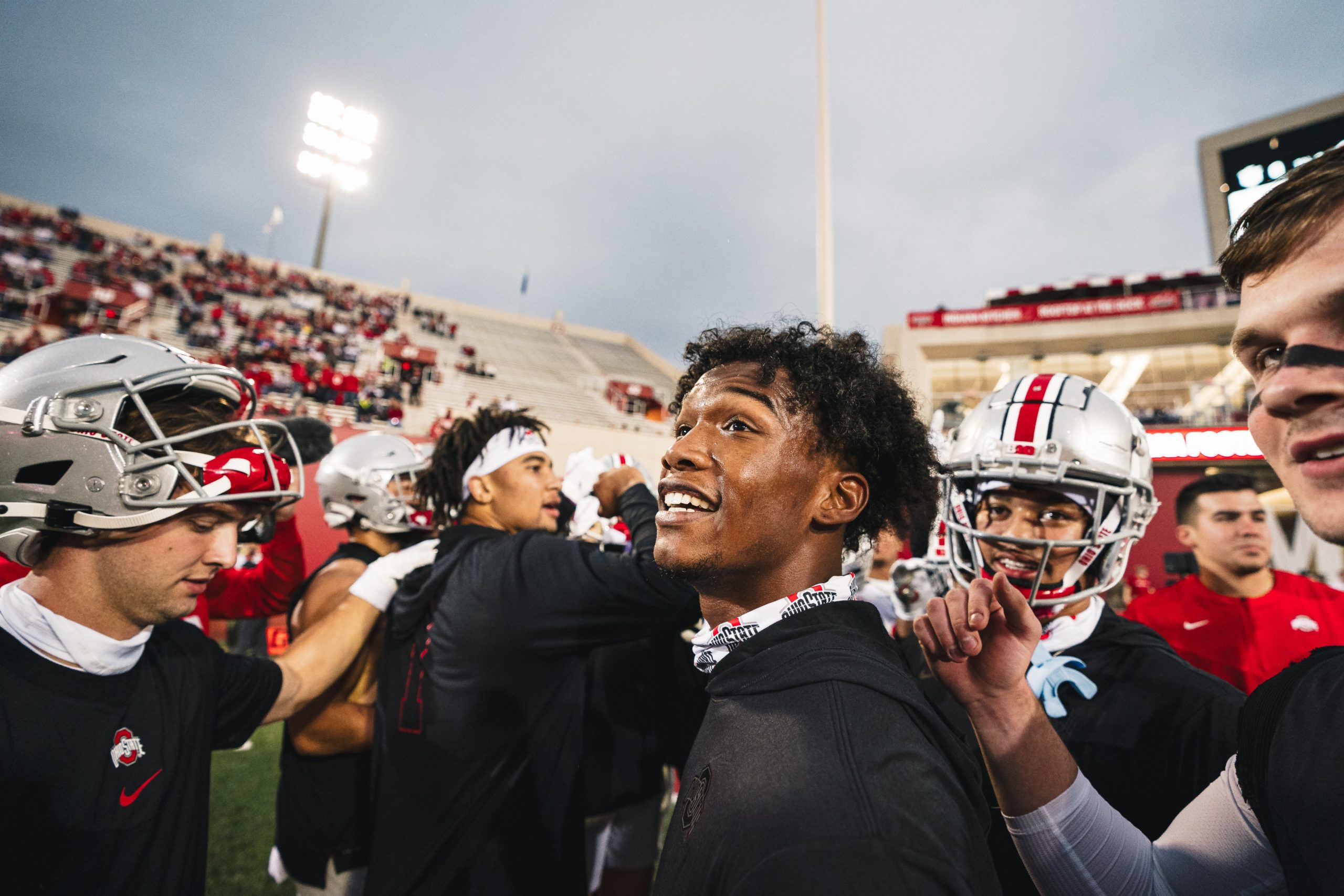 Ohio State and Penn State looked poised for a top 10 matchup on Oct. 30, but a poorly timed loss from the Nittany Lions causes the Halloween weekend game to feel a little lackluster.
Ohio State remained at No. 5 in the new AP Top 25 poll after dominating Indiana 54-7 on Saturday. However, a 20-18 nine-overtime home loss to Illinois sent the Nittany Lions tumbling from the seventh-ranked spot to No. 20.
Georgia keeps the unanimous No. 1 spot, followed by undefeated Cincinnati. Alabama is the third team, flipping spots with Oklahoma, who now takes over the fourth spot. The Crimson Tide cruised to a 52-24 win over Tennessee, while the Sooners struggled in a narrow 35-23 victory against Kansas.
Michigan sits at No. 6 behind Ohio State and travels to No. 8 Michigan State on Oct. 30. It is the first meeting between the in-state rivals when both teams had a 7-0 record or better.
Oregon, who is responsible for Ohio State's lone loss, claims the No. 7 spot after a 34-31 win at UCLA on Saturday, while Iowa and Ole Miss round out the top 10.
There are four undefeated teams sitting outside the top 10, including No. 13 Wake Forest (7-0), No. 19 SMU (7-0), No. 21 San Diego State (7-0) and No. 23 UTSA (8-0).
Here are the full rankings:
| RANK | TEAM | RECORD | PTS | PREV | CONFERENCE |
| --- | --- | --- | --- | --- | --- |
| 1 | GEORGIA | 7–0 | 1,575 (63) | 1 | SEC |
| 2 | CINCINNATI | 7–0 | 1,477 | 2 | American Athletic |
| 3 | ALABAMA | 7–1 | 1,417 | 4 | SEC |
| 4 | OKLAHOMA | 8–0 | 1,383 | 3 | Big 12 |
| 5 | OHIO STATE | 6–1 | 1,311 | 5 | Big Ten |
| 6 | MICHIGAN | 7–0 | 1,270 | 6 | Big Ten |
| 7 | OREGON | 6–1 | 1,165 | 10 | Pac-12 |
| 8 | MICHIGAN STATE | 7–0 | 1,160 | 9 | Big Ten |
| 9 | IOWA | 6–1 | 1,035 | 11 | Big Ten |
| 10 | OLE MISS | 6–1 | 1,034 | 12 | SEC |
| 11 | NOTRE DAME | 6–1 | 922 | 13 | IA Independents |
| 12 | KENTUCKY | 6–1 | 849 | 15 | SEC |
| 13 | WAKE FOREST | 7–0 | 801 | 16 | ACC |
| 14 | TEXAS A&M | 6–2 | 700 | 17 | SEC |
| 15 | OKLAHOMA STATE | 6–1 | 682 | 8 | Big 12 |
| 16 | BAYLOR | 6–1 | 513 | 20 | Big 12 |
| 17 | PITTSBURGH | 6–1 | 510 | 23 | ACC |
| 18 | AUBURN | 5–2 | 481 | 19 | SEC |
| 19 | SMU | 7–0 | 473 | 21 | American Athletic |
| 20 | PENN STATE | 5–2 | 471 | 7 | Big Ten |
| 21 | SAN DIEGO STATE | 7–0 | 390 | 22 | Mountain West |
| 22 | IOWA STATE | 5–2 | 298 | – | Big 12 |
| 23 | UTSA | 8–0 | 235 | 24 | Conference USA |
| 24 | COASTAL CAROLINA | 6–1 | 132 | 14 | Sun Belt |
| 25 | BRIGHAM YOUNG | 6–2 | 44 | – | IA Independents |