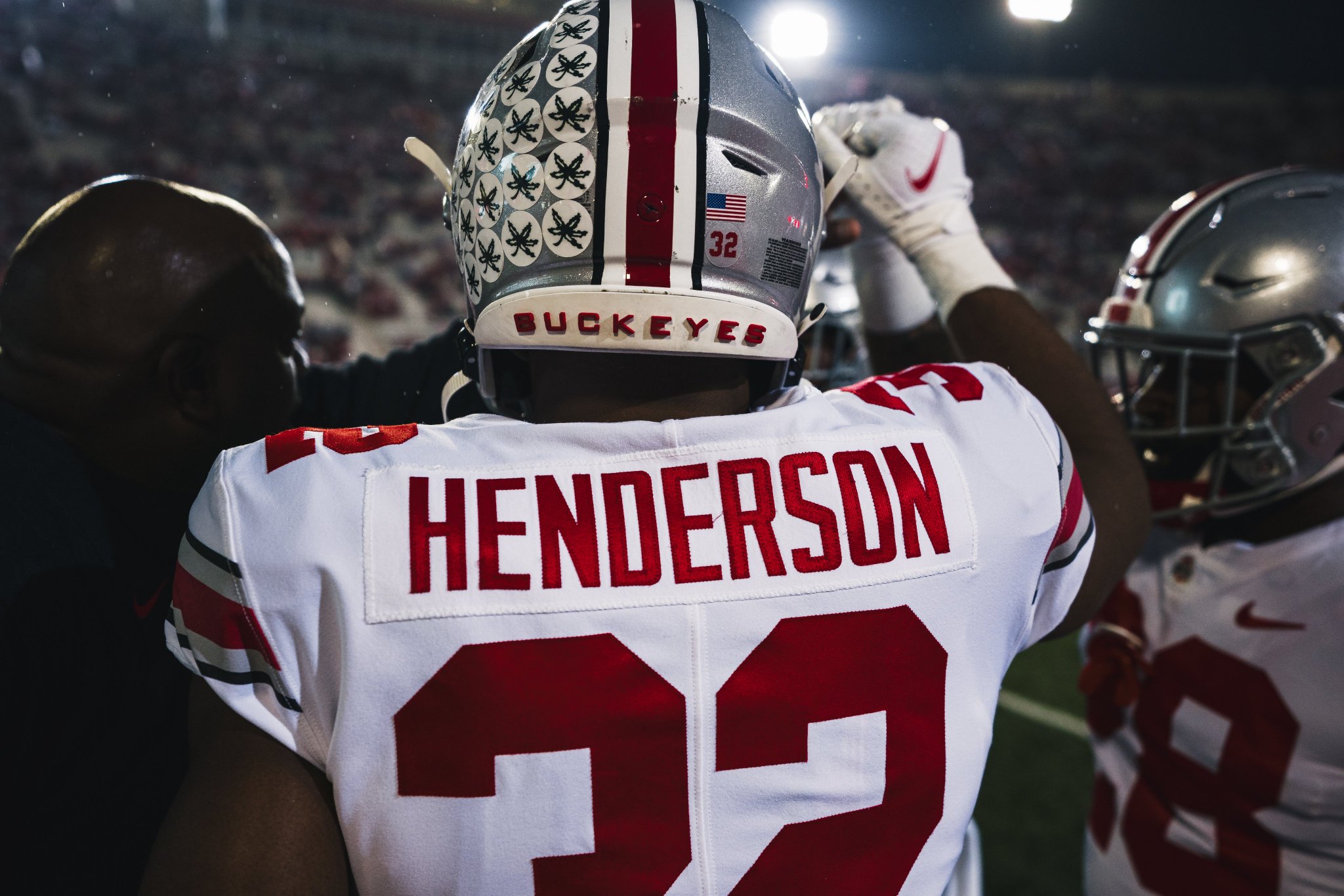 Chase Brown, BSB: Let me start this by making a bold claim, a "hot take," if you will. TreVeyon Henderson is Ohio State's Heisman Trophy candidate. While many will point to C.J. Stroud — rightfully so, he's been excellent since he rested his shoulder against Akron in week four. However, Henderson gives the Buckeyes the explosive plays, the home runs and the Heisman moments.
On Saturday night, the freshman running back put together another impressive performance. He rushed nine times for 81 yards and two touchdowns and added one reception for 14 yards and a score. Through the first seven games, here are Henderson's stats:
Rushing: 78 car, 656 yards, 8.41 ypc, 11 TDs
Receiving: 8 rec, 168 yards, 21 ypr, 3 TDs
All-Purpose: 824 yards, 14 TDs
Whether or not Henderson becomes a Heisman finalist and winner of the acclaimed trophy, he still gets my Buckeye Leaf, which is arguably a more distinguished honor to receive. That's certainly up for debate, but for now, let's agree to disagree.
Patrick Mayhorn, BSB: I feel like I managed to draw the easy assignment here, and like a certain Buckeye quarterback looking at a wide-open receiver streaming down the field, I'm not going to turn down a freebie. C.J. Stroud is just fantastic. The early season jitters are gone, the injury bug has cleared, and the California native is flashing the talent that earned him the five-star distinction as a recruit and that won him the starting job this fall.
The signal-caller was 21-of-28 passing for 266 yards and four scores, delivering strikes with such consistency that it almost felt reminiscent of his predecessor, who so frequently made the absurd feel routine on throws down the field. Stroud's best pass of the season came to Jaxon Smith-Njigba early in the game, hitting him right on the hands amid three defenders down the seam, but he was just as masterful on the easy ones, coordinating the Buckeye offense to a win that was all but secured from the time Ohio State arrived in Bloomington. What a special talent he is.
Mark Rea, BSB: With all of the offensive output, I'm going to outside the box a little and give some Buckeye leaves to the defensive line. They came up with all five sacks, and with the exception of Indiana's first drive of the game, carried out good assignment football. Defensive end Zach Harrison might have played his best game of the season so far. He had only two tackles, but each went for loss, including a sack, and Harrison played from sideline to sideline when he was on the field. He also nearly got to the IU punter a couple of times.