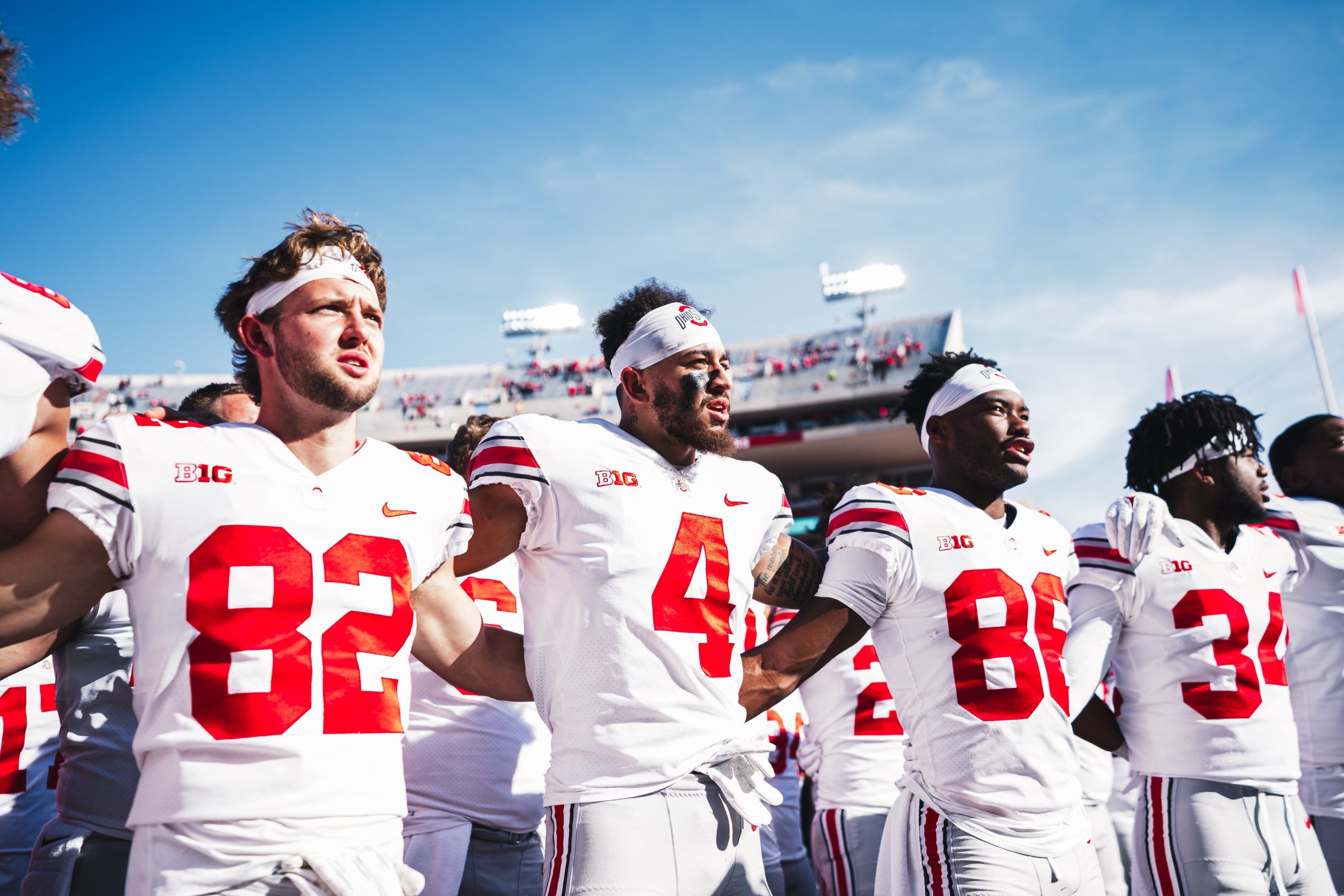 The Buckeyes traveled to Lincoln, Neb., on Saturday and left with a victory in what could have been a trap game.
When the new AP and USA Today Coaches Polls were released after a day of upsets in college football, Ohio State could have landed in many different places. Georgia won while Cincinnati and Alabama struggled. Michigan State lost while Oklahoma was idle.
Still, nothing changed for the Buckeyes, who remained steady at No. 5 in the coaches poll and No. 6 according to the Associated Press. The Spartans fell in the polls after it lost to Purdue, but Oregon lept over the Buckeyes in the rankings.
Michigan State and Michigan are ranked in both polls, meaning Ohio State will finish its regular season with two ranked opponents in the final three weeks. Purdue (6-3) remains unranked in both polls despite this weekend's upset of Mel Tucker and the Spartans.
Here are the full rankings:
AP TOP 25 POLL
| RANK | TEAM | RECORD | PTS | PREV | CONFERENCE |
| --- | --- | --- | --- | --- | --- |
| 1 | GEORGIA | 9–0 | 1,575 (63) | 1 | SEC |
| 2 | CINCINNATI | 9–0 | 1,440 | 2 | American Athletic |
| 3 | ALABAMA | 8–1 | 1,436 | 3 | SEC |
| 4 | OKLAHOMA | 9–0 | 1,406 | 4 | Big 12 |
| 5 | OREGON | 8–1 | 1,319 | 7 | Pac-12 |
| 6 | OHIO STATE | 8–1 | 1,293 | 6 | Big Ten |
| 7 | NOTRE DAME | 8–1 | 1,139 | 8 | IA Independents |
| 8 | MICHIGAN STATE | 8–1 | 1,096 | 5 | Big Ten |
| 9 | MICHIGAN | 8–1 | 1,072 | 9 | Big Ten |
| 10 | OKLAHOMA STATE | 8–1 | 1,038 | 11 | Big 12 |
| 11 | TEXAS A&M | 7–2 | 1,006 | 13 | SEC |
| 12 | OLE MISS | 7–2 | 837 | 15 | SEC |
| 13 | WAKE FOREST | 8–1 | 763 | 10 | ACC |
| 14 | BRIGHAM YOUNG | 8–2 | 636 | 17 | IA Independents |
| 15 | UTSA | 9–0 | 606 | 16 | Conference USA |
| 16 | AUBURN | 6–3 | 478 | 12 | SEC |
| 17 | HOUSTON | 8–1 | 467 | 20 | American Athletic |
| 18 | BAYLOR | 7–2 | 464 | 14 | Big 12 |
| 19 | IOWA | 7–2 | 437 | 19 | Big Ten |
| 20 | WISCONSIN | 6–3 | 286 | – | Big Ten |
| 21 | NORTH CAROLINA STATE | 7–2 | 268 | – | ACC |
| 22 | COASTAL CAROLINA | 8–1 | 264 | 21 | Sun Belt |
| 23 | PENN STATE | 6–3 | 245 | 22 | Big Ten |
| 24 | LOUISIANA-LAFAYETTE | 8–1 | 208 | 24 | Sun Belt |
| 25 | PITTSBURGH | 7–2 | 194 | – | ACC |
USA TODAY COACHES POLL
| RANK | TEAM | RECORD | PTS | 1ST VOTES | PREV | CHANGE |
| --- | --- | --- | --- | --- | --- | --- |
| 1 | GEORGIA | 9–0 | 1600 | 64 | 1 | — |
| 2 | ALABAMA | 8–1 | 1483 | – | 3 | +1 |
| 3 | CINCINNATI | 9–0 | 1430 | – | 2 | -1 |
| 4 | OKLAHOMA | 9–0 | 1423 | – | 4 | — |
| 5 | OHIO STATE | 8–1 | 1356 | – | 5 | — |
| 6 | OREGON | 8–1 | 1291 | – | 7 | +1 |
| 7 | NOTRE DAME | 8–1 | 1182 | – | 8 | +1 |
| 8 | MICHIGAN | 8–1 | 1099 | – | 10 | +2 |
| 9 | MICHIGAN STATE | 8–1 | 1074 | – | 6 | -3 |
| 10 | OKLAHOMA STATE | 8–1 | 1045 | – | 11 | +1 |
| 11 | TEXAS A&M | 7–2 | 1023 | – | 12 | +1 |
| 12 | MISSISSIPPI | 7–2 | 862 | – | 15 | +3 |
| 13 | WAKE FOREST | 8–1 | 769 | – | 9 | -4 |
| 14 | IOWA | 7–2 | 636 | – | 16 | +2 |
| 15 | BRIGHAM YOUNG | 8–2 | 552 | – | 20 | +5 |
| 16 | TEXAS-SAN ANTONIO | 9–0 | 525 | – | 18 | +2 |
| 17 | HOUSTON | 8–1 | 472 | – | 19 | +2 |
| 18 | BAYLOR | 7–2 | 449 | – | 13 | -5 |
| 19 | NC STATE | 7–2 | 445 | – | 22 | +3 |
| 20 | AUBURN | 6–3 | 382 | – | 14 | -6 |
| 21 | COASTAL CAROLINA | 8–1 | 335 | – | 21 | — |
| 22 | PITTSBURGH | 7–2 | 293 | – | 25 | +3 |
| 23 | PENN STATE | 6–3 | 249 | – | 23 | — |
| 24 | WISCONSIN | 6–3 | 177 | – | NR | +7 |
| 25 | UL LAFAYETTE | 8–1 | 164 | – | NR | +1 |