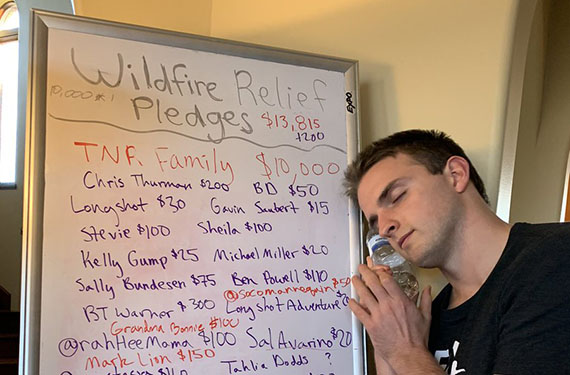 Ohio State fifth-year senior punter Drue Chrisman set an unofficial world record earlier this week by flipping a partially filled 16-ounce water bottle for 24 hours and raised more than $15,000 for the World Wildlife Fund's Australian bushfire relief efforts in the process.
Chrisman's bottle-flipping abilities have been well-chronicled on social media, and he live-streamed his record-setting attempt on YouTube in order to raise money. In all, he successfully landed 22,067 flips, which equates to roughly 919 flips per hour and 15 per minute.
"I did a bunch of research and I can't find where anyone has flipped more bottles in a 24-hour period," Chrisman said.
Chrisman, a Cincinnati native, recently opted to return for one final year with the Buckeyes after a season in which he averaged 44.3 yards per punt, with 18 of his 46 attempts downed inside the opponent's 20-yard line. He also completed his only pass of the season, a key fourth-down conversion in the Big Ten Championship game against Wisconsin.
Chrisman's philanthropic efforts were inspired by the book "Can't Hurt Me" by David Goggins, a retired Navy SEAL who became an ultra-endurance athlete.
"David Goggin, who's spirit and determination was studied by the team this year, was always engaged in efforts to help various causes and I started to question what could I do," Chrisman said.
Ohio State's compliance department approved Chrisman's fundraising efforts as long as the pledges — which ranged from $10 to $10,000 — were submitted directly to the WWF's website.