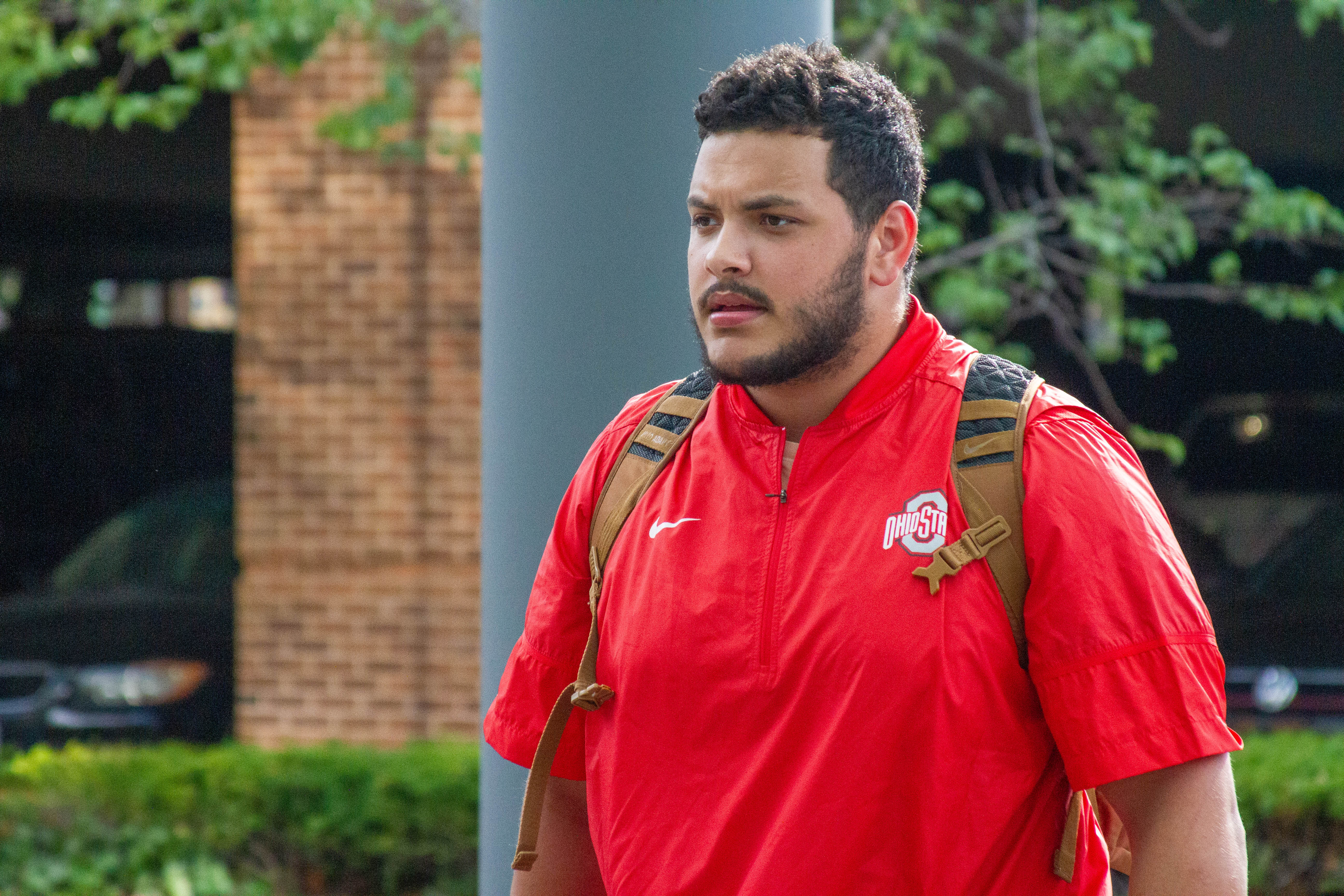 Offensive guard Jonah Jackson — a graduate transfer from Rutgers — shed his black stripe on Tuesday afternoon, signaling his status as a full-fledged member of the Ohio State football team after just four practices with the Buckeyes.
🚫⬛️ First of Fall Camp. Congratulations to @Jackson77Jonah for getting that stripe off‼️#GoBucks #ToughLove pic.twitter.com/ju8bkZXXDf

— Ohio State Football (@OhioStateFB) August 6, 2019
"I just want to say thank you to every single person here in this circle for welcoming me into this program with open arms and allowing me to be a part of such a great program and brotherhood," Jackson said as fifth-year senior offensive tackle Branden Bowen removed the stripe from his helmet. "Let's keep the ball rolling."
The 6-4, 305-pound Jackson joined the Ohio State football program this summer as a graduate transfer from Rutgers. He was named a team captain and earned honorable mention all-Big Ten honors last season after starting 11 games for the Scarlet Knights at right guard.
Jackson — who earned his degree in criminal justice — is expected to start at left guard for the Buckeyes this fall.
| NAME | POSITION | YEAR | DATE OF BLACK STRIPE REMOVAL |
| --- | --- | --- | --- |
| LOGAN HITTLE | LB | JR* | 3/21 |
| CADE KACHERSKI | LB | FR* | 3/21 |
| BEN SCHMIESING | LB | FR | 3/21 |
| JUSTIN FIELDS | QB | SO | 3/ 25 |
| DARRYL SINCLAIR | CB | SO* | 3/25 |
| MAX WRAY | OL | FR* | 4/1 |
| RYAN BATSCH | SAF | FR* | 4/1 |
| GARRETT WILSON | WR | FR | 4/8 |
| AUSTIN KUTSCHER | WR | FR* | 4/8 |
| ZACH HARRISON | DE | FR | 4/12 |
| JONAH JACKSON | OL | SR* | 8/6 |
*Redshirt