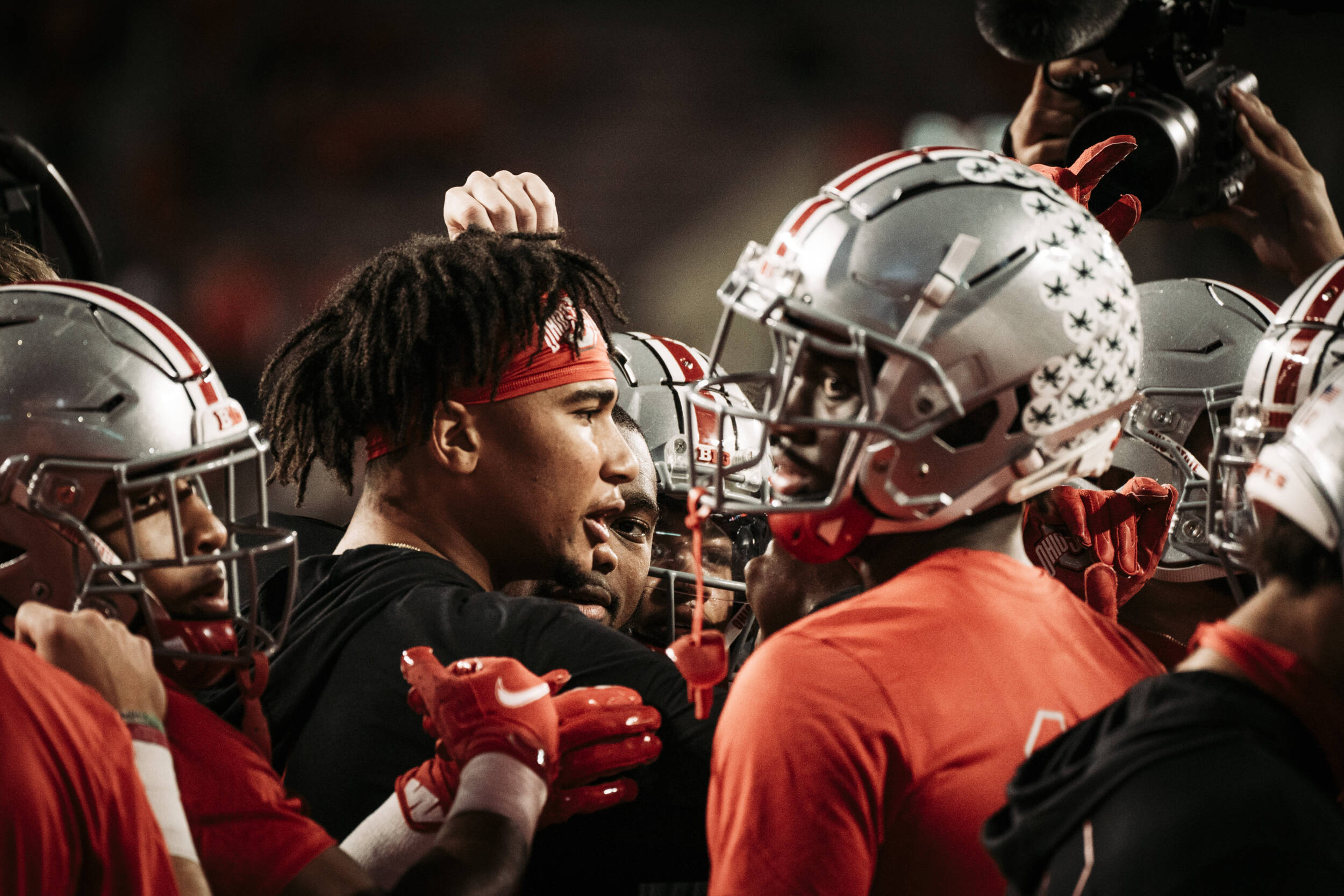 Ohio State moved up one spot in both the AP and USA Today Coaches poll following its 59-31 win over Purdue on Nov. 13. The Buckeyes are No. 4 in the Coaches poll and No. 5 in the AP poll.
Michigan State — the Buckeyes; next opponent — also moved up a spot and is now No. 8 in the Coaches poll and No. 7 in the AP, firmly setting up a top 10 matchup in Columbus on Nov. 20. According to the collegiate coaches, Michigan is the seventh-best team and eighth-best to the Associated Press, giving the Big Ten three teams in the top 10.
The Buckeyes are a top-five team in both polls for the first time since Week 2 when they were No. 3 ahead of their home loss to Oregon.
Ohio State also claimed the No. 4 spot behind Georgia, Alabama and Oregon in the second College Football Playoff rankings released on Nov. 9
Here are the full rankings in both polls:
AP Top 25 Poll
| RANK | TEAM | RECORD | PTS | PREV | CONFERENCE |
| --- | --- | --- | --- | --- | --- |
| 1 | GEORGIA | 10–0 | 1,550 (62) | 1 | SEC |
| 2 | ALABAMA | 9–1 | 1,449 | 3 | SEC |
| 3 | CINCINNATI | 10–0 | 1,420 | 2 | American Athletic |
| 4 | OREGON | 9–1 | 1,353 | 5 | Pac-12 |
| 5 | OHIO STATE | 9–1 | 1,341 | 6 | Big Ten |
| 6 | NOTRE DAME | 9–1 | 1,175 | 7 | IA Independents |
| 7 | MICHIGAN STATE | 9–1 | 1,161 | 8 | Big Ten |
| 8 | MICHIGAN | 9–1 | 1,134 | 9 | Big Ten |
| 9 | OKLAHOMA STATE | 9–1 | 1,106 | 10 | Big 12 |
| 10 | OLE MISS | 8–2 | 943 | 12 | SEC |
| 11 | BAYLOR | 8–2 | 882 | 18 | Big 12 |
| 12 | OKLAHOMA | 9–1 | 870 | 4 | Big 12 |
| 13 | WAKE FOREST | 9–1 | 851 | 13 | ACC |
| 14 | BRIGHAM YOUNG | 8–2 | 671 | 14 | IA Independents |
| 15 | UTSA | 10–0 | 591 | 15 | Conference USA |
| 16 | TEXAS A&M | 7–3 | 583 | 11 | SEC |
| 17 | HOUSTON | 9–1 | 509 | 17 | American Athletic |
| 18 | IOWA | 8–2 | 491 | 19 | Big Ten |
| 19 | WISCONSIN | 7–3 | 467 | 20 | Big Ten |
| 20 | PITTSBURGH | 8–2 | 358 | 25 | ACC |
| 21 | ARKANSAS | 7–3 | 277 | – | SEC |
| 22 | LOUISIANA-LAFAYETTE | 9–1 | 261 | 24 | Sun Belt |
| 23 | SAN DIEGO STATE | 9–1 | 239 | – | Mountain West |
| 24 | UTAH | 7–3 | 141 | – | Pac-12 |
| 25 | NORTH CAROLINA STATE | 7–3 | 95 | 21 | ACC |
USA Today Coaches Poll
| RANK | TEAM | RECORD | PTS | 1ST VOTES | PREV | CHANGE |
| --- | --- | --- | --- | --- | --- | --- |
| 1 | GEORGIA | 10–0 | 1550 | 62 | 1 | — |
| 2 | ALABAMA | 9–1 | 1464 | – | 2 | — |
| 3 | CINCINNATI | 10–0 | 1401 | – | 3 | — |
| 4 | OHIO STATE | 9–1 | 1363 | – | 5 | +1 |
| 5 | OREGON | 9–1 | 1320 | – | 6 | +1 |
| 6 | NOTRE DAME | 9–1 | 1181 | – | 7 | +1 |
| 7 | MICHIGAN | 9–1 | 1153 | – | 8 | +1 |
| 8 | MICHIGAN STATE | 9–1 | 1139 | – | 9 | +1 |
| 9 | OKLAHOMA STATE | 9–1 | 1102 | – | 10 | +1 |
| 10 | MISSISSIPPI | 8–2 | 948 | – | 12 | +2 |
| 11 | OKLAHOMA | 9–1 | 878 | – | 4 | -7 |
| 12 | WAKE FOREST | 9–1 | 847 | – | 13 | +1 |
| 13 | BAYLOR | 8–2 | 826 | – | 18 | +5 |
| 14 | IOWA | 8–2 | 637 | – | 14 | — |
| 15 | BRIGHAM YOUNG | 8–2 | 605 | – | 15 | — |
| 16 | TEXAS A&M | 7–3 | 560 | – | 11 | -5 |
| 17 | HOUSTON | 9–1 | 541 | – | 17 | — |
| 18 | TEXAS-SAN ANTONIO | 10–0 | 528 | – | 16 | -2 |
| 19 | PITTSBURGH | 8–2 | 446 | – | 22 | +3 |
| 20 | WISCONSIN | 7–3 | 407 | – | 24 | +4 |
| 21 | UL LAFAYETTE | 9–1 | 239 | – | 25 | +4 |
| 22 | ARKANSAS | 7–3 | 212 | – | NR | +4 |
| 23 | SAN DIEGO STATE | 9–1 | 210 | – | NR | +4 |
| 24 | NC STATE | 7–3 | 138 | – | 19 | -5 |
| 25 | UTAH | 7–3 | 133 | – | NR | +5 |