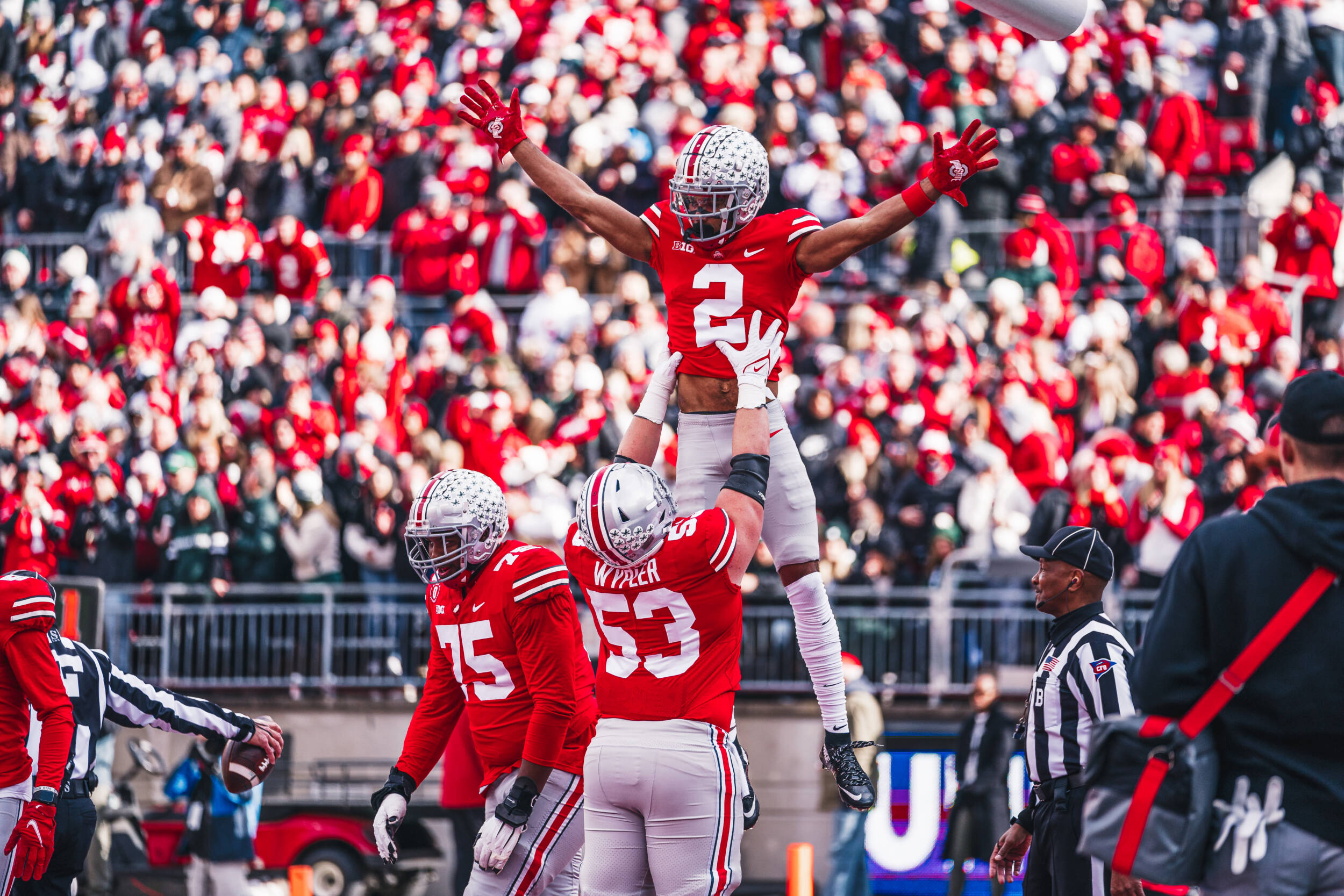 College football coaches and the Associated Press think Ohio State and head coach Ryan Day keeps getting better with each game.
After starting the year as the No. 4 team in the nation, the Buckeyes took a nosedive, falling as far as No. 11 after a loss to Oregon and a shaky win over Tulsa. Since then, Ohio State steadily climbed the rankings, reaching No. 2 in the AP and No. 3 in the Amway Coaches poll after Week 12.
The Buckeyes are coming off consecutive wins over ranked opponents, including a 28-point win over then-No. 19 Purdue on Nov. 13 and a 59-7 defeat of then-No. 7 Michigan State the following week. The string of victories helped Ohio State move behind Georgia and Alabama in the Coaches poll and take the second spot behind the Bulldogs in the AP.
With its blowout loss in Columbus, Michigan State fell outside of the top 10 in both polls. Michigan is the sixth-best team according to the AP and Coaches, setting up a premier matchup on Nov. 27 in Ann Arbor, Mich.
The last time Ohio State and Michigan played in a top 10 matchup was on Nov. 25, 2015, with the No. 6-ranked Buckeye claiming a 30-27 overtime victory over the No. 10 Wolverines thanks to a game-winning 15-yard touchdown run from Curtis Samuel.
In the third College Football Playoff rankings released on Nov. 16, Ohio State was No. 4 behind Georgia, Alabama and Oregon. The first two teams out were Cincinnati and Michigan. With the Ducks suffering their second defeat with a 38-7 loss to Utah, they will undoubtedly be out of the top four, allowing the Buckeyes to solidify further their spot in the CFP in the next poll.
USA TODAY AMWAY COACHES POLL
| RANK | TEAM | RECORD | PTS | 1ST VOTES | PREV | CHANGE |
| --- | --- | --- | --- | --- | --- | --- |
| 1 | GEORGIA | 11–0 | 1550 | 62 | 1 | — |
| 2 | ALABAMA | 10–1 | 1450 | – | 2 | — |
| 3 | OHIO STATE | 10–1 | 1428 | – | 4 | +1 |
| 4 | CINCINNATI | 11–0 | 1388 | – | 3 | -1 |
| 5 | NOTRE DAME | 10–1 | 1258 | – | 6 | +1 |
| 6 | MICHIGAN | 10–1 | 1250 | – | 7 | +1 |
| 7 | OKLAHOMA STATE | 10–1 | 1210 | – | 9 | +2 |
| 8 | MISSISSIPPI | 9–2 | 1049 | – | 10 | +2 |
| 9 | OKLAHOMA | 10–1 | 1010 | – | 11 | +2 |
| 10 | BAYLOR | 9–2 | 977 | – | 13 | +3 |
| 11 | OREGON | 9–2 | 864 | – | 5 | -6 |
| 12 | IOWA | 9–2 | 722 | – | 14 | +2 |
| 13 | MICHIGAN STATE | 9–2 | 698 | – | 8 | -5 |
| 14 | TEXAS A&M | 8–3 | 683 | – | 16 | +2 |
| 15 | BRIGHAM YOUNG | 9–2 | 675 | – | 15 | — |
| 16 | HOUSTON | 10–1 | 572 | – | 17 | +1 |
| 17 | PITTSBURGH | 9–2 | 507 | – | 19 | +2 |
| 18 | WISCONSIN | 8–3 | 485 | – | 20 | +2 |
| 19 | UTAH | 8–3 | 478 | – | 25 | +6 |
| 20 | TEXAS-SAN ANTONIO | 11–0 | 475 | – | 18 | -2 |
| 21 | WAKE FOREST | 9–2 | 404 | – | 12 | -9 |
| 22 | SAN DIEGO STATE | 10–1 | 257 | – | 23 | +1 |
| 23 | UL LAFAYETTE | 10–1 | 236 | – | 21 | -2 |
| 24 | NC STATE | 8–3 | 196 | – | 24 | — |
| 25 | KENTUCKY | 8–3 | 91 | – | NR | +1 |
AP POLL
| RANK | TEAM | RECORD | PTS | PREV | CONFERENCE |
| --- | --- | --- | --- | --- | --- |
| 1 | GEORGIA | 11–0 | 1,550 (62) | 1 | SEC |
| 2 | OHIO STATE | 10–1 | 1,434 | 5 | Big Ten |
| 3 | ALABAMA | 10–1 | 1,423 | 2 | SEC |
| 4 | CINCINNATI | 11–0 | 1,416 | 3 | American Athletic |
| 5 | NOTRE DAME | 10–1 | 1,262 | 6 | IA Independents |
| 6 | MICHIGAN | 10–1 | 1,246 | 8 | Big Ten |
| 7 | OKLAHOMA STATE | 10–1 | 1,209 | 9 | Big 12 |
| 8 | OLE MISS | 9–2 | 1,060 | 10 | SEC |
| 9 | BAYLOR | 9–2 | 1,046 | 11 | Big 12 |
| 10 | OKLAHOMA | 10–1 | 1,001 | 12 | Big 12 |
| 11 | OREGON | 9–2 | 849 | 4 | Pac-12 |
| 12 | MICHIGAN STATE | 9–2 | 778 | 7 | Big Ten |
| 13 | BRIGHAM YOUNG | 9–2 | 771 | 14 | IA Independents |
| 14 | TEXAS A&M | 8–3 | 628 | 16 | SEC |
| 15 | UTSA | 11–0 | 583 | 15 | Conference USA |
| 16 | UTAH | 8–3 | 561 | 24 | Pac-12 |
| 17 | IOWA | 9–2 | 538 | 18 | Big Ten |
| 18 | WISCONSIN | 8–3 | 517 | 19 | Big Ten |
| 19 | HOUSTON | 10–1 | 516 | 17 | American Athletic |
| 20 | PITTSBURGH | 9–2 | 445 | 20 | ACC |
| 21 | WAKE FOREST | 9–2 | 344 | 13 | ACC |
| 22 | SAN DIEGO STATE | 10–1 | 273 | 23 | Mountain West |
| 23 | LOUISIANA-LAFAYETTE | 10–1 | 246 | 22 | Sun Belt |
| 24 | NORTH CAROLINA STATE | 8–3 | 141 | 25 | ACC |
| 25 | ARKANSAS | 7–4 | 105 | 21 | SEC |