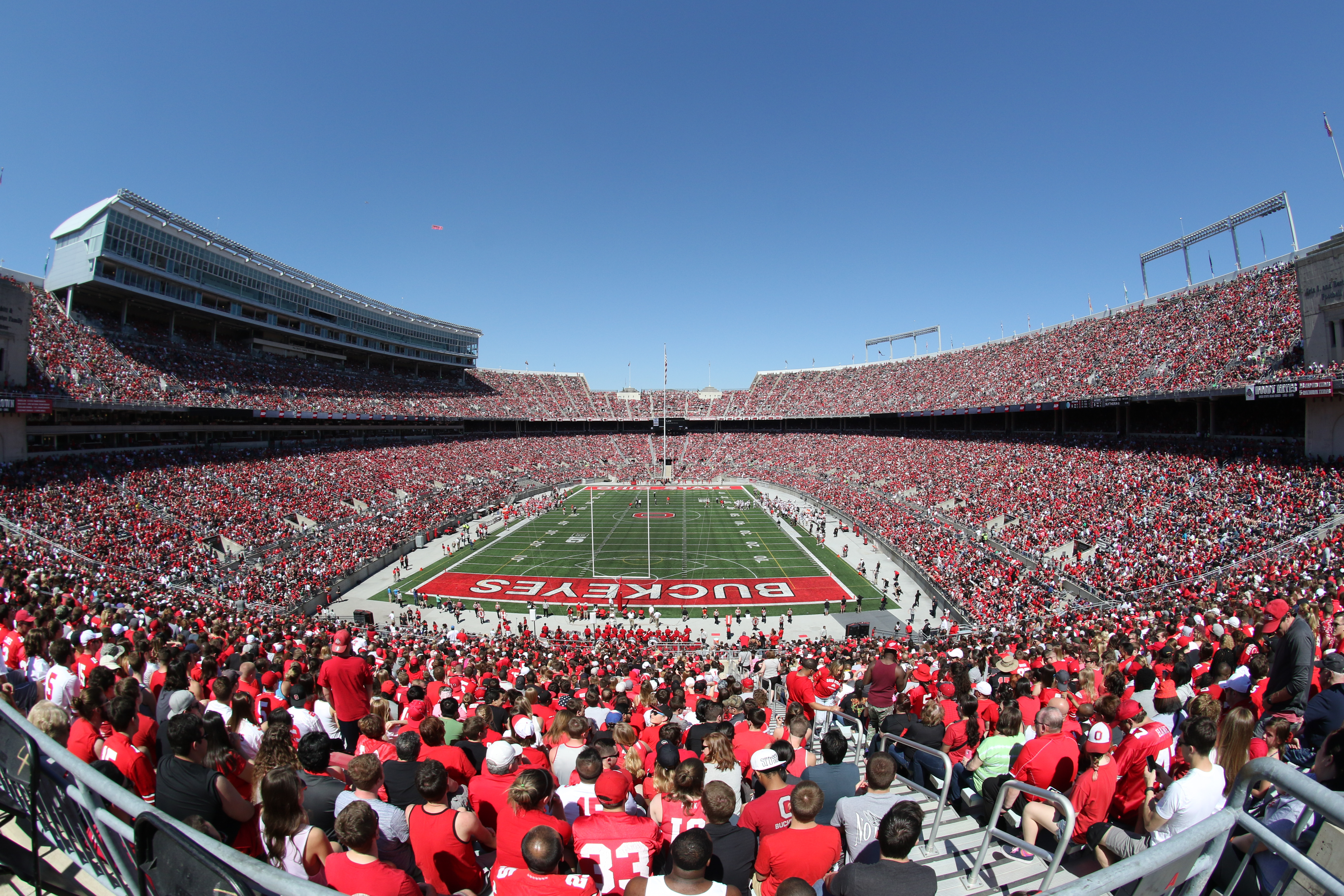 While Ohio State fell in the latest USA Today Coaches Poll, dropping from No. 3 to No. 4, the Buckeyes found themselves climbing the rankings in the latest Associated Press Poll.
The Buckeyes jumped from No. 5 in the AP Poll to No. 4, swapping spots with Wisconsin, which fell one spot after a 34-3 win over Western Kentucky on Friday night.
Ohio State, which throttled Oregon State 77-31 on Saturday, comes in behind three schools that made the College Football Playoff last season as Alabama, Clemson and Georgia round out the top three in both the coaches and AP polls.
Just like the coaches poll, four other Big Ten schools joined the Buckeyes in the AP Poll. In addition to the Badgers, three other Big Ten programs dropped as we head into week two of the college football season.
Penn State fell from No. 10 to No. 13 following a closer-than-expected 45-38 win over Appalachian State on Saturday, while Michigan State dropped from No. 11 to No. 15 after narrowly escaping against Utah State, 38-31, on Thursday night.
Michigan suffered the biggest fall of any ranked Big Ten school, dropping from No. 14 to No. 21 after a 24-17 loss at the hands of Notre Dame. The Fighting Irish jumped from No. 12 to No. 8 as a result of the victory.
The entire AP Poll for the second week of the season can be found below.
AP Poll

| RANK | TEAM | RECORD | PTS | 1st VOTES | PREV |
| --- | --- | --- | --- | --- | --- |
| 1 | ALABAMA | 1-0 | 1,511 | 48 | 1 |
| 2 | CLEMSON | 1-0 | 1,467 | 12 | 2 |
| 3 | GEORGIA | 1-0 | 1,350 | – | 3 |
| 4 | OHIO STATE | 1-0 | 1,262 | – | 5 |
| 5 | WISCONSIN | 1-0 | 1,258 | 1 | 4 |
| 6 | OKLAHOMA | 1-0 | 1,251 | – | 7 |
| 7 | AUBURN | 1-0 | 1,236 | – | 9 |
| 8 | NOTRE DAME | 1-0 | 1,080 | – | 12 |
| 9 | WASHINGTON | 0-1 | 870 | – | 6 |
| 10 | STANFORD | 1-0 | 865 | – | 13 |
| 11 | LSU | 1-0 | 801 | – | 25 |
| 12 | VIRGINIA TECH | 1-0 | 777 | – | 20 |
| 13 | PENN STATE | 1-0 | 768 | – | 10 |
| 14 | WEST VIRGINIA | 1-0 | 762 | – | 17 |
| 15 | MICHIGAN STATE | 1-0 | 684 | – | 11 |
| 16 | TCU | 1-0 | 632 | – | 16 |
| 17 | USC | 1-0 | 628 | – | 15 |
| 18 | MISSISSIPPI STATE | 1-0 | 538 | – | 18 |
| 19 | UCF | 1-0 | 407 | – | 21 |
| 20 | BOISE STATE | 1-0 | 391 | – | 22 |
| 21 | MICHIGAN | 0-1 | 318 | – | 14 |
| 22 | MIAMI (FL) | 0-1 | 241 | – | 8 |
| 23 | OREGON | 1-0 | 217 | – | 24 |
| 24 | SOUTH CAROLINA | 1-0 | 125 | – | – |
| 25 | FLORIDA | 1-0 | 89 | – | – |