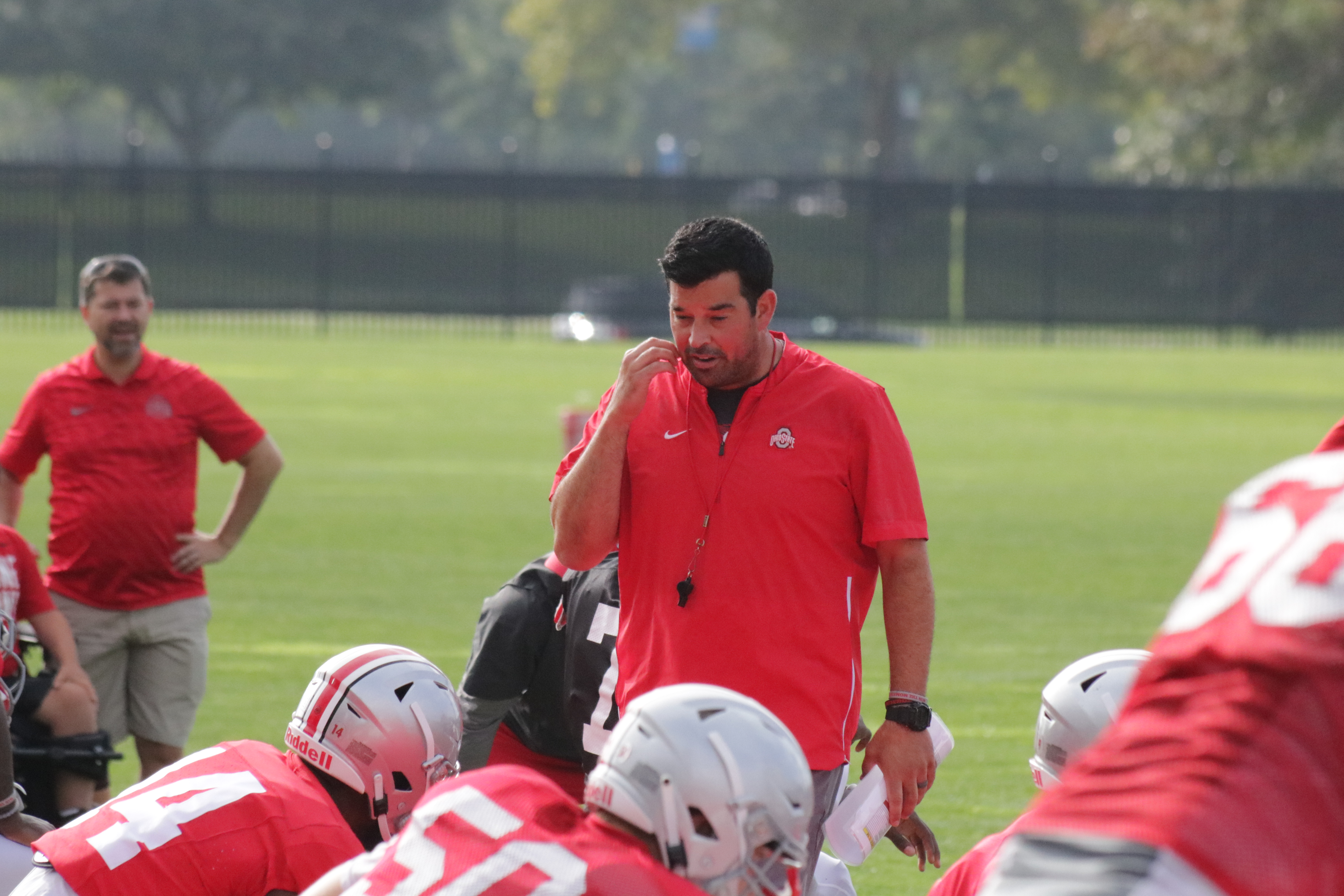 Ohio State defeated Oregon State 77-31 in its opening game of the 2018 season on Saturday, but it wasn't enough to impress the coaches across the country, as the Buckeyes fell one spot in the USA Today Coaches Poll, from No. 3 to No. 4.
Three teams that made the College Football Playoff a season ago, Alabama, Clemson and Georgia, checked in at Nos. 1-3 respectively, while Ohio State was leaped by the Bulldogs after Kirby Smart's squad smashed Austin Peay, 45-0, in the season opener.
Ohio State did receive one first-place vote in the second coaches poll of the season, the first of which came out prior to Urban Meyer's three-game suspension.
Four other Big Ten schools appeared in the top-25. Wisconsin jumped from No. 7 to No. 6 following a 34-3 victory over Western Kentucky on Friday night while Penn State dropped from No. 9 to No. 10 following a close 45-38 overtime win over Appalachian State on Saturday.
Michigan State also fell one spot from No. 12 to No. 13 following a 38-31 victory over Utah State on Thursday night while Michigan dropped eight spots from No. 14 to No. 22 after a 24-17 loss to Notre Dame on Saturday night in South Bend, Ind. The Fighting Irish jumped three spots, from No. 10 to No. 7, with the win over the Wolverines.
The entire USA Today Coaches Poll for week two of the college football season can be seen below.
USA Today Coaches Poll

| RANK | TEAM | RECORD | PTS | 1st VOTES | PREV | CHANGE |
| --- | --- | --- | --- | --- | --- | --- |
| 1 | ALABAMA | 1-0 | 1571 | 59 | 1 | – |
| 2 | CLEMSON | 1-0 | 1498 | 3 | 2 | – |
| 3 | GEORGIA | 1-0 | 1414 | – | 4 | +1 |
| 4 | OHIO STATE | 1-0 | 1398 | 1 | 3 | -1 |
| 5 | OKLAHOMA | 1-0 | 1312 | – | 5 | – |
| 6 | WISCONSIN | 1-0 | 1249 | – | 7 | +1 |
| 7 | AUBURN | 1-0 | 1219 | – | 10 | +3 |
| 8 | NOTRE DAME | 1-0 | 1077 | – | 11 | +3 |
| 9 | STANFORD | 1-0 | 909 | – | 13 | +4 |
| 10 | PENN STATE | 1-0 | 893 | – | 9 | -1 |
| 11 | WASHINGTON | 0-1 | 800 | – | 6 | -5 |
| 12 | SOUTHERN CALIFORNIA | 1-0 | 766 | – | 15 | +3 |
| 13 | MICHIGAN STATE | 1-0 | 733 | – | 12 | -1 |
| 14 | VIRGINIA TECH | 1-0 | 730 | – | 17 | +3 |
| 15 | LOUISIANA STATE | 1-0 | 724 | – | 24 | +9 |
| 16 | TEXAS CHRISTIAN | 1-0 | 699 | – | 16 | – |
| 17 | WEST VIRGINIA | 1-0 | 612 | – | 20 | +3 |
| 18 | MISSISSIPPI STATE | 1-0 | 531 | – | 18 | – |
| 19 | BOISE STATE | 1-0 | 362 | – | 22 | +3 |
| 20 | CENTRAL FLORIDA | 1-0 | 339 | – | 23 | +3 |
| 21 | MIAMI | 0-1 | 277 | – | 8 | -13 |
| 22 | MICHIGAN | 0-1 | 227 | – | 14 | -8 |
| 23 | OKLAHOMA STATE | 1-0 | 225 | – | 25 | +2 |
| 24 | SOUTH CAROLINA | 1-0 | 189 | – | NR | +2 |
| 25 | FLORIDA | 1-0 | 138 | – | NR | +2 |