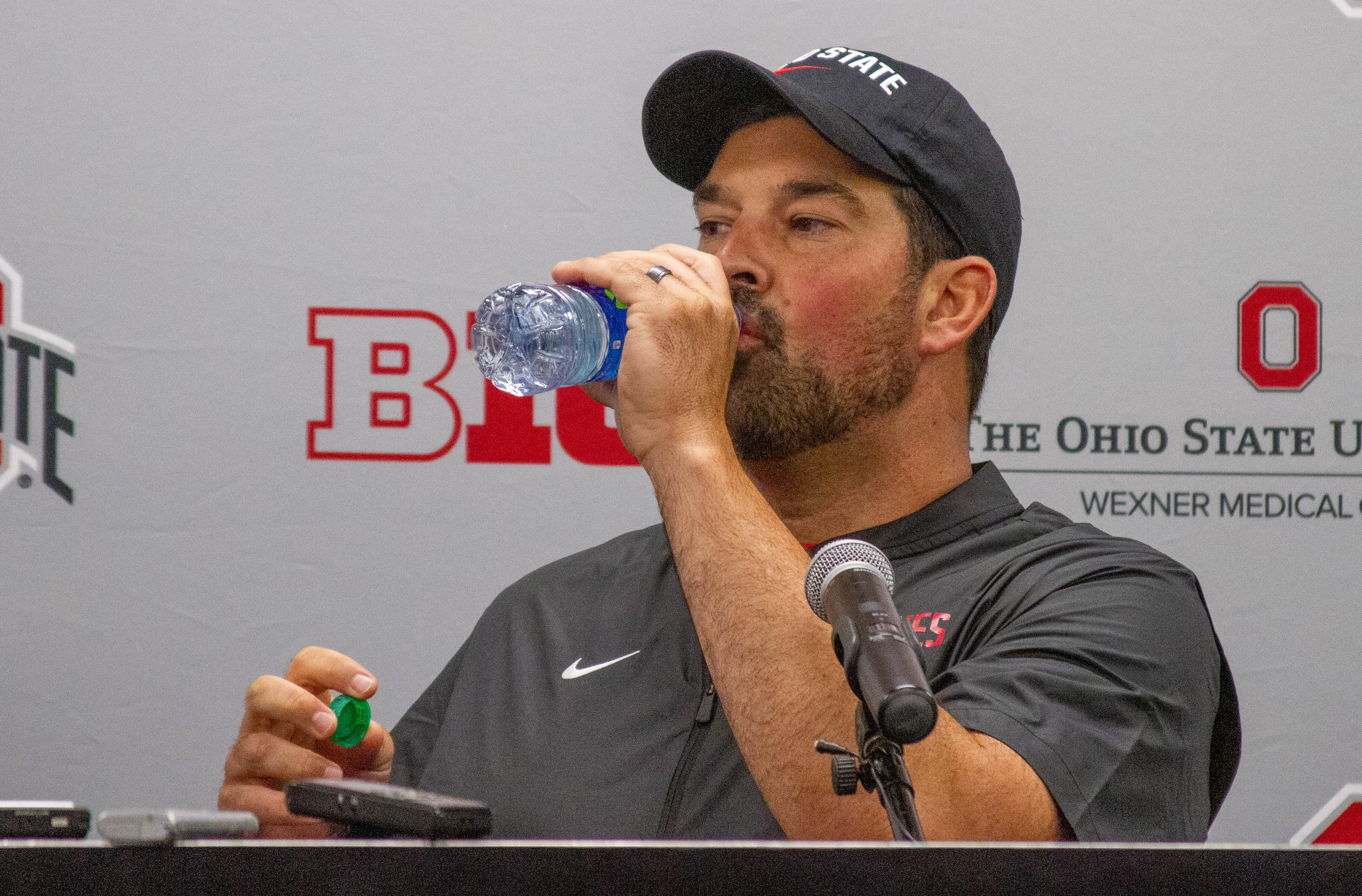 The Ohio State football schedules have been set for the next four seasons, with the announcement of a matchup with Arkansas State in 2022 and games against San Jose State and Western Kentucky in 2023.
Arkansas State, coached by Blake Anderson, will travel to Ohio Stadium for the first-ever matchup between the two programs on Sept. 10, 2022. The game will be between the season opener against Notre Dame and an intrastate showdown with Toledo, all at home. The Red Wolves belong to the Sun Belt Conference.
Ohio State will open with San Jose State, coached by Brent Brennan, at home on Sept. 9, 2023 after week-one game at Indiana. The game marks the second-ever meeting between the two programs, with the first resulting in a 50-7 Scarlet and Gray victory on Oct. 12, 2002 at Ohio Stadium. The Spartans play in the Mountain West Conference.
Following the game against San Jose State, Ohio State will host Western Kentucky, coached by Tyson Helton, for the first-ever matchup between the two schools on Sept. 16, 2023. The Hilltoppers are located in Bowling Green, Ky., and are a member of Conference-USA.
From 2020-23, Ohio State's nonconference schedule features home-and-home series against Oregon (in 2020-21) and Notre Dame (2022-23). In addition to the Big Ten East Division games, Ohio State will play Big Ten West Division teams Nebraska, Iowa, Minnesota, Purdue and Wisconsin twice during this span and Illinois and Northwestern once.
| Date | Opponent | Location | Time/Result | TV |
| --- | --- | --- | --- | --- |
| Oct. 24 | vs. Nebraska | Columbus | Noon/52-17 W | FOX |
| Oct. 31 | at Penn State | State College, Pa. | 7:30/38-25 W | ABC |
| Nov. 7 | vs. Rutgers | Columbus | 7:30/49-27 W | BTN |
| Nov. 14 | at Maryland | College Park, Md. | 3:30 | BTN |
| Nov. 21 | vs. Indiana | Columbus | Noon | FOX |
| Nov. 28 | at Illinois | Champaign, Ill. | TBA | TBA |
| Dec. 5 | at Michigan State | East Lansing, Mich. | TBA | TBA |
| Dec. 12 | vs. Michigan | Columbus | Noon | FOX |
| Dec. 19 | Big Ten Championship Game | Indianapolis | TBA | FOX |
| Date | Opponent | Location | Time/Result | TV |
| --- | --- | --- | --- | --- |
| Sept. 4 | at Minnesota | Minneapolis | 8 p.m. - W, 45-31 | FOX |
| Sept. 11 | vs. Oregon | Columbus | 12 p.m. - L, 35-28 | FOX |
| Sept. 18 | vs. Tulsa | Columbus | 3:30 p.m. - W, 41-20 | FS1 |
| Sept. 25 | vs. Akron | Columbus | 7:30 p.m. - W, 59-7 | BTN |
| Oct. 2 | at Rutgers | Piscataway, N.J. | 3:30 p.m. - W, 52-13 | BTN |
| Oct. 9 | vs. Maryland | Columbus | 12 p.m. - W, 66-17 | FOX |
| Oct. 23 | at Indiana | Bloomington, Ind. | 7:30 p.m. - W, 54-7 | ABC |
| Oct. 30 | vs. Penn State | Columbus | 7:30 p.m. - W, 33-24 | ABC |
| Nov. 6 | at Nebraska | Lincoln, NE | 12 p.m. - W, 26-17 | FOX |
| Nov. 13 | vs. Purdue | Columbus | 3:30 p.m. - W, 59-31 | ABC |
| Nov. 20 | vs. Michigan State | Columbus | 12 p.m. - W, 56-7 | ABC |
| Nov. 27 | at Michigan | Ann Arbor, Mich. | 12 p.m. - L, 42-27 | Fox |
| Jan. 1 - Rose Bowl | Utah | Pasadena, CA | 5 p.m. EST - W, 48-45 | ESPN |
| Date | Opponent | Location | Time/Result | TV |
| --- | --- | --- | --- | --- |
| Sept. 3 | vs. Notre Dame | Columbus | W, 21-10 | ABC |
| Sept. 10 | vs. Arkansas State | Columbus | W, 45-12 | BTN |
| Sept. 17 | vs. Toledo | Columbus | W, 77-21 | FOX |
| Sept. 24 | vs. Wisconsin | Columbus | W, 52-21 | ABC |
| Oct. 1 | vs. Rutgers | Columbus | W, 49-10 | BTN |
| Oct. 8 | at Michigan State | East Lansing, Mich. | W, 49-20 | ABC |
| Oct. 22 | Iowa | Columbus | W, 54-10 | FOX |
| Oct. 29 | at Penn State | University Park, Pa. | W, 44-31 | FOX |
| Nov. 5 | at Northwestern | Evanston, Ill. | W, 21-7 | ABC |
| Nov. 12 | vs. Indiana | Columbus | W, 56-14 | TBA |
| Nov. 19 | at Maryland | College Park, Md. | W, 43-30 | TBA |
| Nov. 26 | vs. Michigan | Columbus | L, 45-23 | FOX |
| Dec. 31 | Georgia | Atlanta | L, 42-41 | ESPN |
| Date | Opponent | Location | Time/Result | TV/Streaming |
| --- | --- | --- | --- | --- |
| Sept. 2 | at Indiana | Bloomington, Ind. | W, 23-3 | CBS |
| Sept. 9 | Youngstown State | Columbus | W, 35-7 | BTN |
| Sept. 16 | Western Kentucky | Columbus | W, 63-10 | FOX |
| Sept. 23 | at Notre Dame | South Bend. Ind. | W, 17-14 | NBC/Peacock |
| Oct. 7 | Maryland | Columbus | 12 p.m. | FOX |
| Oct. 14 | at Purdue | West Lafayette, Ind. | 12 p.m. | Peacock |
| Oct. 21 | Penn State | Columbus | TBA | TBA |
| Oct. 28 | at Wisconsin | Madison, Wisc. | TBA | TBA |
| Nov. 4 | at Rutgers | Piscataway, N.J. | TBA | TBA |
| Nov. 11 | Michigan State | Columbus | 7:30 p.m. | NBC/Peacock |
| Nov. 18 | Minnesota | Columbus | TBA | TBA |
| Nov. 25 | at Michigan | Ann Arbor, Mich. | 12 p.m. | FOX |
| Dec. 2 | Big Ten Championship Game | Indianapolis, Ind. | TBA | TBA |