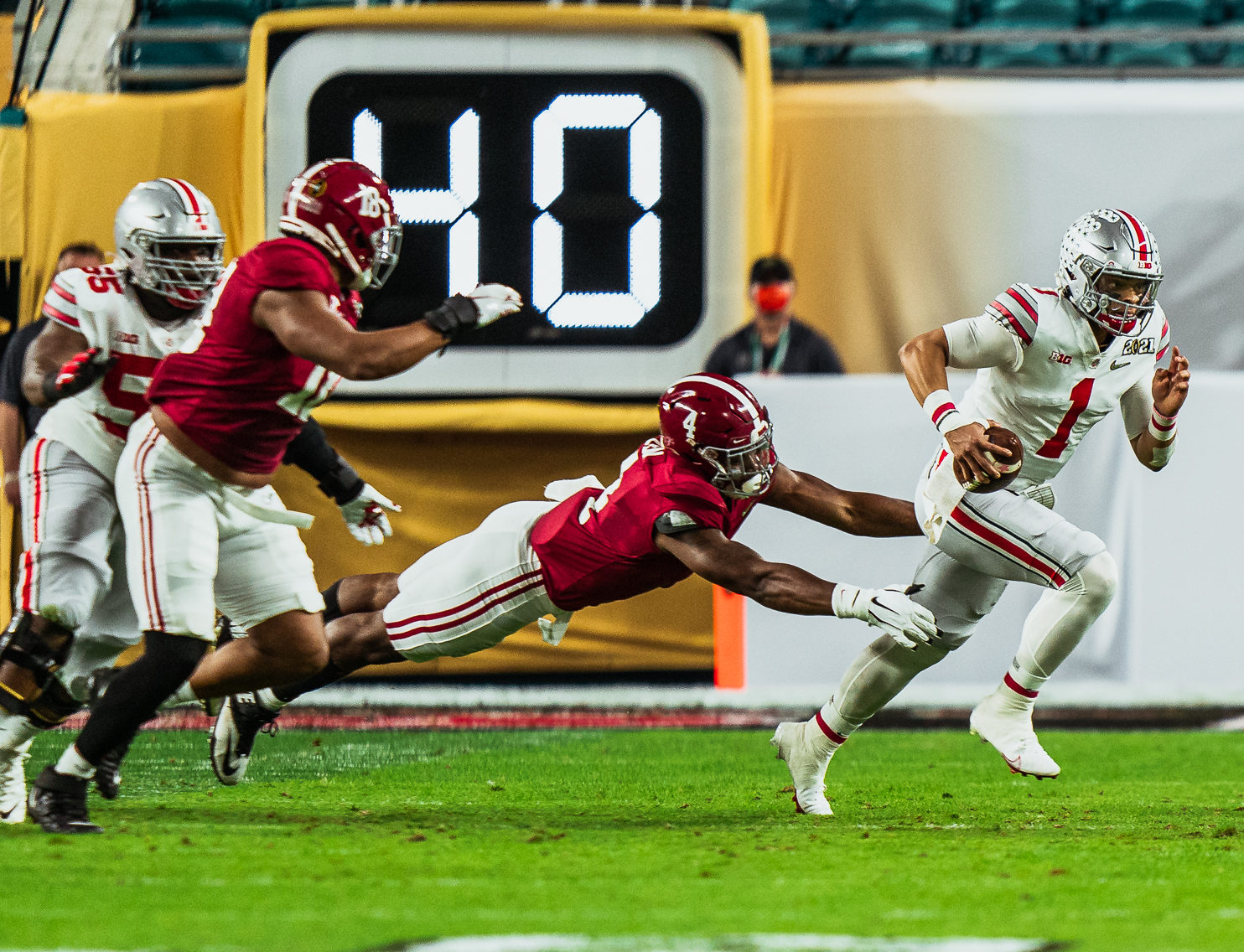 As expected following Monday night's 52-24 loss to Alabama in the College Football Playoff National Championship, Ohio State finished No. 2 in the final Associated Press poll of the season.
The Buckeyes (7-1) won their fourth straight Big Ten title this fall and reached the title game with a 49-28 win over No. 3 Clemson in the Sugar Bowl.
Texas A&M jumped one spot to fourth by virtue of its Orange Bowl win over No. 18 North Carolina, while Notre Dame – which fell to the Crimson Tide in the other playoff semifinal at the Rose Bowl – rounded out the top five.
Here's a complete breakdown of the final AP poll:
| Ranking | Team | Record | Points (First Place Votes) | Previous | Conference |
| --- | --- | --- | --- | --- | --- |
| No. 1 | Alabama | 12–0 | 1,525 (61) | 1 | SEC |
| No. 2 | Ohio State | 7–0 | 1,463 | 3 | Big Ten |
| No. 3 | Clemson | 10–2 | 1,378 | 2 | ACC |
| No. 4 | Texas A&M | 9–1 | 1,303 | 5 | SEC |
| No. 5 | Notre Dame | 10–2 | 1,279 | 4 | ACC |
| No. 6 | Oklahoma | 9–2 | 1,243 | 8 | Big XII |
| No. 7 | Georgia | 8–2 | 1,144 | 11 | SEC |
| No. 8 | Cincinnati | 9–1 | 1,074 | 6 | American |
| No. 9 | Iowa State | 9–3 | 1,035 | 12 | Big XII |
| No. 10 | Northwestern | 7–2 | 893 | 15 | Big Ten |
| No. 11 | BYU | 11–1 | 862 | 13 | Independent |
| No. 12 | Indiana | 6–2 | 773 | 7 | Big Ten |
| No. 13 | Florida | 8–4 | 764 | 10 | SEC |
| No. 14 | Coastal Carolina | 11–1 | 725 | 9 | Sun Belt |
| No. 15 | Louisiana-Lafayette | 10–1 | 664 | 16 | Sun Belt |
| No. 16 | Iowa | 6–2 | 581 | 17 | Big Ten |
| No. 17 | Liberty | 10–1 | 576 | 23 | Independent |
| No. 18 | North Carolina | 8–4 | 532 | 14 | ACC |
| No. 19 | Texas | 7–3 | 485 | 20 | Big XII |
| No. 20 | Oklahoma State | 8–3 | 417 | – | Big XII |
| No. 21 | USC | 5–1 | 306 | 21 | Pac-12 |
| No. 22 | Miami (FL) | 8–3 | 284 | 18 | ACC |
| No. 23 | Ball State | 7–1 | 183 | – | MAC |
| No. 24 | San Jose State | 7–1 | 80 | 19 | Mountain West |
| No. 25 | Buffalo | 6–1 | 51 | – | MAC |
For four free issues of the now-weekly print edition of Buckeye Sports Bulletin, sign up at the link below. No credit card required: http://www.buckeyesports.com/subscribe-4issue-trial/