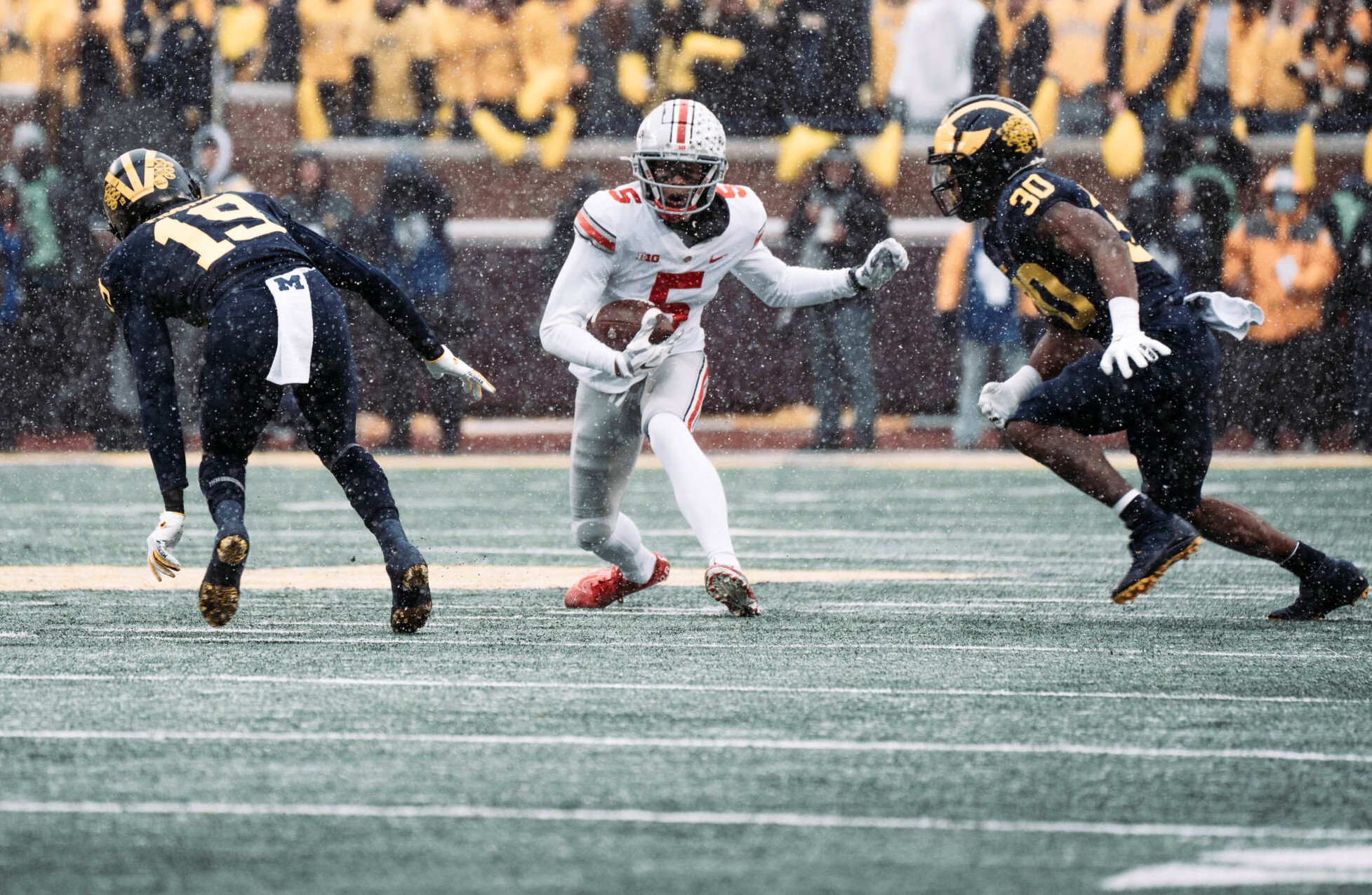 After 10 years, Ohio State finally lost to its archrival in The Game, falling to Michigan 42-37 in Ann Arbor on Nov. 27 and seeing its Big Ten Championship and College Football Playoff hopes dashed in the final week of the regular season.
The Buckeyes dropped to No. 7 in the AP and Coaches poll after Ryan Day suffered his first conference loss as the program's head coach. Ohio State dropped four spots from their No. 2 and No. 3 overall rankings the team earned following its dominant win over Michigan State the week before.
Ohio State's five-spot drop was its second-largest in the AP Poll this season, with the greatest being the six ranks the team fell after losing to Oregon on Sept. 11. However, the Buckeyes experienced their most significant move in the Coaches poll since Week 6 after a blowout victory over Rutgers that caused Ohio State to move up three spots.
Michigan is ahead of Ohio State for the first time since the week of the team's 2018 matchup. The Wolverines entered that game at No. 4, while the Buckeyes claimed the 10th spot before then-quarterback Dwayne Haskins led his team to a 62-39 win in The Game.
In the polls, Cincinnati, Oklahoma State, and Notre Dame also all moved up ahead of Ohio State. The Bearcats look poised to be the first Group of Five team to make the College Football Playoff with a win against No. 16 Houston the American Conference Championship. In contrast, Oklahoma State could make its first appearance in the CFP with a win over No. 9 Baylor in the Big 12 title game. The Fighting Irish are on the outside looking in with no conference championship and will need teams in front of them to lose if they want to compete for a national title.
COACHES POLL TOP 25
| RANK | TEAM | RECORD | PTS | 1ST VOTES | PREV | CHANGE |
| --- | --- | --- | --- | --- | --- | --- |
| 1 | GEORGIA | 12–0 | 1550 | 62 | 1 | — |
| 2 | ALABAMA | 11–1 | 1440 | – | 2 | — |
| 3 | MICHIGAN | 11–1 | 1408 | – | 6 | +3 |
| 4 | CINCINNATI | 12–0 | 1399 | – | 4 | — |
| 5 | OKLAHOMA STATE | 11–1 | 1285 | – | 7 | +2 |
| 6 | NOTRE DAME | 11–1 | 1250 | – | 5 | -1 |
| 7 | OHIO STATE | 10–2 | 1133 | – | 3 | -4 |
| 8 | MISSISSIPPI | 10–2 | 1097 | – | 8 | — |
| 9 | BAYLOR | 10–2 | 1046 | – | 10 | +1 |
| 10 | OREGON | 10–2 | 932 | – | 11 | +1 |
| 11 | OKLAHOMA | 10–2 | 851 | – | 9 | -2 |
| 12 | IOWA | 10–2 | 845 | – | 12 | — |
| 13 | MICHIGAN STATE | 10–2 | 840 | – | 13 | — |
| 14 | BRIGHAM YOUNG | 10–2 | 741 | – | 15 | +1 |
| 15 | PITTSBURGH | 10–2 | 640 | – | 17 | +2 |
| 16 | HOUSTON | 11–1 | 607 | – | 16 | — |
| 17 | UTAH | 9–3 | 596 | – | 19 | +2 |
| 18 | WAKE FOREST | 10–2 | 531 | – | 21 | +3 |
| 19 | SAN DIEGO STATE | 11–1 | 396 | – | 22 | +3 |
| 20 | NC STATE | 9–3 | 334 | – | 24 | +4 |
| 21 | UL LAFAYETTE | 11–1 | 268 | – | 23 | +2 |
| 22 | KENTUCKY | 9–3 | 226 | – | 25 | +3 |
| 23 | TEXAS A&M | 8–4 | 202 | – | 14 | -9 |
| 24 | CLEMSON | 9–3 | 170 | – | NR | +3 |
| 25 | ARKANSAS | 8–4 | 128 | – | NR | +1 |
AP TOP 25 POLL
| RANK | TEAM | RECORD | PTS | PREV | CONFERENCE |
| --- | --- | --- | --- | --- | --- |
| 1 | GEORGIA | 12–0 | 1,550 (62) | 1 | SEC |
| 2 | MICHIGAN | 11–1 | 1,449 | 6 | Big Ten |
| 3 | CINCINNATI | 12–0 | 1,422 | 4 | American Athletic |
| 4 | ALABAMA | 11–1 | 1,388 | 3 | SEC |
| 5 | OKLAHOMA STATE | 11–1 | 1,291 | 7 | Big 12 |
| 6 | NOTRE DAME | 11–1 | 1,264 | 5 | IA Independents |
| 7 | OHIO STATE | 10–2 | 1,147 | 2 | Big Ten |
| 8 | OLE MISS | 10–2 | 1,105 | 8 | SEC |
| 9 | BAYLOR | 10–2 | 1,066 | 9 | Big 12 |
| 10 | OREGON | 10–2 | 932 | 11 | Pac-12 |
| 11 | MICHIGAN STATE | 10–2 | 877 | 12 | Big Ten |
| 12 | BRIGHAM YOUNG | 10–2 | 839 | 13 | IA Independents |
| 13 | OKLAHOMA | 10–2 | 837 | 10 | Big 12 |
| 14 | UTAH | 9–3 | 667 | 16 | Pac-12 |
| 15 | IOWA | 10–2 | 662 | 17 | Big Ten |
| 16 | HOUSTON | 11–1 | 603 | 19 | American Athletic |
| 17 | PITTSBURGH | 10–2 | 589 | 20 | ACC |
| 18 | WAKE FOREST | 10–2 | 485 | 21 | ACC |
| 19 | SAN DIEGO STATE | 11–1 | 416 | 22 | Mountain West |
| 20 | LOUISIANA-LAFAYETTE | 11–1 | 317 | 23 | Sun Belt |
| 21 | NORTH CAROLINA STATE | 9–3 | 310 | 24 | ACC |
| 22 | CLEMSON | 9–3 | 269 | – | ACC |
| 23 | ARKANSAS | 8–4 | 214 | 25 | SEC |
| 24 | TEXAS A&M | 8–4 | 117 | 14 | SEC |
| 25 | KENTUCKY | 9–3 | 82 | – | SEC |