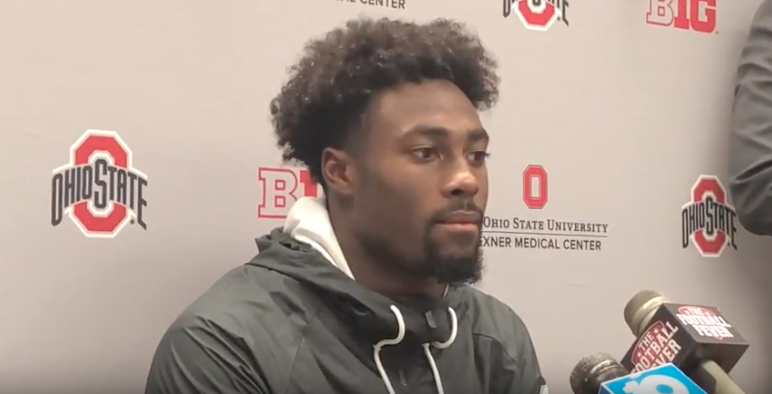 After Ohio State reached its highest spot in the AP Top 25 since the start of the 2017 season at No. 2, the Buckeyes plummeted out of the top 10 entirely as a result of Saturday's 49-20 loss at Purdue. OSU (7-1, 4-1 Big Ten) enters its Oct. 27 off week at No. 11 in Sunday's AP poll and appears at No. 9 in the Amway Coaches Poll.
The Boilermakers (4-3, 3-1) received 17 votes to sit outside the AP Top 25 at 33rd. They joined Michigan State, with 16 votes at 34th, as the other Big Ten program among the teams just beyond the poll. No. 5 Michigan, No. 17 Penn State, No. 18 Iowa and No. 20 Wisconsin join OSU as the conference's five representatives.
Below is the entire AP Top 25.
| Rank | Trend | Team | Conference | Overall Record | Points | Game scores | Share |
| --- | --- | --- | --- | --- | --- | --- | --- |
| 1 | – | Alabama | SEC | 8-0 | 1,525 | @ Tennessee W 58-21 | Share |
| 2 | 1 | Clemson | ACC | 7-0 | 1,454 | vs North Carolina State W 41-7 | Share |
| 3 | 1 | Notre Dame | Division I FBS Ind | 7-0 | 1,400 | _ | Share |
| 4 | 1 | LSU | SEC | 7-1 | 1,327 | vs Mississippi State W 19-3 | Share |
| 5 | 1 | Michigan | Big Ten | 7-1 | 1,250 | @ Michigan State W 21-7 | Share |
| 6 | 1 | Texas | Big 12 | 6-1 | 1,186 | _ | Share |
| 7 | 1 | Georgia | SEC | 6-1 | 1,136 | _ | Share |
| 8 | 1 | Oklahoma | Big 12 | 6-1 | 1,065 | @ TCU W 52-27 | Share |
| 9 | 2 | Florida | SEC | 6-1 | 998 | _ | Share |
| 10 | – | UCF | The American | 7-0 | 996 | @ East Carolina W 37-10 | Share |
| 11 | 9 | Ohio State | Big Ten | 7-1 | 985 | @ Purdue L 49-20 | Share |
| 12 | 2 | Kentucky | SEC | 6-1 | 754 | vs Vanderbilt W 14-7 | Share |
| 13 | – | West Virginia | Big 12 | 5-1 | 747 | _ | Share |
| 14 | 11 | Washington State | Pac-12 | 6-1 | 692 | vs Oregon W 34-20 | Share |
| 15 | – | Washington | Pac-12 | 6-2 | 677 | vs Colorado W 27-13 | Share |
| 16 | 1 | Texas A&M | SEC | 5-2 | 622 | _ | Share |
| 17 | 1 | Penn State | Big Ten | 5-2 | 528 | @ Indiana W 33-28 | Share |
| 18 | 1 | Iowa | Big Ten | 6-1 | 489 | vs Maryland W 23-0 | Share |
| 19 | 7 | Oregon | Pac-12 | 5-2 | 450 | @ Washington State L 34-20 | Share |
| 20 | 3 | Wisconsin | Big Ten | 5-2 | 357 | vs Illinois W 49-20 | Share |
| 21 | – | South Florida | The American | 7-0 | 291 | vs Connecticut W 38-30 | Share |
| 22 | 6 | North Carolina State | ACC | 5-1 | 186 | @ Clemson L 41-7 | Share |
| 23 | – | Utah | Pac-12 | 5-2 | 180 | vs USC W 41-28 | Share |
| 24 | – | Stanford | Pac-12 | 5-2 | 144 | @ Arizona State W 20-13 | Share |
| 25 | – | Appalachian State | Sun Belt | 5-1 | 79 | vs Louisiana-Lafayette W 27-17 | Share |