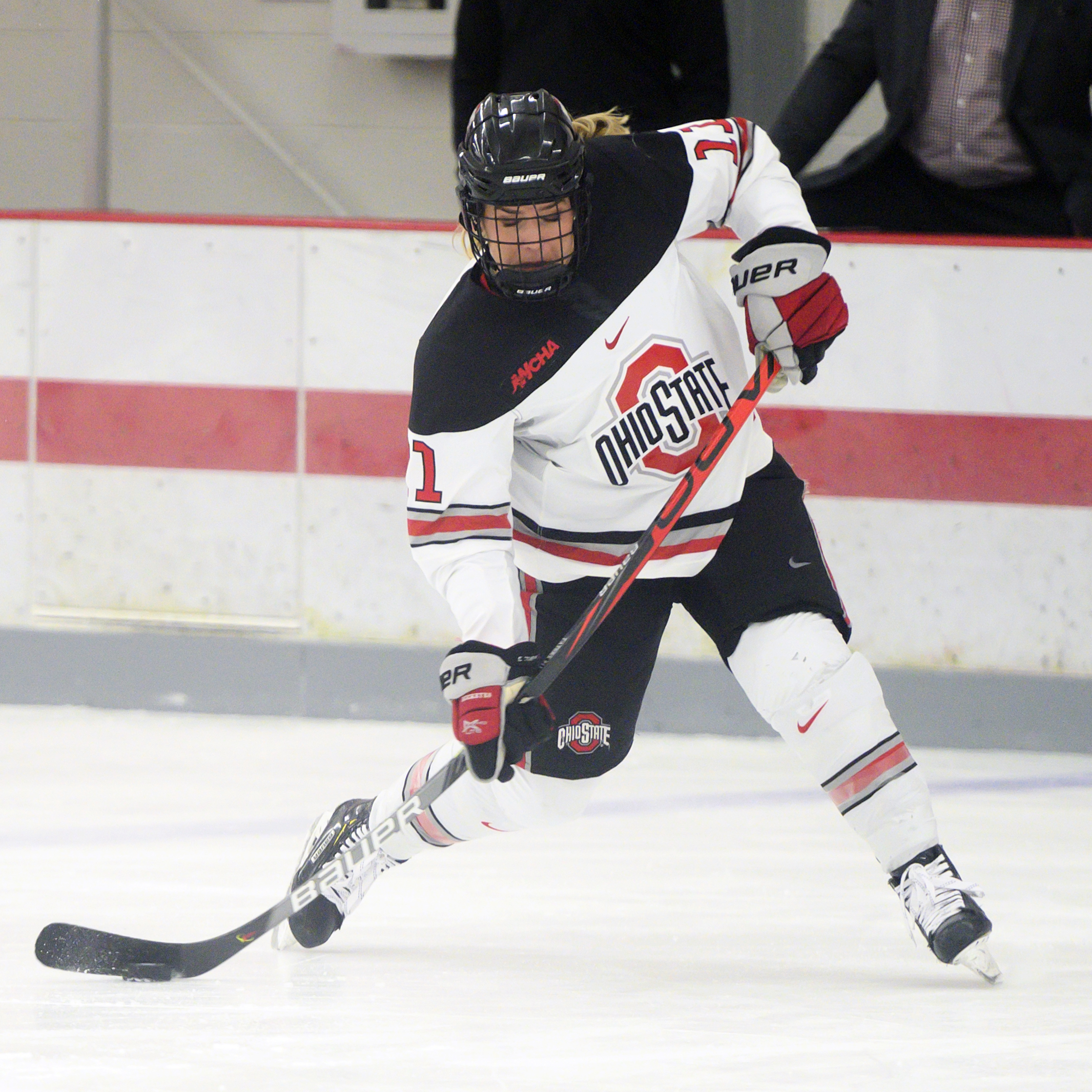 Ohio State broke its own record for the most Big Ten Distinguished Scholar accolades in an academic year with 164 Buckeye student-athletes earning the honor.
The 164 honorees surpasses the record of 131 winners by Ohio State in 2018-19. For the fifth straight year, the Scarlet and Gray led the Big Ten in total recipients.
The full list is HERE and in the table below the story..
Big Ten faculty representatives created the Distinguished Scholar Award in 2008 to supplement the Academic All-Big Ten program. Distinguished Scholar Award recipients must have earned Academic All-Big Ten recognition in the previous academic year, must have been enrolled full time at the institution for the entire previous academic year (two semesters or three quarters) and earned a minimum GPA of 3.70 or better during the previous academic year, excluding any summer grades. 
The Academic All-Big Ten threshold is a cumulative GPA of 3.0 or higher for a student-athlete's academic career. Overall, the Big Ten honored 1,517 student-athletes across the conference as Big Ten Distinguished Scholars for 2019-20.
The Buckeyes had 26 honorees who were recognized for posting 4.0 grade-point averages in 2019-20: Leon Cao (fencing), Gabriela Cecchini (fencing), Aleksandra Kolmykova (fencing), Luke Farrell (football), Ben Schmiesing (football), Adeena Shears (women's golf), Nevin Adamski (women's gymnastics), Claire Gagliardi (women's gymnastics), Tatum Skaggs (women's ice hockey), Emily Nothnagle (pistol), Megan Cymanski (rowing), Allison Krish (rowing), Grace Libben (rowing), Michaela Nordhaus (rowing), Mitch Bergman (men's soccer), Selina Vickery (women's soccer), Spencer Sansom (softball), Evan Stapp (men's swimming and diving), Kendyl Ferrara (women's swimming and diving), Quinn Fike (women's swimming and diving), Lara Tarvit (women's swimming and diving), Luke Landis (men's track and field), Alexa Jankowsky (women's track and field), Mia Grunze (women's volleyball), Lauren Witte (women's volleyball) and Kollin Moore (wrestling).
Despite difficulties that accompanied the COVID-19 pandemic, the Scarlet and Gray boasted a remarkale year in the classroom, with 231 student-athletes earning Ohio State degrees, 647 named Ohio State Scholar-Athletes and 447 receiving Academic All-Big Ten honors.
| | | | | | | | | |
| --- | --- | --- | --- | --- | --- | --- | --- | --- |
| | | | | | | | | |
| 2020 Ohio State Big Ten Distinguished Scholars |   |   |   |   |   |   |   |   |
| Sport | Name | Year | Major | Hometown | | | | |
| Baseball | Nolan Clegg | So. | Air Transportation | Toronto, Ohio | | | | |
| Baseball | Zach Dezenzo | So. | Sport Industry | Alliance, Ohio | | | | |
| Baseball | Marcus Ernst | So. | Finance | Dublin, Ohio | | | | |
| Baseball | Will Pfennig | So. | Finance | Mason, Ohio | | | | |
| Men's Basketball | Danny Hummer | Gr. | Kinesiology | Upper Arlington, Ohio | | | | |
| Fencing | Leon Cao | Sr. | Electrical and Computer Engineering | West Chester, Ohio | | | | |
| Fencing | Gabriela Cecchini | Sr. | Economics | Porto Alegre, Brazil | | | | |
| Fencing | Chris Collado | So. | Political Science | Commack, N.Y. | | | | |
| Fencing | Matthew Comes | Jr. | Mechanical Engineering | Bothell, Wash. | | | | |
| Fencing | Ethan Edwards | Jr. | Political Science | Orfordville, Wis. | | | | |
| Fencing | Natalia Falkowski | Sr. | International Business | Wappingers Falls, N.Y. | | | | |
| Fencing | Nicole Fisher | Jr. | Psychology | Columbus, Ohio | | | | |
| Fencing | Matthew Hayes | Jr. | Psychology | Dublin, Ohio | | | | |
| Fencing | Domenik Koch | Gr. | Specialized Master's Business-Finance | Dormagen, Germany | | | | |
| Fencing | Aleksandra Kolmykova | Sr. | Finance | St Petersburg, Russia | | | | |
| Fencing | Henry Lange | So. | Linguistics | Beaverton, Ore. | | | | |
| Fencing | Alexa Laskaris | Sr. | Health Sciences | Park Ridge, Ill. | | | | |
| Fencing | Sarah Merza | Sr. | Psychology | Wayne, N.J. | | | | |
| Fencing | Roscoe Swartz | So. | Health Sciences Program | Ridgewood, N.J. | | | | |
| Field Hockey | Mara Hunter | Jr. | Public Management, Leadership & Policy | Powell, Ohio | | | | |
| Field Hockey | Adelaide Penzone | Sr. | Marketing | Powell, Ohio | | | | |
| Field Hockey | Sina Schwinn | So. | Psychology | Rheinbach, Germany | | | | |
| Field Hockey | Julianna Sweeney | Jr. | Animal Sciences | Stroudsburg, Pa. | | | | |
| Football | Ryan Batsch | So. | Exploration | Loveland, Ohio | | | | |
| Football | Luke Farrell | Jr. | Human Development & Family Science | Perry, Ohio | | | | |
| Football | Zaid Hamdan | So. | Criminology & Criminal Justice | Mason, Ohio | | | | |
| Football | CJ Saunders | Gr. | Kinesiology | Dublin, Ohio | | | | |
| Football | Ben Schmiesing | So. | Finance | Piqua, Ohio | | | | |
| Men's Golf | Laken Hinton | Jr. | Sport Industry | Edmond, Okla. | | | | |
| Women's Golf | Yukie Sasaki | Jr. | Hospitality Management | Hiroshima, Japan | | | | |
| Women's Golf | Adeena Shears | Sr. | Human Development and Family Science | Parkersburg, W.Va. | | | | |
| Men's Gymnastics | Andrew Brower | Gr. | Animal Sciences | Old Bridge, N.J. | | | | |
| Men's Gymnastics | Michael Chan | Sr. | Accounting | Louisville, Ky. | | | | |
| Men's Gymnastics | Sean Neighbarger | Jr. | Exercise Science Education | Virginia Beach, Va. | | | | |
| Men's Gymnastics | Dexter Roettker | So. | Exploration | Jackson, Ohio | | | | |
| Women's Gymnastics | Nevin Adamski | Sr. | Health Sciences | Virginia Beach, Va. | | | | |
| Women's Gymnastics | Olivia Aepli | Sr. | Marketing | Dublin, Ohio | | | | |
| Women's Gymnastics | Claire Gagliardi | So. | Psychology | Hubbard, Ohio | | | | |
| Women's Gymnastics | Kaitlyn Gilson | So. | Communications | Hudson, Wis. | | | | |
| Women's Gymnastics | Morgan Lowe | Jr. | Exercise Science Education | Dallas, Texas | | | | |
| Women's Gymnastics | Colby Miller | So. | Accounting | Mason, Ohio | | | | |
| Women's Gymnastics | Miriam Perez | So. | Communications | Los Angeles, Calif. | | | | |
| Women's Gymnastics | Kali Schierl | So. | Human Nutrition | Stevens Point, Wis. | | | | |
| Men's Ice Hockey | Austin Pooley | Jr. | Finance | Dublin, Ohio | | | | |
| Men's Ice Hockey | Quinn Preston | So. | Sport Industry | Trenton, Mich. | | | | |
| Women's Ice Hockey | Madison Bizal | So. | Exploration | Elk River, Minn. | | | | |
| Women's Ice Hockey | Andrea Braendli | So. | Psychology | Zurich, Switzerland | | | | |
| Women's Ice Hockey | Lisa Bruno | Jr. | Sport Industry | Whitby, Ontario | | | | |
| Women's Ice Hockey | Jincy Dunne | Gr. | Sports Coaching | O'Fallon, Mo. | | | | |
| Women's Ice Hockey | Gabby Rosenthal | So. | Speech and Hearing Science | Blaine, Minn. | | | | |
| Women's Ice Hockey | Sara Saekkinen | So. | Sport Industry | Pirkkala, Finland | | | | |
| Women's Ice Hockey | Eve Savander | So. | Sport Industry | Joensuu, Finland | | | | |
| Women's Ice Hockey | Liz Schepers | Jr. | Health Sciences | Mound, Minn. | | | | |
| Women's Ice Hockey | Tatum Skaggs | Jr. | Special Education | Hartland, Wis. | | | | |
| Men's Lacrosse | Colby Barker | Jr. | Sport Industry | Pittsford, N.Y. | | | | |
| Men's Lacrosse | Lukas Buckley | Gr. | Specialized Master's Business-Finance | Walpole, Mass. | | | | |
| Men's Lacrosse | Christian Feliziani | Sr. | Sport Industry | Boothwyn, Pa. | | | | |
| Men's Lacrosse | Tre Leclaire | Sr. | Sport Industry | Surrey, British Columbia | | | | |
| Men's Lacrosse | Nick Musci | Sr. | Finance | Westerville, Ohio | | | | |
| Men's Lacrosse | Evan Riss | Jr. | Finance | Columbia, Md. | | | | |
| Men's Lacrosse | Skylar Wahlund | So. | Accounting | Powell, Ohio | | | | |
| Women's Lacrosse | Ali Beekhuizen | So. | Psychology | Fort Lauderdale, Fla. | | | | |
| Women's Lacrosse | Sage Darling | Sr. | Speech & Hearing Science | Lakefield, Ontario | | | | |
| Women's Lacrosse | Regina Doty | Sr. | Civil Engineering | St. Louis, Mo. | | | | |
| Women's Lacrosse | Lindsay Epstein | Jr. | Communications | Marietta, Ga. | | | | |
| Women's Lacrosse | MK George | So. | Psychology | Monmouth Beach, N.J. | | | | |
| Women's Lacrosse | Sarah George | Sr. | Child & Youth Studies | Monmouth Beach, N.J. | | | | |
| Women's Lacrosse | Ava Keethler | So. | Exercise Science Education | Upper Arlington, Ohio | | | | |
| Women's Lacrosse | Jill Rizzo | Sr. | Marketing | Queensbury, N.J. | | | | |
| Women's Lacrosse | Emily Skrzypczak | Sr. | Health Sciences | Burke, Va. | | | | |
| Women's Lacrosse | Caroline Tatsuoka | So. | Mathematics | Hunting Valley, Ohio | | | | |
| Pistol | Cade Haiby | So. | Mechanical Engineering | Blackduck, Minn. | | | | |
| Pistol | Bernard Melus | Jr. | Electrical and Computer Engineering | Lake Zurich, Ill. | | | | |
| Pistol | Emily Nothnagle | Jr. | Psychology, Anthropology, and Music | Hershey, Pa. | | | | |
| Rifle | Megan Wilcoxson | Jr. | Communication | Shelton, Conn. | | | | |
| Rowing | Katelyn Bartos | So. | Mechanical Engineering | Copley, Ohio | | | | |
| Rowing | Megan Cymanski | Jr. | Communication | Hiram, Ohio | | | | |
| Rowing | Anjali Fernandes | Sr. | English | Perrysburg, Ohio | | | | |
| Rowing | Lena Harper | Jr. | Industrial and Systems Engineering | Cincinnati, Ohio | | | | |
| Rowing | Leonie Heuer | Jr. | Human Development & Family Science | Leer, Germany | | | | |
| Rowing | Allison Krish | So. | Industrial Design | Woodbury, Minn. | | | | |
| Rowing | Olivia Kwiecinski | Sr. | Environment, Economy, Development & Sustainability | Cincinnati, Ohio | | | | |
| Rowing | Grace Libben | Sr. | Public Health | Logan, Ohio | | | | |
| Rowing | Kendell Massier | Sr. | Speech and Hearing Science | Regina, Saskatchewan | | | | |
| Rowing | Megan McNutt | So. | Biomedical Engineering | Painted Post, N.Y. | | | | |
| Rowing | Michaela Nordhaus | Jr. | Psychology | Ottawa, Ohio | | | | |
| Rowing | Alexandra Nothdurft | Jr. | International Studies | Brisbane, Australia | | | | |
| Rowing | Kelly Stainbrook | Jr. | Biochemistry | Zanesville, Ohio | | | | |
| Rowing | Sierra Tiede | Sr. | International Studies | Missoula, Mont. | | | | |
| Rowing | Willow Wahlers | Jr. | Communication | Toms River, N.J. | | | | |
| Men's Soccer | Mitch Bergman | Jr. | Industrial and Systems Eng. | Canal Winchester, Ohio | | | | |
| Women's Soccer | Meghan Kammerdeiner | Sr. | Public Policy and Management | South Riding, Va. | | | | |
| Women's Soccer | Selina Vickery | Sr. | Neuroscience | Friendswood, Texas | | | | |
| Softball | Niki Carver | Jr. | Special Education | Gainesville, Ga. | | | | |
| Softball | Summer Constable | Jr. | Physical Activity & Coaching Specialist | Sullivan, Ohio | | | | |
| Softball | Andi Farrah | Sr. | Health Sciences | Pickerington, Ohio | | | | |
| Softball | Megan McMenemy | Jr. | Health Sciences | Westerville, Ohio | | | | |
| Softball | Claire Nicholson | Jr. | Human Development & Family Science | Mt. Gilead, Ohio | | | | |
| Softball | Spencer Sansom | Sr. | Physical Activity & Coaching Specialist | Clovis, Calif. | | | | |
| | | | | | | | | |
| --- | --- | --- | --- | --- | --- | --- | --- | --- |
| | | | | | | | | |
| Men's Swimming & Diving | Joseph Canova | Jr. | Data Analytics | Gaithersburg, Md. | | | | |
| Men's Swimming & Diving | Alexander Dillmann | Sr. | Political Science | Naperville, Ill. | | | | |
| Men's Swimming & Diving | Evan McFadden | Jr. | Aero and Astronautical Engineering | Oreland, Pa. | | | | |
| Men's Swimming & Diving | Jacob Siler | Jr. | Speech and Hearing Science | Knoxville, Tenn. | | | | |
| Men's Swimming & Diving | Evan Stapp | Jr. | Sport Industry | Tipp City, Ohio | | | | |
| Women's Swimming & Diving | Genevieve Angerame | Jr. | Political Science | The Woodlands, Texas | | | | |
| Women's Swimming & Diving | Rebekah Bradley | Sr. | Biochemistry | Auckland, New Zealand | | | | |
| Women's Swimming & Diving | Kathrin Demler | Sr. | Psychology | Gelsenkirchen, Germany | | | | |
| Women's Swimming & Diving | Kendyl Ferrara | Jr. | Communication | Cincinnati, Ohio | | | | |
| Women's Swimming & Diving | Quinn Fike | Sr. | Public Health | Dublin, Ohio | | | | |
| Women's Swimming & Diving | Nicole Fye | Jr. | Microbiology | Ashburn, Va. | | | | |
| Women's Swimming & Diving | Brooke Glesenkamp | Jr. | Health Sciences | Delaware, Ohio | | | | |
| Women's Swimming & Diving | Hanna Gresser | Jr. | Biology | Akron, Ohio | | | | |
| Women's Swimming & Diving | Devin Landstra | Sr. | Marketing | Cincinnati, Ohio | | | | |
| Women's Swimming & Diving | Rebecca Luft | Sr. | Neuroscience | Dillsburg, Pa. | | | | |
| Women's Swimming & Diving | Amanda Palutsis | So. | Biomedical Engineering | Louisville, Ohio | | | | |
| Women's Swimming & Diving | Taylor Petrak | Jr. | Marketing | Ellwood City, Pa. | | | | |
| Women's Swimming & Diving | Freya Rayner | Jr. | World Literatures | Sunderland, England | | | | |
| Women's Swimming & Diving | Kristen Romano | Jr. | Anthropology | Lancaster, N.Y. | | | | |
| Women's Swimming & Diving | Lara Tarvit | Sr. | Human Resources | Melbourne, Australia | | | | |
| Women's Swimming & Diving | Katie Wright | Sr. | Communication | Wexford, Pa. | | | | |
| Synchronized Swimming | Kaitlyn Carboun | Sr. | International Studies | Mesa, Ariz. | | | | |
| Synchronized Swimming | Erin Fanning | So. | Composition | Cincinnati, Ohio | | | | |
| Synchronized Swimming | Paula Luis | So. | Accounting | San Juan, Puerto Rico | | | | |
| Synchronized Swimming | Sarah Walsh | Jr. | Environment, Economy, Development & Sustainability | Cincinnati, Ohio | | | | |
| Synchronized Swimming | Haley Watson | So. | Psychology | Walnut Creek, Calif. | | | | |
| Men's Tennis | Andrew Lutschaunig | So. | Management & Industry Exploring | Richboro, Pa. | | | | |
| Men's Tennis | Kyle Seelig | Sr. | Child and Youth Studies | Hatfield, Pa. | | | | |
| Men's Tennis | Tim Seibert | Jr. | Finance | Pulheim, Germany | | | | |
| Men's Tennis | Jacob Wareti | Sr. | Health Sciences | Columbus, Ohio | | | | |
| Women's Tennis | Luna Dormet | Jr. | Political Science | Tours, France | | | | |
| Women's Tennis | Mary Beth Hurley | Jr. | Health Sciences Program | Novi, Mich. | | | | |
| Men's Track & Field | Steven Bauers | Sr. | Finance | Pickerington, Ohio | | | | |
| Men's Track & Field | Paul Bete | Sr. | Finance | Dayton, Ohio | | | | |
| Men's Track & Field | Coty Cobb | Sr. | Kinesiology | Middletown, Ohio | | | | |
| Men's Track & Field | Joseph Cooper | Jr. | Sports Industry | Reynoldsburg, Ohio | | | | |
| Men's Track & Field | Eric Halford | So. | Data Analytics | Hudson, Ohio | | | | |
| Men's Track & Field | Peter Hayden | Jr. | Economics | Bexley, Ohio | | | | |
| Men's Track & Field | Terry Johnson | Sr. | Construction Systems Management | Columbus, Ohio | | | | |
| Men's Track & Field | Luke Landis | Sr. | Finance | Norwalk, Ohio | | | | |
| Men's Track & Field | Nick Regas | So. | Marketing | Massillon, Ohio | | | | |
| Men's Track & Field | Aaron Wood | Sr. | Civil Engineering | Lancaster, Ohio | | | | |
| Women's Track & Field | Brittany Atkinson | Sr. | Accounting | Liberty Center, Ohio | | | | |
| Women's Track & Field | Alexa Jankowsky | Sr. | Architecture | Shaker Heights, Ohio | | | | |
| Women's Track & Field | Devon Leahy | Sr. | Biology | Westfield, Ind. | | | | |
| Women's Track & Field | Abby Nichols | Sr. | Speech & Hearing Sciences | Kettering, Ohio | | | | |
| Women's Track & Field | Oyesade Olatoye | Sr. | Health Sciences | Dublin, Ohio | | | | |
| Women's Track & Field | Alexus Pyles | Sr. | Biology | Clarksburg, Md. | | | | |
| Women's Track & Field | Sarah Stanley | Sr. | Real Estate and Urban Analysis | South Park, Pa. | | | | |
| Men's Volleyball | Tyler Alter | Sr. | Consumer & Family Financial Services | Laguna Beach, Calif. | | | | |
| Men's Volleyball | Andrew Hillman | Sr. | Finance | Allentown, Pa. | | | | |
| Men's Volleyball | Martin Lallemand | Jr. | Industrial and Systems Engineering | Orp le Grand, Belgium | | | | |
| Men's Volleyball | Luke Lentin | So. | Finance | La Jolla, Calif. | | | | |
| Men's Volleyball | Parker Mikesch | So. | Sport Industry | Xenia, Ohio | | | | |
| Men's Volleyball | Sean Ryan | So. | Engineering | Countryside, Ill. | | | | |
| Men's Volleyball | Jack Stevens | So. | Civil Engineering | Libertyville, Ill. | | | | |
| Men's Volleyball | Ethan Talley | So. | Marketing | Newport Beach, Calif. | | | | |
| Men's Volleyball | Jamie Wolmering | Sr. | Civil Engineering | Fairport, N.Y. | | | | |
| Women's Volleyball | Jordan Fry | Sr. | Biology | Cincinnati, Ohio | | | | |
| Women's Volleyball | Mia Grunze | So. | Sport Industry | Waterford, Wis. | | | | |
| Women's Volleyball | Camryn Moeller | So. | Accounting | Troy, Ohio | | | | |
| Women's Volleyball | Lauren Witte | Jr. | Health Sciences | Mentor, Ohio | | | | |
| Wrestling | Rocky Jordan | So. | Sport Industry | St. Paris, Ohio | | | | |
| Wrestling | Kollin Moore | Gr. | Kinesiology (master's) | Burbank, Ohio | | | | |
| Wrestling | Zach Steiner | Jr. | Agricultural Communication | Creston, Ohio | | | | |
For four free issues of the now-monthly print edition of Buckeye Sports Bulletin, no card required, sign up at the link here: http://www.buckeyesports.com/subscribe-4issue-trial/
Join The Conversation[/vc_column