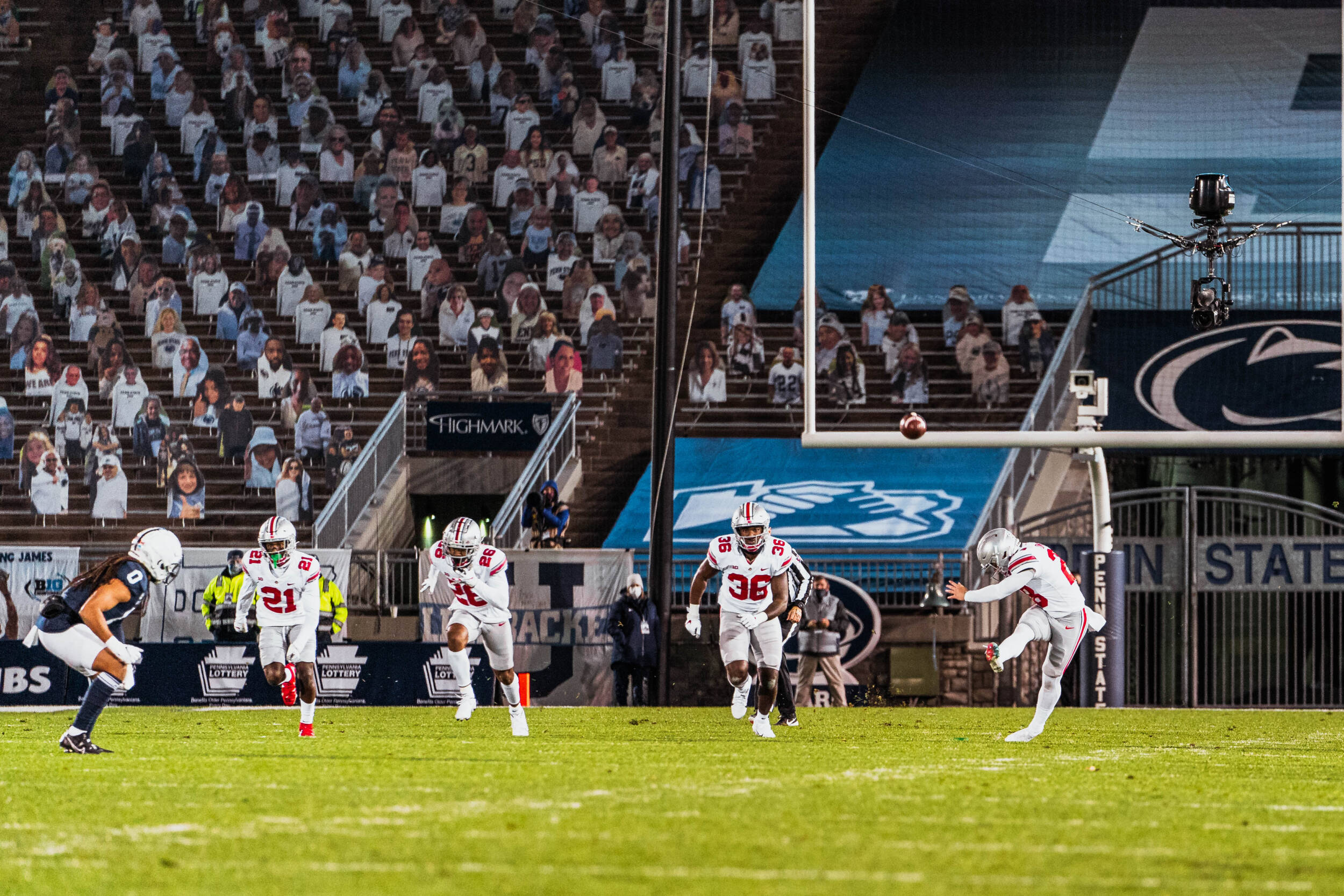 Penn State announced game themes for the upcoming season on Wednesday, and despite Ohio State visiting Beaver Stadium with fans in attendance for the first time since 2018, the Buckeyes will avoid having to play in a White Out under the lights on Oct. 29.
The Nittany Lions will have a White Out next season, but it will be the week prior against Minnesota, with a 7:30 p.m. kickoff set for Oct. 22. The contest against Ohio State will instead be a "Stripe Out."
No reason was given as to why Penn State chose Minnesota for a White Out, but it has been rumored that FOX could be looking to put Ohio State-Penn State in the network's Big Noon Kickoff slot, meaning the White Out would have taken place during a noon kickoff. Nothing has been officially announced, however.
Even if Ohio State did have to face a White Out under the lights, the Buckeyes have fared well in those games in the past, holding a 3-2 record dating back to 2005. The Nittany Lions hold just a 9-8 record in White Out games going back to 2004.
Ohio State's schedule continues coming together, with kickoff times announced last week for Arkansas State, Toledo and Rutgers. The full schedule can be viewed below:
| | | | |
| --- | --- | --- | --- |
| Date | Opponent | Time | Network |
| Sept. 3 | Notre Dame | 7:30 p.m. | ABC |
| Sept. 10 | Arkansas State | 12 p.m. | BTN |
| Sept. 17 | Toledo | 7 p.m. | BTN |
| Sept. 24 | Wisconsin | TBA | ABC |
| Oct. 1 | Rutgers | 3:30 p.m. | TBA |
| Oct. 8 | @ Michigan State | TBA | TBA |
| Oct. 22 | Iowa | TBA | TBA |
| Oct. 29 | @ Penn State | TBA | TBA |
| Nov. 5 | @ Northwestern | TBA | TBA |
| Nov. 12 | Indiana | TBA | TBA |
| Nov. 19 | @ Maryland | TBA | TBA |
| No. 26 | Michigan | 12 p.m. | FOX |
| Dec. 3 | Big Ten Championship Game | 8 p.m. | FOX |