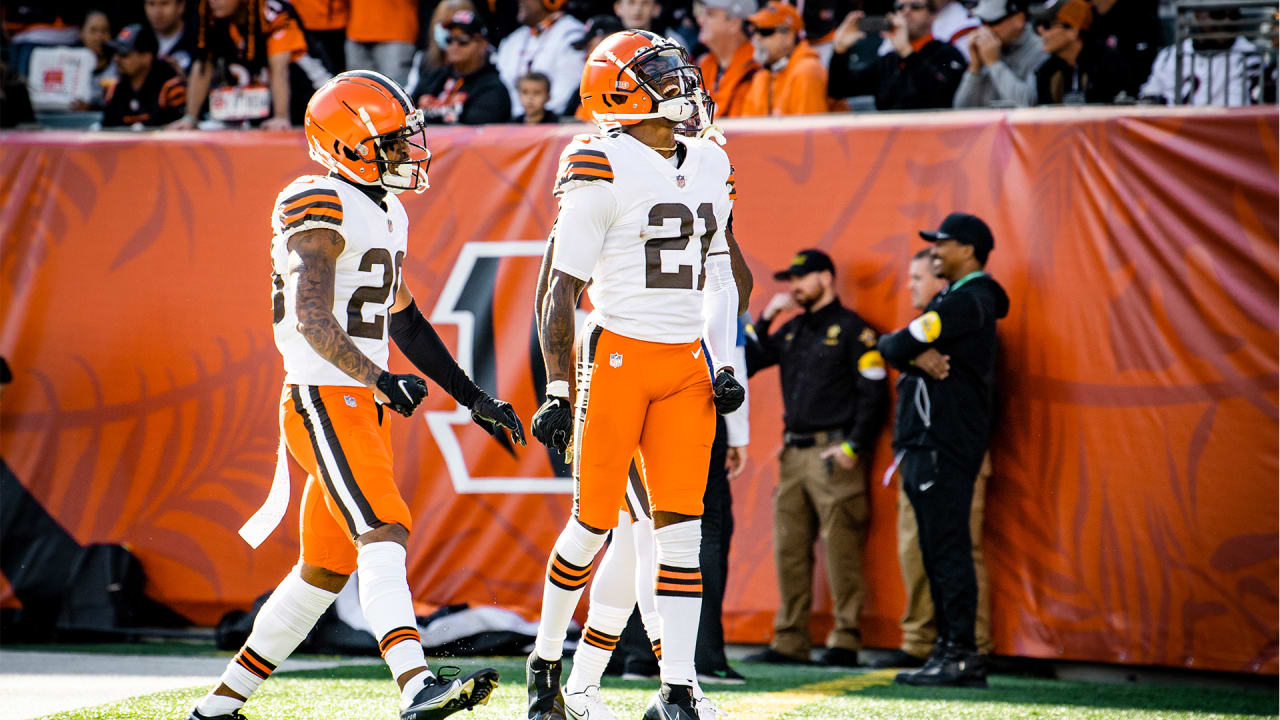 After each week, Buckeye Sports Bulletin will look at how former Ohio State football players performed in their NFL games over the previous weekend. From Justin Fields to Malcolm Jenkins, there are quite a few Buckeyes around the league. We offer updates on all of them.
CLEVELAND BROWNS vs. CINCINNATI BENGALS
In part one of the Battle of Ohio, Cleveland shocked Cincinnati with a 41-16 win in the Queen City, and the Browns can thank Denzel Ward for his significant contribution to the victory.
On the Bengals' first offensive drive, quarterback Joe Burrow threw a pass toward the right pylon that Ward picked off and took the ball 99 yards to the end zone for an early 7-0 lead. It was the longest return in Cleveland Browns' history.
The Pro Bowl cornerback played 41 snaps, finishing with three passes defended, two tackles and a 0.0 passer rating when targeted, according to Pro Football Focus.
Sam Hubbard recorded one sack and two tackles for loss for the Bengals.
CHICAGO BEARS vs. PITTSBURGH STEELERS
Justin Fields made his first-career Monday Night Football appearance in Week 9 and came up just short on the road in Pittsburgh. The former Ohio State quarterback guided the Bears to three touchdown-ending drives, including a 16-yard touchdown to Darnell Mooney late in the fourth quarter to give Chicago a one-point lead.
Fields aired it out all night, averaging 15.6 air yards per attempt — the second-most by any quarterback in a game this season. His seven completions on balls 15-plus yards downfield are tied for the most by a Bears quarterback over the past 15 seasons, according to ESPN Stats and Info. Fields finished 17-of-19 for 291 yards, one touchdown and an interception.
Cameron Heyward caught Fields' interception, deflecting the quarterback's pass at the line of scrimmage and coming up with the football. It was the second interception of his career.
DENVER BRONCOS vs. DALLAS COWBOYS
Who needs Von Miller when you have Jonathan Cooper?
After the Broncos traded Miller to the Rams last week, they turned to Cooper, Baron Browning and Dre'Mont Jones to five fans optimistic for the future. Denver blew out first-place Dallas on the road, building a 30-0 lead during the game.
The Buckeye duo of Browning and Cooper combined for 10 tackles, two sacks, two tackles for loss and three quarterback hurries in the 14-point win over the Cowboys. Dak Prescott, who recently returned from a calf injury, became comfortable with the turf on Sunday afternoon.
AROUND THE LEAGUE
NICK BOSA, DE, 49ers: 4 tackles, 1 TFL, 2 QBH, 1 FF
JUSTIN FIELDS, QB, Bears: 17/29 passing, 291 yards, 1 TD, 1 INT; 8 rushes, 45 yards
ELI APPLE, CB, Bengals: 3 tackles, 1 TFL
VONN BELL, S, Bengals: 4 tackles
SAM HUBBARD, DE, Bengals: 4 tackles, 1 sack (3 yards) 2 TFL, 3 QBH
ISAIAH PRINCE, OT, Bengals: Played on OL
BARON BROWNING, LB, Broncos: 6 tackles, 1 QBH
JONATHON COOPER, LB, Broncos: 4 tackles, 2 sacks (20 yards), 2 TFL, 2 QBH
DRE'MONT JONES, OT, Broncos: 1 QBH
DENZEL WARD, CB, Browns: 2 tackles, 1 INT, 3 PBU, 1 TD
JOEY BOSA, DE, Chargers: 3 tackles, 1 sack (7 yards), 1 TFL, 2 QBH
COREY LINSLEY, C, Chargers: Started at C
TYQUAN LEWIS, DT, Colts: 1 tackle, 1 sack (1 yard), 1 TFL, 2 QBH, 1 INT, 1 PBU
NOAH BROWN, WR, Cowboys: Played at WR
EZEKIEL ELLIOTT, RB, Cowboys: 10 rushes, 51 yards; 3 catches, 25 yards
MALIK HOOKER, S, Cowboys: 1 tackle
JAKE McQUAIDE, LS, Cowboys: Played at LS
JEROME BAKER, LB, Dolphins: 7 tackles, 1 INT, 1 PBU
KENDALL SHEFFIELD, CB, Falcons: Played
NATE EBNER, DB, Giants: 1 tackle
BILLY PRICE, C, Giants: Started at C
LUKE FARRELL, TE, Jaguars: Played at TE
DaVON HAMILTON, DT, Jaguars: 1 tackle
CARLOS HYDE, RB, Jaguars: 21 carries, 67 yards; 1 catch, 6 yards
ANDREW NORWELL, OL, Jaguars: Started at LG
JONAH JACKSON, OG, Lions: Bye
JOSH MYERS, C, Packers: Started at C
MICHAEL JORDAN, OG, Panthers: Started at LG
JOHNATHAN HANKINS, DT, Raiders: 2 tackles
JORDAN FULLER, S, Rams: 7 tackles, 1 PBU
MALIK HARRISON, LB, Ravens: Bye
MALCOLM JENKINS, S, Saints: 5 tackles
MARSHON LATTIMORE, CB, Saints: 6 tackles
BRADLEY ROBY, CB, Saints: Played
PETE WERNER, LB, Saints: 3 tackles, 1 TFL
JAMARCO JONES, OT, Seahawks: Played at LT
CAMERON HEYWARD, DT, Steelers: 2 tackles, 3 QBH, 1 INT
CAMERON JOHNSTON, P, Texans: 5 punts, 47.0 avg, 3 inside 20
TERRY McLAURIN, WR, Washington: Bye
CHASE YOUNG, DE, Washington: Bye