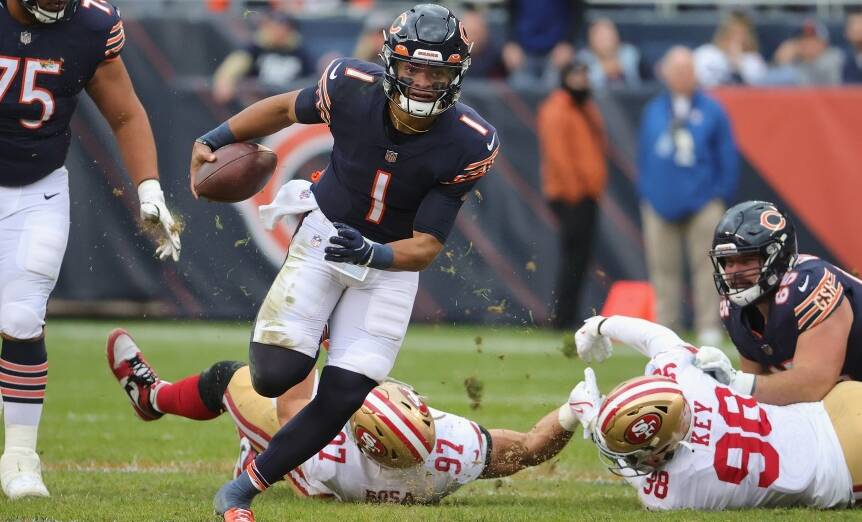 CHICAGO BEARS vs. SAN FRANCISCO 49ERS
Chicago Bears quarterback Justin Fields played the best game of his brief NFL career in a 33-22 loss to the San Francisco 49ers Sunday afternoon. The first-year signal-caller completed 19 of 27 passes for 175 yards, a touchdown and an interception. He also ran the ball 10 times for 103 yards and a score.
Fields' best run of the game came with the Bears down a touchdown in the second half. On fourth and short, the former Buckeye eluded multiple defenders and scampered 22 yards for a score.
Although the Bears didn't win the game, Fields looked the part of a franchise quarterback and gave Chicago another reason to believe in him.
For the 49ers, Nick Bosa recorded a multi-sack performance with three tackles for loss.
PITTSBURGH STEELERS vs. CLEVELAND BROWNS
Columbus is a professional sports market that consists of several different fandoms. The chances are if you call Ohio's capital city home, that you cheer for the Browns, Bengals or Steelers. Therefore, Sunday was either excruciating (Browns and Bengals) or joyous (Steelers).
Regardless, Pittsburgh defensive end Cameron Heyward hit a milestone against Cleveland by surpassing Joey Porter for fifth-most career sacks in Steelers franchise history. Heyward had four tackles and two quarterback hurries in the 15-10 win in FirstEnergy Stadium.
On the Browns' opening series, Heyward took the edge opposite of linebacker T.J. Watt. Both players powered through the Cleveland offensive line and slammed into Baker Mayfield, who tried to step up the pocket to avoid the pressure, ultimately falling for a loss.
CINCINNATI BENGALS vs. NEW YORK JETS
Here is the other sad game for Ohio sports fans. Last week, the Cincinnati Bengals blew the Baltimore Ravens out of the water, only to lose 34-21 to the New York Jets on Sunday afternoon.
Still, it wasn't all bad for the Bengals. Former Buckeyes Von Bell and Sam Hubbard played well for the orange and black. Bell tied his season-high with nine tackles while also recovering a key fumble that he forced in the second quarter. The turnover resulted in a field goal for Cincinnati.
Hubbard finished the game with six or more tackles for the fourth time this season. He also recorded a tackle for loss and broke up two of New York quarterback Mike White's passes.
AROUND THE LEAGUE
NICK BOSA, DE, 49ers: 3 tackles, 2 sacks (12 yards), 3 TFL, 2 QBH
TREY SERMON, RB, 49ers: Played
JUSTIN FIELDS, QB, Bears: 19/27 passing, 175 yards, 1 TD, 1 INT; 10 rushes, 103 yards, 1 TD
ELI APPLE, CB, Bengals: 4 tackles
VONN BELL, S, Bengals: 9 tackles, 1 FF, 1 FR
SAM HUBBARD, DE, Bengals: 6 tackles, 1 TFL, 2 PBU
ISAIAH PRINCE, OT, Bengals: Played on OL
BARON BROWNING, LB, Broncos: 8 tackles, 1 TFL
JONATHON COOPER, LB, Broncos: 2 tackles
DRE'MONT JONES, OT, Broncos: 3 tackles, 1.5 sacks (8.5 yards), 1 TFL, 2 QBH, 1 PBU, 1 FF
DENZEL WARD, CB, Browns: 2 tackles
JOEY BOSA, DE, Chargers: 2 tackles
COREY LINSLEY, C, Chargers: Started at C
TYQUAN LEWIS, DT, Colts: 1 tackle, 1 sack (1 yard), 1 TFL, 2 QBH, 1 INT, 1 PBU
NOAH BROWN, WR, Cowboys: 1 catch, 7 yards
EZEKIEL ELLIOTT, RB, Cowboys: 16 rushes, 50 yards; 4 catches, 23 yards
MALIK HOOKER, S, Cowboys: 2 tackles
JAKE McQUAIDE, LS, Cowboys: Played at LS
JEROME BAKER, LB, Dolphins: 1 tackle
NATE EBNER, DB, Giants: 1 tackle
BILLY PRICE, C, Giants: Started at C
LUKE FARRELL, TE, Jaguars: 1 catch, 3 yards
DaVON HAMILTON, DT, Jaguars: 1 tackle
CARLOS HYDE, RB, Jaguars: 9 carries, 32 yards; 6 catches, 40 yards
ANDREW NORWELL, OL, Jaguars: Started at LG
JONAH JACKSON, OG, Lions: Started at LG
JOSH MYERS, C, Packers: Started at C
JOHNATHAN HANKINS, DT, Raiders: Bye
JORDAN FULLER, S, Rams: 4 tackles
MALIK HARRISON, LB, Ravens: Bye
MALCOLM JENKINS, S, Saints: 4 tackles, 2 PBU
MARSHON LATTIMORE, CB, Saints: 3 tackles
BRADLEY ROBY, CB, Saints: 2 tackles
PETE WERNER, LB, Saints: 4 tackles, 1 TFL
JAMARCO JONES, OT, Seahawks: Played at LT
CAMERON HEYWARD, DT, Steelers: 4 tackles, 0.5 sack (2.5 yards), 2 QBH
CAMERON JOHNSTON, P, Texans: 7 punts, 52.0 avg, 2 inside 20
TERRY McLAURIN, WR, Washington: 3 catches, 23 yards
CHASE YOUNG, DE, Washington: 4 tackles, 1 FF