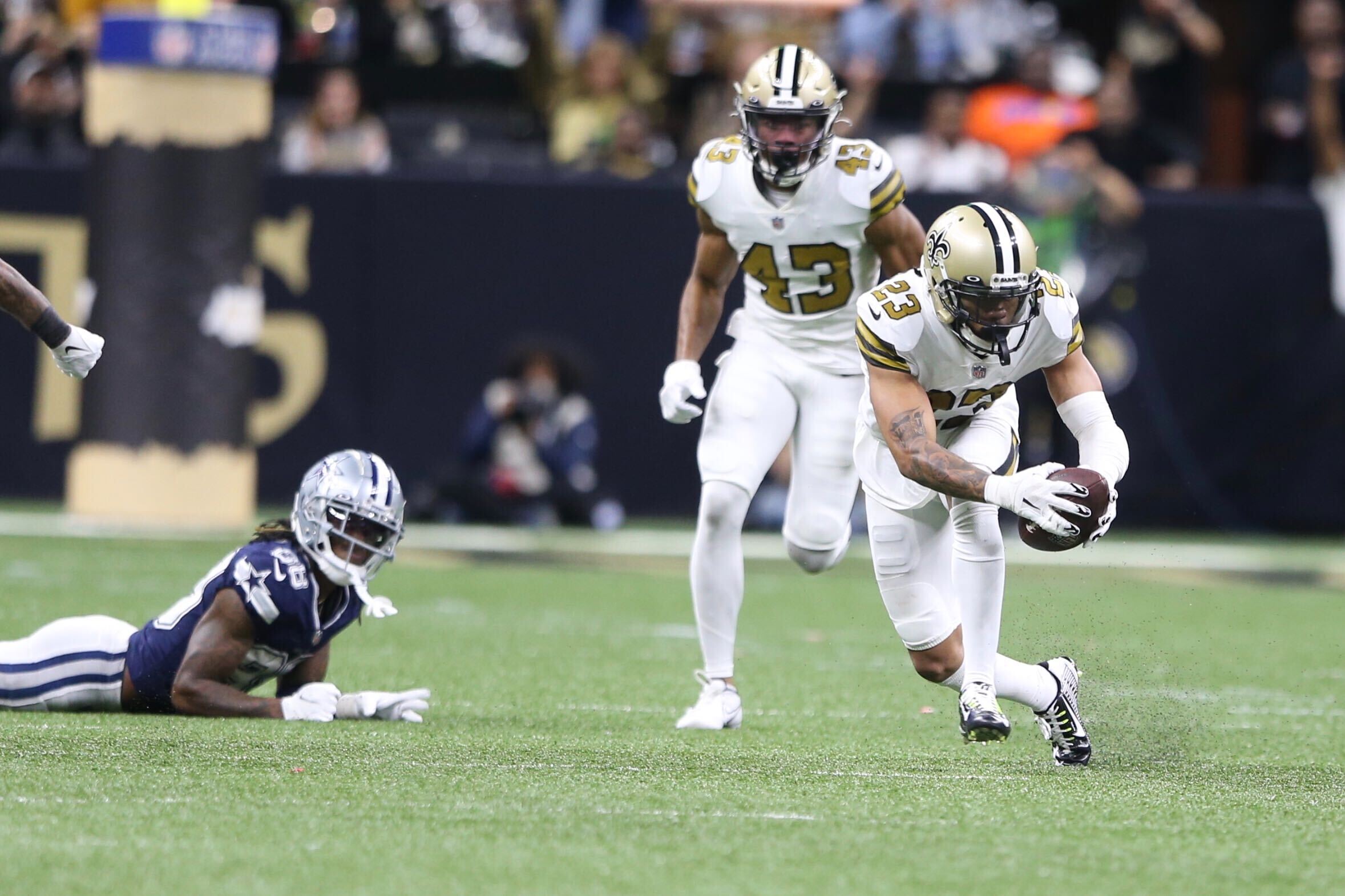 After each week, Buckeye Sports Bulletin will look at how former Ohio State football players performed in their NFL games over the previous weekend. From Justin Fields to Malcolm Jenkins, there are quite a few Buckeyes around the league. We offer updates on all of them.
NEW ORLEANS SAINTS vs. DALLAS COWBOYS
The New Orleans Saints looked sluggish in a 27-17 loss to the Dallas Cowboys on Thursday Night Football last week. However, Marshon Lattimore further solidified himself as one of the best cornerbacks in the NFL, finishing the game with eight total tackles, three pass breakups and an interception.
While New Orleans didn't get the win, Lattimore was a big reason Dallas' offense only scored 20 points as the Saints got 11 third-down stops on 13 tries. The former NFL Defensive Rookie of the Year and three-time Pro Bowler will continue to anchor his team's pass defense along with former Buckeyes Malcolm Jenkins, Eli Apple and Pete Werner.
Ezekiel Elliott carried the ball 13 times for 45 yards and accounted for two receptions for two yards. The former Ohio State running back didn't keep pace with his performances in week's prior, but the Cowboys will rely on his consistency in future weeks.
WASHINGTON FOOTBALL TEAM vs. OAKLAND RAIDERS
Washington defeated the Las Vegas 17-15 on Sunday evening and some former Buckeyes did their best to contribute to the Football Team's two-point victory.
Former Buckeyes and Washington receivers Terry McLaurin and Curtis Samuel struggled to find a rhythm against the Raiders, with McLaurin catching three passes for 22 yards and Samuel adding two carries and one reception for minus-2 yards.
Still, Washington head coach Ron Rivera trusted Samuel to pick up a crucial first down on the Football Team's final drive, which eventually turned into a Brian Johnson 48-yard game-winning field goal.
SAN FRANCISO 49ERS vs. SEATTLE SEAHAWKS
Nick Bosa is the NFC sack leader.
In the middle of the second quarter, Seattle quarterback Russell Wilson looked to capitalize on a favorable field position. Linebacker Bobby Wagner intercepted Jimmy Garoppolo and returned the ball to the 49ers' 31-yard line.
That's where Bosa made a significant play for his team. The feared pass-rusher was able to blast through Seattle's offensive, causing Wilson to fumble the football. Bosa was credited with a 23-yard sack.
The Pro Bowler leads the NFC with 12 sacks and has an NFL-best 102 sack yards. Despite his efforts, San Franciso lost their fourth straight game to Seattle, 30-23, and fell to 6-6 overall.
AROUND THE LEAGUE
| PLAYER | POS | TEAM | WEEK 13 STATS | SEASON STATS |
| --- | --- | --- | --- | --- |
| ELI APPLE | CB | BENGALS | 2 tackles, 1 PBU | 36 tackles, 2 TFL, 2 INT, 6 PBU, 1 FR |
| DAMON ARNETTE | CB | RAIDERS | Released | 4 tackles, 1 PBU |
| JEROME BAKER | LB | DOLPHINS | 3 tackles, 2 TFL, 1 QBH | 67 tackles, 1 sack (10 yards), 4 TFL, 9 QBH, 1 INT, 2 PBU, 1 FF |
| VONN BELL | S | BENGALS | 6 tackles, 1 sack (12 yards), 1 TFL, 1 QBH | 71 tackles, 1 sack (12 yards), 5 TFL, 1 QBH, 3 PBU, 2 FF, 1 FR |
| JOEY BOSA | DE | CHARGERS | 1 tackle | 36 tackles, 7.5 sacks (50 yards), 4 TFL, 15 QBH, 4 FF |
| NICK BOSA | DE | 49ERS | 3 tackles, 1 sack (23 yards), 3 QBH, 1 FF | 39 tackles, 12 sacks (102 yards), 16 TFL, 26 QBH, 1 PBU, 3 FF |
| NOAH BROWN | WR | COWBOYS | 2 catches, 14 yards | 14 catches, 157 yards |
| BARON BROWNING | LB | BRONCOS | 8 tackles | 31 tackles, 1 TFL, 1 QBH, 1 PBU |
| PARRIS CAMPBELL | WR | COLTS | IR (foot) | 10 catches, 162 yards, 1 TD |
| JONATHON COOPER | LB | BRONCOS | 1 tackle, 1 TFL | 22 tackles, 2 sacks, 4 TFL, 5 QBH |
| WYATT DAVIS | OG | VIKINGS | DNP | 5 games played |
| TAYLOR DECKER | OT | LIONS | Started at LT | 4 starts |
| J.K. DOBBINS | RB | RAVENS | IR (knee) | |
| NATE EBNER | DB | GIANTS | IR (knee) | 2 tackles |
| PAT ELFLEIN | C | PANTHERS | Bye | 5 starts |
| EZEKIEL ELLIOTT | RB | COWBOYS | 13 rushes, 45 yards, 2 catches, 2 yards | 173 rushes, 765 yards, 8 TD; 40 catches, 230 yards |
| LUKE FARRELL | TE | JAGUARS | Played | 6 catches, 49 yards |
| JUSTIN FIELDS | QB | BEARS | Inactive | 115/198 passing, 1,361 yards, 4 TD, 8 INT; 56 rushes, 311 yards, 1 TD |
| JORDAN FULLER | S | RAMS | 8 tackles | 90 tackles, 2 TFL, 4 PBU |
| DaVON HAMILTON | DT | JAGUARS | Inactive | 23 tackles, 1 sack (12 yards), 1 TFL, 2 QBH, 1 PBU |
| JOHNATHAN HANKINS | DT | RAIDERS | Started at DT | 28 tackles, 1 TFL, 1 QBH, 1 PBU |
| MALIK HARRISON | LB | RAVENS | 1.5 tackles | 21 tackles, 1 TFL, 1 QBH |
| DWAYNE HASKINS | QB | STEELERS | Inactive | |
| CAMERON HEYWARD | DT | STEELERS | 4 tackles, 1 sack (3 yards), 2 TFL, 1 QBH | 61 tackles, 6.5 sacks (43.5 yards), 5 TFL, 10 QBH, 1 INT, 6 PBU, 1 FF, 1 FR |
| JUSTIN HILLIARD | LB | GIANTS | IR (ankle) | 2 games played |
| JALYN HOLMES | DE | SAINTS | 4 tackles, 1PBU | 9 tackles, 2 TFL, 1 PBU |
| MALIK HOOKER | S | COWBOYS | 1 tackle | 24 tackles, 1 TFL, 1 PD |
| SAM HUBBARD | DE | BENGALS | 5 tackles, 0.5 sack (3 yards), 1 TFL, 2 QBH | 51 tackles, 7.5 sacks (32.0 yards), 11 TFL, 13 QBH, 3 PBU, 2 FR |
| CARLOS HYDE | RB | JAGUARS | 9 rushes, 24 yards, 1 TD; 1 catch, -1 yard | 71 rushes, 251 yards, 1 TD; 11 catches, 59 yards |
| JONAH JACKSON | OG | LIONS | Started at LG | 12 starts |
| MALCOLM JENKINS | S | SAINTS | 4 tackles | 59 tackles, 1 TFL, 1 INT, 5 PBU, 1 TD |
| CAMERON JOHNSTON | P | TEXANS | 6 punts, 50.3 avg, 1 inside 20 | 66 punts, 46.8 avg, 28 inside 20 |
| DRE'MONT JONES | DT | BRONCOS | 4 tackles, 1 sack (6 yards), 1 TFL, 2 QBH | 25 tackles, 3.5 sacks (20.5 yards), 6 TFL, 8 QBH, 1 PBU, 2 FF |
| JAMARCO JONES | OT | SEAHAWKS | IR (back) | 1 start, 7 games played |
| MICHAEL JORDAN | OG | PANTHERS | Bye | 6 starts, 7 games played |
| MARSHON LATTIMORE | CB | SAINTS | 8 tackles, 1 INT, 3 PBU | 48 tackles, 2 INT, 13 PBU |
| TYQUAN LEWIS | DT | COLTS | IR (knee) | 15 tackles, 2.5 sacks (3.5 yards), 3 TFL, 6 QBH, 1 INT, 2 PBU |
| COREY LINSLEY | C | CHARGERS | Started at C | 12 starts |
| TERRY McLAURIN | WR | WFT | 3 catches, 22 yards | 54 catches, 735 yards, 5 TD |
| RAEKWON McMILLAN | LB | PATRIOTS | IR (knee) | |
| JAKE McQUAIDE | LS | COWBOYS | Played at LS | 1 tackle |
| JOSH MYERS | C | PACKERS | Bye | 5 starts |
| ANDREW NORWELL | OL | JAGUARS | Started at LG | 11 starts |
| JEFF OKUDAH | CB | LIONS | IR (leg) | 4 tackles, 1 PBU |
| BILLY PRICE | C | GIANTS | Started at C | 11 starts |
| ISAIAH PRINCE | OT | BENGALS | Started at RT | 11 games played |
| BRADLEY ROBY | CB | SAINTS | 1 tackle, 2 PBU | 17 tackles, 1 sack (7 yards), 2 TFL, 3 QBH, 1 INT, 4 PBU |
| CURTIS SAMUEL | WR | WFT | 1 catch, -1 yard, 2 rushes, -1 yard | 5 catches, 18 yards, 2 rushes, -1 yard |
| TREY SERMON | RB | 49ERS | IR (ankle) | 31 rushes, 136 yards; 1 catch, 23 yards; 1 FC, 2 tackles |
| KENDALL SHEFFIELD | CB | FALCONS | Played | 4 games played |
| MICHAEL THOMAS | WR | SAINTS | PUP (ankle) | |
| TOMMY TOGIAI | DT | BROWNS | Bye | 2 tackles |
| NICK VANNETT | TE | SAINTS | 3 catches, 48 yards | 5 catches, 79 yards, 1 TD |
| SHAUN WADE | CB | PATRIOTS | Inactive | 2 games played |
| DENZEL WARD | CB | BROWNS | Bye | 29 tackles, 0.5 sack (2 yards), 2 QBH, 2 INT, 8 PBU, 1 TD |
| PETE WERNER | LB | SAINTS | 3 tackles, 1 TFL | 41 tackles, 4 TFL, 1 QBH |
| CHASE YOUNG | DE | WFT | IR (knee) | 26 tackles, 2 sacks (7 yards), 4 TFL, 4 QBH, 1 PBU, 2 FF |