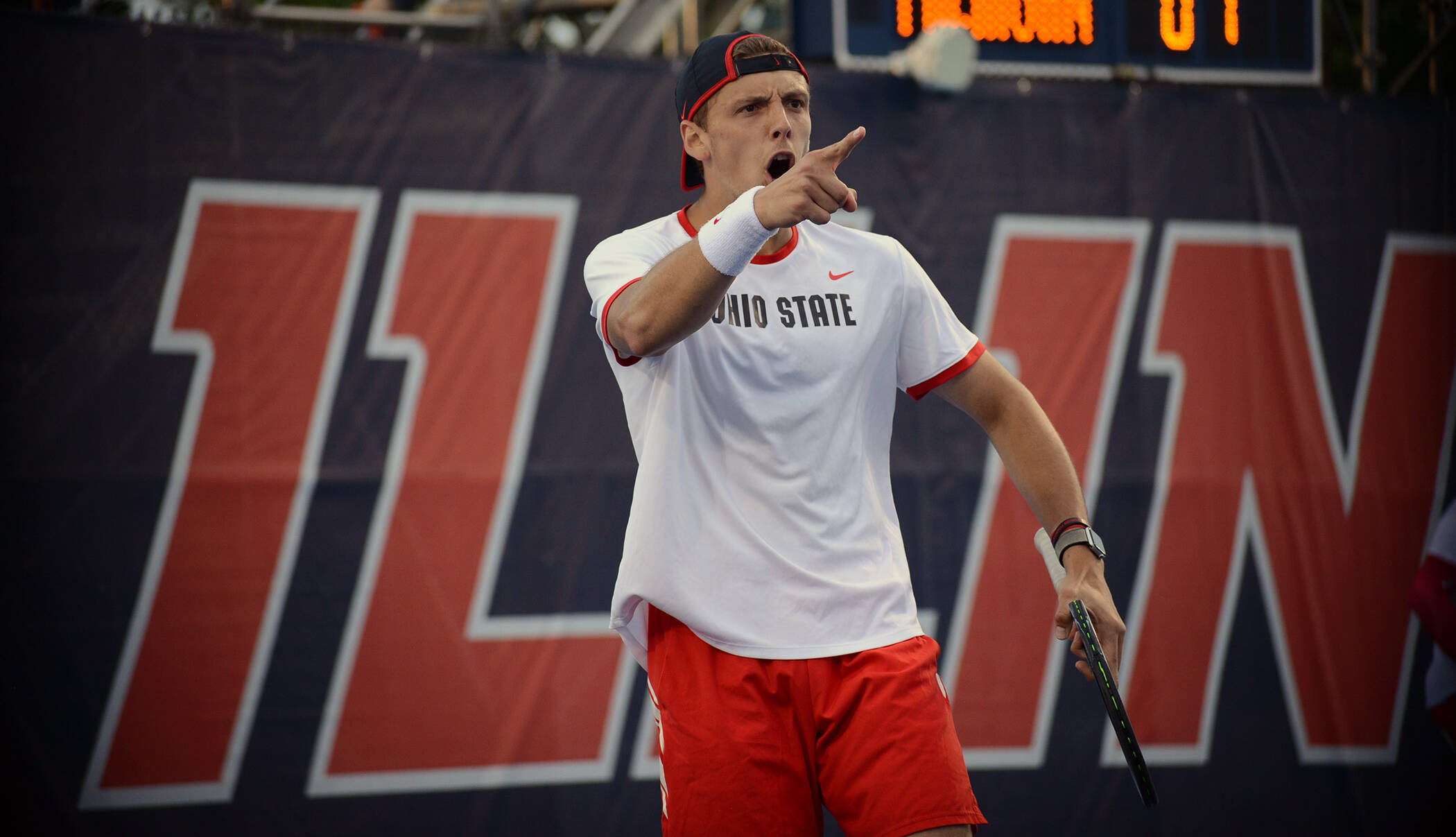 After falling to Michigan in the Big Ten Championship, Ohio State avenged its loss to the program-rival in the NCAA Tournament, beating the Wolverines 4-2 in the quarterfinals on Thursday.
The No. 4-seeded Buckeyes lost the doubles point at the beginning of the match. Those games were played outdoors until a thunderstorm rolled through the University of Illinois campus in Champaign, Ill. When the games headed indoors, Ohio State bounced back with four singles wins from JJ Tracy (6-2, 6-2), Justin Boulais (6-2, 6-3), Cannon Kingsley (6-4, 6-4) and Andrew Lutschaunig (7-6, 6-4) to claim the two-point match victory.
With the win, Ohio State advances to the NCAA semifinals for the first time since 2018. The Buckeyes will take on No. 8-seeded Kentucky on Saturday after the Wildcats upset No. 1-seeded Texas Christian in the quarterfinals.
TCU had been the only program other than Michigan to beat Ohio State in the regular season, making Kentucky's win welcome. The Buckeyes defeated the Wildcats 4-0 at home on Feb. 11.
MATCH RESULTS
No. 4 Ohio State 4, No. 5 Michigan 2
Singles  
1. No. 9 Cannon Kingsley (OSU) def. No. 27 Ondrej Styler (UM) 6-4, 6-4 
2. No. 13 Matej Vocel (OSU) vs. No. 88 Patrick Maloney (UM) 6-1, 5-6, 4-2, unfinished  
3. No. 19 JJ Tracy (OSU) def. No. 63 Andrew Fenty (UM) 6-2, 6-2 
4. No. 61 Jacob Bickersteth (UM) def. No. 122 Jake Van Emburgh (OSU) 6-3, 6-3 
5. No. 46 Justin Boulais (OSU) def. No. 77 Nino Ehrenschneider (UM) 6-2, 6-2  
6. Andrew Lutschaunig (OSU) def. Nick Beaty (UM) 7-6 (10), 6-4 
Doubles
1. No. 2 Matej Vocel and Robert Cash (OSU) vs. No. 24 Andrew Fenty and Nino Ehrenschneider (UM) 5-5, unfinished
2. Patrick Maloney and Nick Beaty (UM) def. Andrew Lutschaunig and Justin Boulais (OSU) 6-2
3. Ondrej Styler and Jacob Bickersteth (UM) def. Cannon Kingsley and JJ Tracy (OSU) 6-4