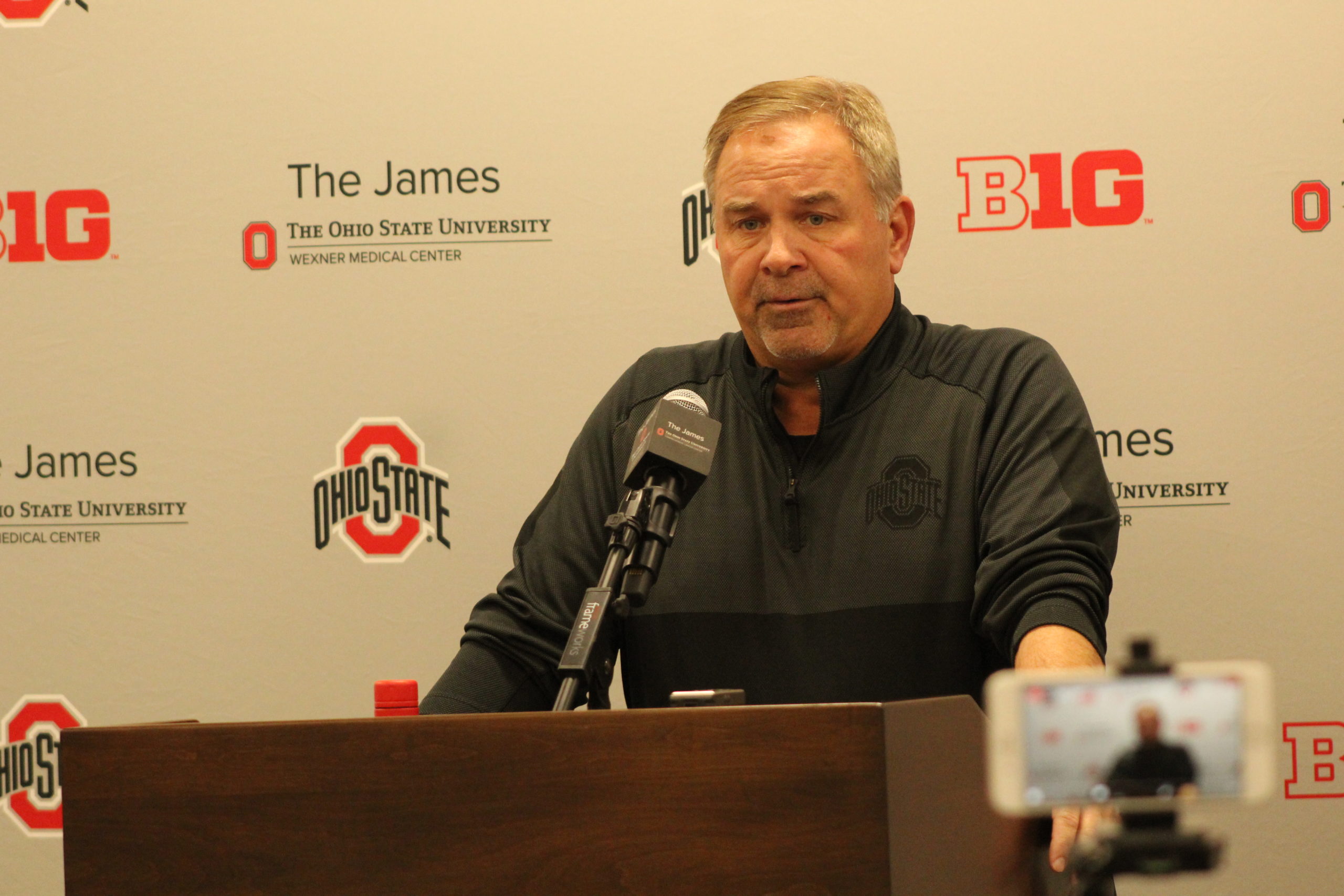 Ohio State offensive coordinator/tight ends coach Kevin Wilson has been officially introduced as the next head coach at Tulsa, but he also announced that he will remain with the Buckeyes in a coaching capacity through the end of the College Football Playoff.
Wilson will spend time between Columbus and Tulsa over the next few weeks, beginning recruiting for the Golden Hurricanes while helping prepare the Buckeyes for No. 1 Georgia in the semifinals of the College Football Playoff.
"My plan in talking with (Tulsa athletic direction Rick Dickson) and what Coach (Ryan) Day wanted, what (athletic director) Gene Smith wanted, is to be a part of all the bowl preparations I can up there (at Ohio State), be here (at Tulsa) when we're recruiting," Wilson said Tuesday during his introductory press conference. "Then it gets into that dead period, so I'll be working through hopefully an opportunity to play two games and two great opportunities.
"I'm standing here because of the success of our team (at Ohio State), and I think it's my obligation to finish up with that team and give that team a chance to chase the national championship."
Despite all the success Wilson has experienced during his nearly 40 years in coaching, a national championship has continued to elude him, and that was part of the reason he wanted to remain with Ohio State over the next month.
"You want to teach your children, you want to teach your players how to finish and I appreciate the administration at both places giving me a chance to finish and try to do my darndest to be a part of it," he said. "I've had a chance to be a part of the BCS (national championship game), the semifinal of the playoffs five times – I'm still looking for that one game. Selfishly, I'd like that one game. Of course, we've got to get through the (Georgia on Dec. 31), and that's going to be a tough challenge."
The opportunity has been a long time coming for Wilson, who has previous head coaching at Indiana from 2011-16. Following his tenure with the Hoosiers, he became the offensive coordinator/tight ends coach at Ohio State, a role he has filled for the last six seasons with the Buckeyes.
During his time in Columbus, Wilson had been connected with several head coaching vacancies but never pulled the trigger on those openings. Tulsa provided a unique opportunity to Wilson, though, as he is familiar with the area after coaching at Oklahoma from 2002-10.
"I wasn't necessarily chasing jobs," Wilson said. "I thought I had a chance to lead a program and to build a foundation of a program that can stand and one good shot to swing as hard as you can and get a group of people to work together and build something that a university and a community and an alumni base and most importantly the players can take a lot of pride in.