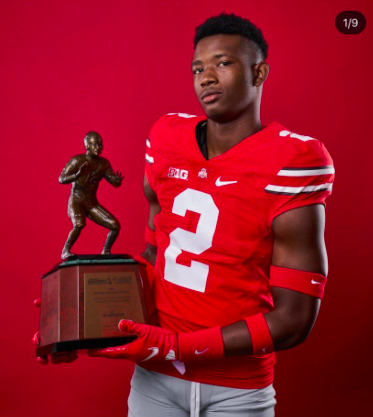 In addition to freshmen Kyion Grayes and Dallan Hayden, fellow freshman Kenyatta Jackson and second-year walk-on wide receiver Joop Mitchell shed their black stripes on Saturday.
Jackson, a defensive end from Hollywood, Fla., arrived at Ohio State in June after emerging as a four-star recruit at Chaminade-Madonna Prep. The 6-5, 235-pound end ranked as the No. 68 player in his class, according to 247Sports, while earning Under Armor All-American honors after his senior season.
During his senior season, Jackson accounted for 65 tackles, 17 tackles for loss and 15 sacks.
Mitchell enters his second campaign with the Buckeyes after navigating his first season in the program as a preferred walk-on. He played wide receiver and cornerback during his time at Wyoming High School, hauling in 39 receptions for 778 yards and three touchdowns while corralling three interceptions — two of which he returned for touchdowns — during his senior season.