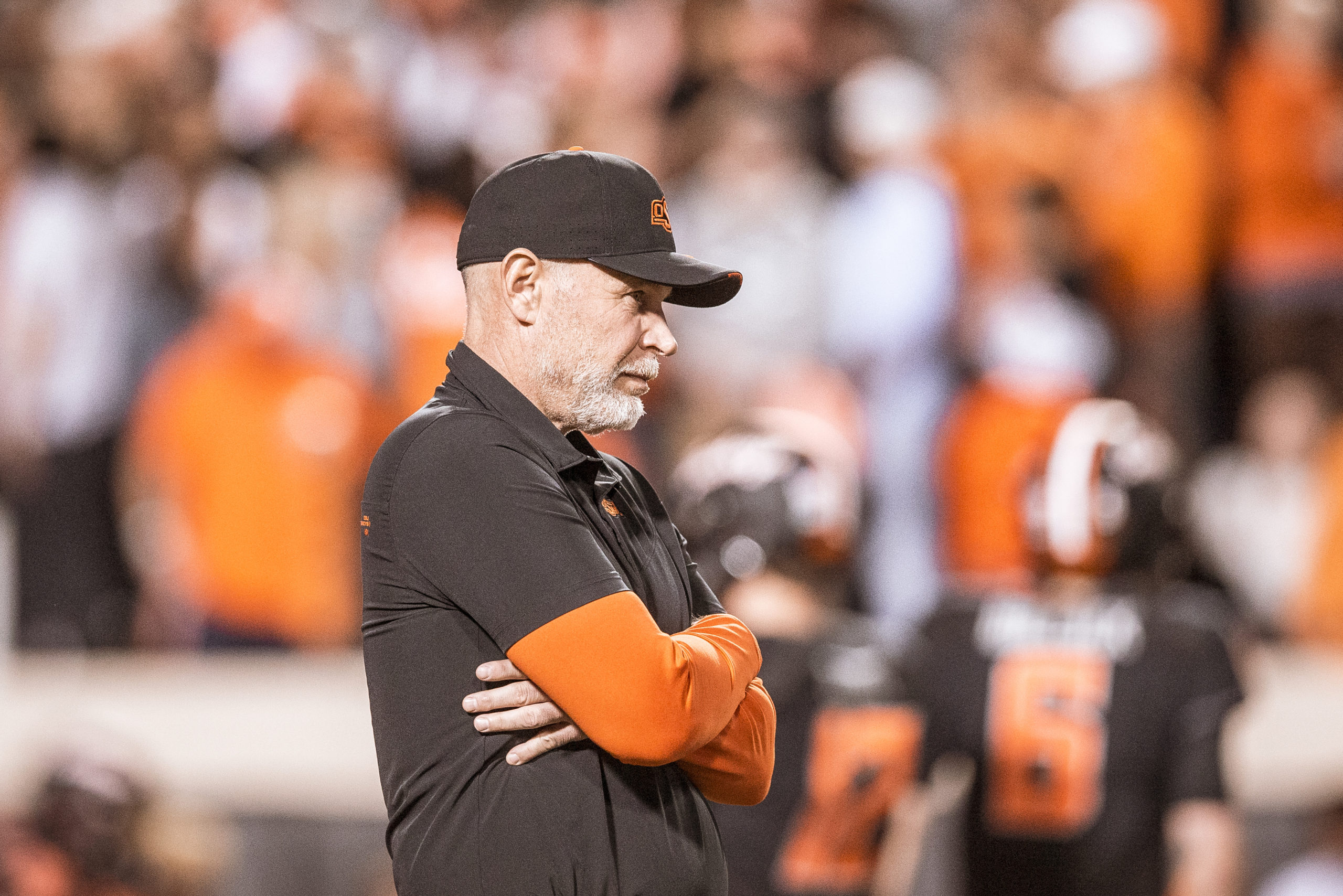 Jim Knowles decision to leave Oklahoma State for Ohio State did not come easily. Knowles had built one of the nation's best defenses in Stillwater and told assembled media on Jan. 31 that he felt very comfortable with the Cowboys, both structurally and interpersonally in his relationships with his players and fellow coaches.
In fact, it was Knowles' players with Oklahoma State who started projected him into bigger jobs before anyone else, sometimes to his own dismay.
"I was really happy where I was and I had an unbelievable relationship with those players at Oklahoma State," Knowles said. "We built something that was real. They were the ones that kind of started on me, 'Oh coach, everyone is going to come after you, you're doing this you're doing that.' You just kind of play it off, shift focus to the next game but they were the ones joking with me about it before I even thought about it."
But as his players insisted it would, the interest in the enigmatic former Cornell head coach did come, and it came in droves. Knowles received interest from several of the nation's best programs according to reporting from the midst of the coaching carousel, including Florida and Penn State along with the Buckeyes.
"It just seemed to be my time," Knowles continued. "You put in the 10,000 hours, you become an expert in your field, the numbers start to show up and then all the calls come in. You have to learn as much as you can about them to make the best decision."
But it was Ohio State – namely head coach Ryan Day – that got through to the 56-year-old and ultimately convinced him to make a move out of Stillwater, where he had set up shop for four seasons, and into one of the sport's biggest programs.
"I didn't have Ryan's number, it wasn't in my phone," Knowles remembered. "He probably left a message and said something like, 'This is Ryan Day' and I'm thinking, 'You're kidding, right? This is one of my buddies messing with me.'
"You start the conversation with a coach of his caliber kind of guarded, you're thinking, 'Let me really think about what I'm saying and doing.' But he's just such a quality person who really cares about that relationship with his coaches and players that it just becomes easier. For him too, we just started to relate at a more comfortable level. There can be some trepidation in the beginning but he is easy to build a relationship with."
Though his burgeoning relationship with Day helped in Knowles' decision to take over for Kerry Coombs as Ohio State's new defensive coordinator, it was never a decision that he took lightly. Constant conversation with Day, with other coaches, and even with his players at Oklahoma State all played a critical role in pushing him toward donning the scarlet and gray.
"There's a lot of talking with different people that (goes into a decision like this)," Knowles said. "There is a lot of introspection. For me, there was a lot of communication with my players. I really involved a lot of those guys at Oklahoma State in this – I probably took an unconventional path with that because I really shared everything that was going on, like they were my sons. Contract negotiations, everything.
"I think there is too much of coaches just slipping away in the middle of the night, so I involved my current players at Oklahoma State and the leadership group there. We talked so that when I made a decision they understood why. If you talk to enough people, you have an open mind and you have a lot of respect for where you're at, the right decision comes to you and that's how this opportunity felt to me."
In this opportunity, Knowles sees a chance to build a national title caliber defense, and perhaps more importantly, he sees the chance to do it with what he described as the best of the best, against the best of the best.
"When anyone thinks of the best in college football, they think of Ohio State," Knowles said. "That goes for people in the coaching profession too. You want to be the best, you want to be at the best, you want to compete against the best, you want to be at a place that's 100 percent supported by the university, the community and the alumni. A place with a rich tradition. When you put all of those things together, it's Ohio State. For someone who has worked his way up in the profession, it's really for the culmination of a professional dream to get to Ohio State and to be with the best in the business."