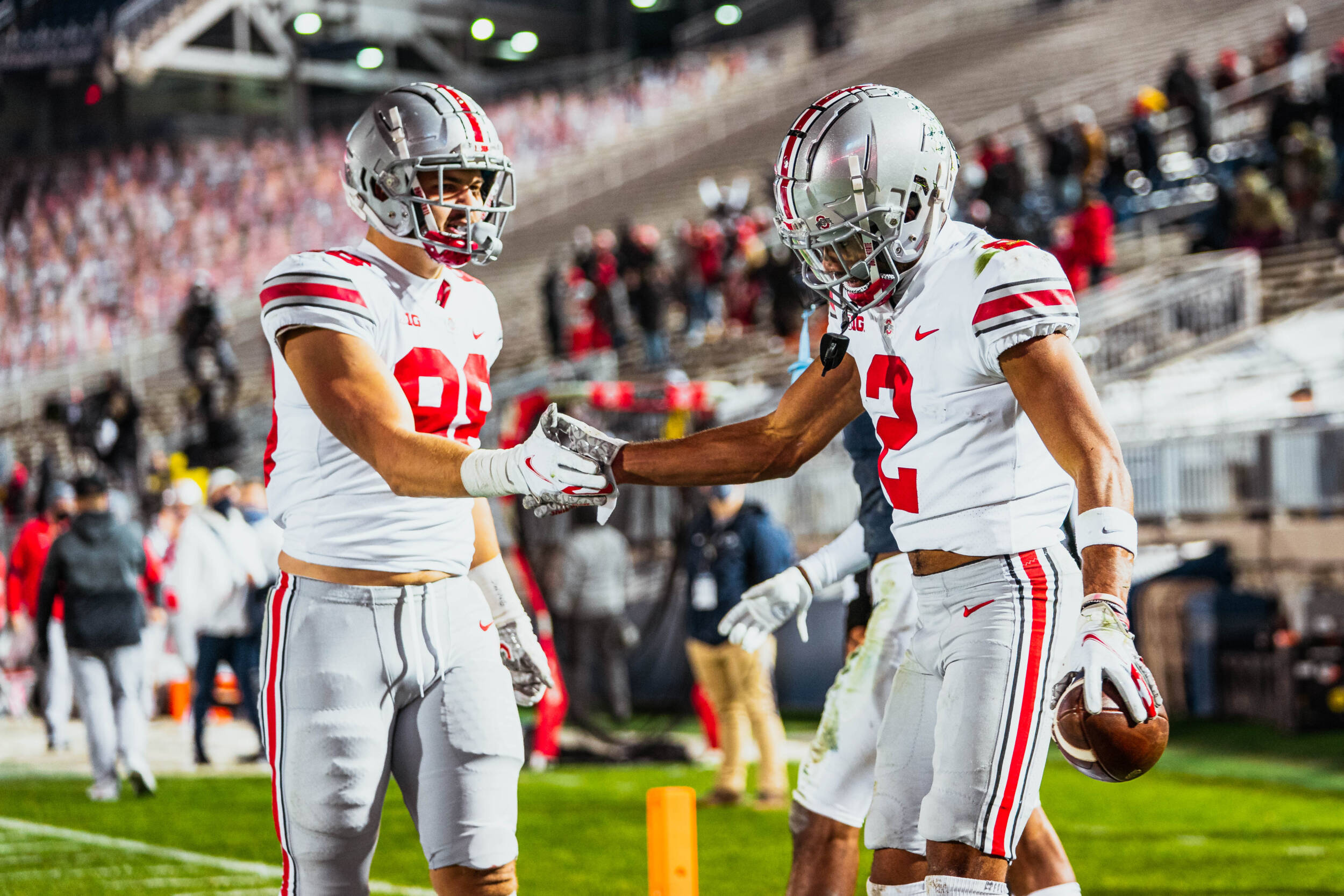 Ohio State's second game of the season, a 38-25 win over Penn State, went almost exactly to script. The Buckeyes struck early and took a two-score lead, Penn State clawed its way back into contention and Ohio State kept its foot steady on the gas, not enough to speed away from the Nittany Lions, but more than enough to keep them at a healthy distance for all 60 minutes.
The star of the day, as it will likely be all season for Ohio State, was the offense. Quarterback Justin Fields completed 28 of his 34 passes for 318 yards, connecting with wide receivers Garrett Wilson and Chris Olave repeatedly and meeting little resistance from the PSU defensive backfield.
Wilson opened up the game for Ohio State with a 62-yard scamper on a jet sweep, easily the longest run of the season for the Buckeyes thus far. After a short Master Teague carry, the Buckeyes were on the board within mere minutes of the opening kick.
Fields got himself on the board on the following possession with a beautiful ball to Olave, who went up and snagged it over a defender for his first of two touchdown receptions.
After a slight lull in the action, Fields struck again late in the half, this time on a laser to Jeremy Ruckert, who hauled in two touchdown receptions of his own.
After a Penn State touchdown to open the second half, Fields flashed that arm talent again, ripping a bomb to Olave for six more points.
While the defense struggled to find traction for much of the second half, it was not without its big performances, specifically from Marcus Hooker. Hooker saved two-points here, stuffing Sean Clifford on a quarterback keep.
Always quick to respond, Ohio State answered that PSU touchdown with yet another passing score, the second to Ruckert, on a gutsy fourth-and-goal play.
Then it was again Hooker's turn to make a play, sealing the game for the Buckeyes with this interception.
Ohio State hosts Rutgers next on Nov. 7, on the Big Ten Network at 7:30 p.m.