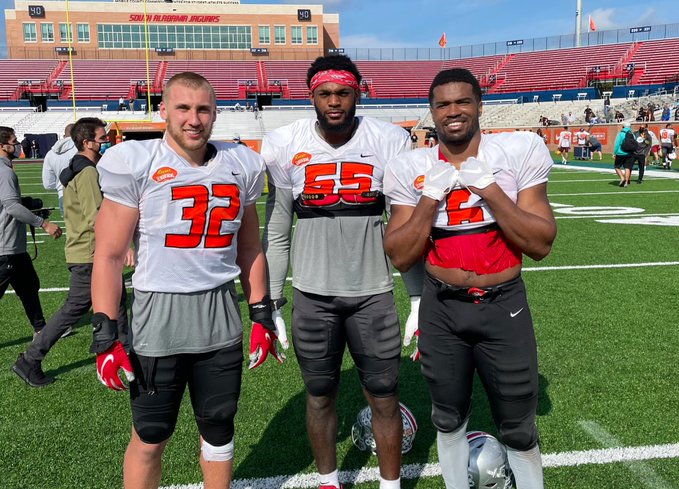 Former Ohio State linebackers Tuf Borland, Baron Browning and Justin Hilliard, along with defensive end Jonathon Cooper all left the Senior Bowl with a victory on Jan. 30, as the National Team knocked off the American Team, 27-24.
It was a pretty good day for all four Buckeyes involved, starting with Cooper, who had 2 tackles, 1.5 TFL and 0.5 sacks, twice teaming up with a fellow defender to take down quarterback Jamie Newman in the backfield.
Browning added a sack of his own on Newman shortly after, though he was not officially credited for it in the box score. He finished with three tackles, lining up as both a linebacker and an edge rusher.
Hilliard led the way for the Buckeyes in tackles with four, including a pair of big time stops in the first quarter of the game. He started for the National defense, along with all three of his one-time teammates.
Borland had the quietest day of the bunch after a rough week in Mobile, Ala., but he did notch two tackles, one for a loss, and a pass breakup that was very nearly an interception.
All four of these Buckeyes, along with all of their draft eligible teammates, will learn their NFL fate during the 2021 draft, held April 29-May 1.