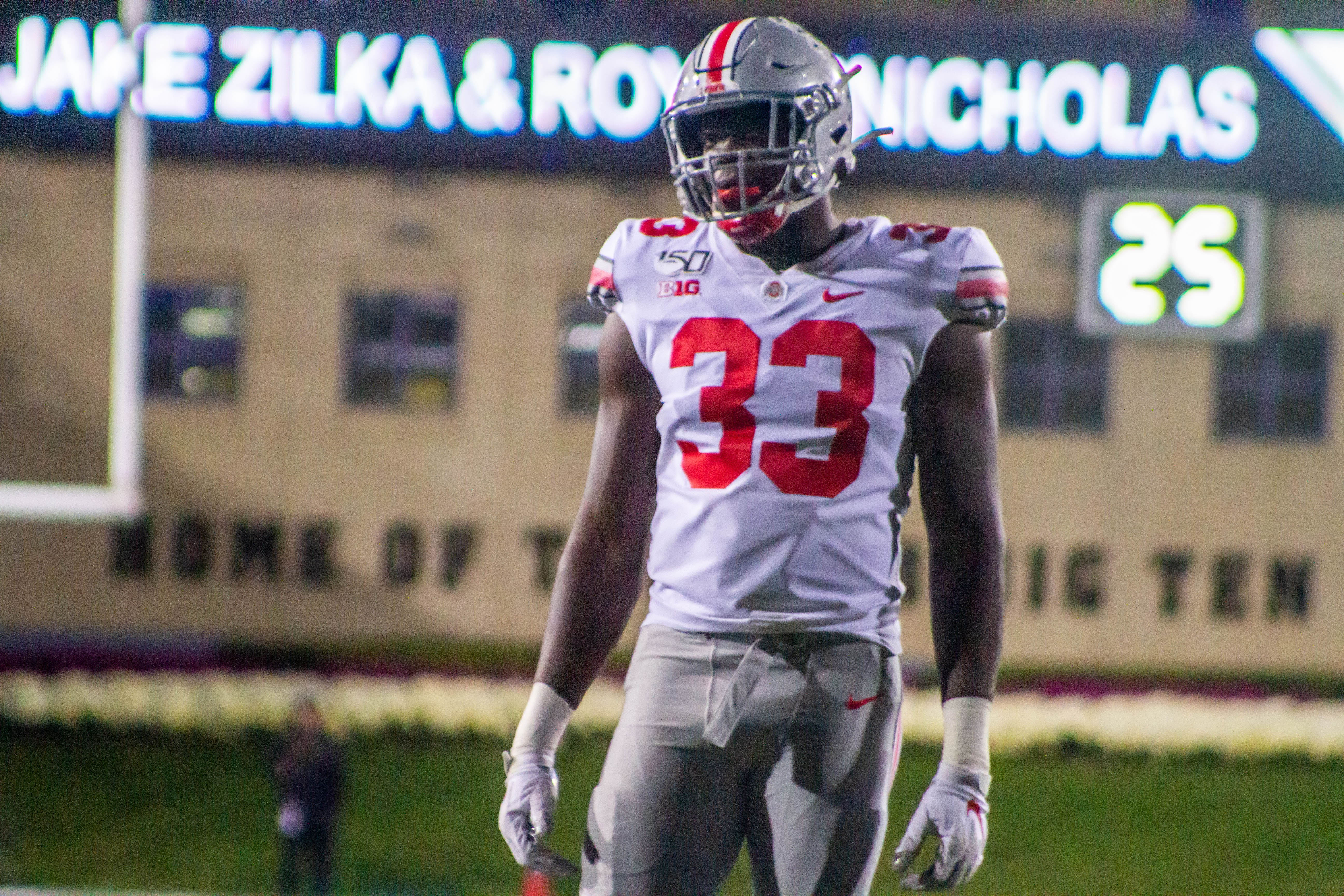 This story was originally featured in the Oct. 17 issue of Buckeye Sports Bulletin.
Ohio State defensive line coach Larry Johnson has developed a tradition in recent years. Since his arrival in Columbus prior to the 2014 season, Johnson has produced star defensive end after star defensive end, reeling in five-star prospects and spinning them out as top-five picks three years later with such consistency that it's now almost bizarre to see a Buckeye team without an established elite edge rusher.
He opened the tradition with Class of 2013 five-star signee Joey Bosa, who contributed as a freshman under the tutelage of Mike Vrabel before rocketing into stardom in 2014 and 2015 under Johnson, notching 18½ sacks and 37 tackles for loss on the way to a No. 3 overall selection by the San Diego Chargers in the 2016 NFL draft.
The elder Bosa was followed immediately by his younger brother and Class of 2016 five-star signee Nick Bosa. A season-ending injury in 2018 cut Nick's Ohio State career short before he was able to truly hit his peak as many had expected in 2018, but the younger Bosa still managed 17½ sacks and 29 tackles for loss in 30 games as a Buckeye before being selected with the second pick of the 2019 NFL draft by the San Francisco 49ers.
The final member of that five-star trio had the largest statistical impact during his time in Columbus, both in volume and in the record books. Class of 2017 signee Chase Young put up the most statistically dominant season for a defensive end in school history, shattering the single-season sack record in 2019 with 16½ sacks and following up Nick Bosa's No. 2 pick with a No. 2 pick of his own in 2020.
The common threads for all three are obvious, be it in recruiting profile, statistical output or professional prospects. For Ohio State, all three players certainly played with different styles and changed the game in different ways, but since Johnson took over in 2014, the same thing was always true of every Buckeye defense as it entered the upcoming season: everyone knew exactly who the star was on the defensive line. There was never any doubt that either of the Bosa brothers or Young would be anything but forces on the edge that required serious attention from opposing offenses.
That connecting, constant factor for the Buckeyes is gone entering the 2020 season. Johnson has still accumulated a large amount of talent, including twotime team captain Jonathon Cooper (No. 32 in the 247Sports player rankings in 2016) and former five-star prospect Zach Harrison (No. 22 in 2019), along with high four-star Tyreke Smith (No. 34 in 2018). Even linebacker Baron Browning (No. 11 in 2017) is expected to contribute on the line.
However, none of those players enters the season with the kind of hype and expectation that constantly surrounded the Bosa duo from 2014-18 and Young in 2019. Entering the last six seasons, Ohio State knew exactly who it could rely on for big plays off the edge. In 2020, things have changed, and that star contributor – or contributors – is nowhere near as obvious as he seemingly always has been under Johnson.
The person who seems to be less concerned about this than just about anyone else is Johnson. He told media in April that he's confident that his players will be able to fill the void left by Young, and he has echoed those sentiments in October as the season rapidly approaches.
"Everybody's going to say, 'We lost the Bosas, what are you going to do?' Well, we got his brother. Then all of a sudden we lose Nick, (and) well now we've got Chase Young.
"Now that Chase is gone, there's probably going to be guys that step up and take the same role again that's going to move this thing to the next level," Johnson said in the spring. "I'm not as much worried about it. I'm not crying about it. They've earned the right to be where they're at and get a chance to play in the NFL. It's just that now you hope you recruited well enough that you have the next guy ready to go."
The quick and simple answer for many appears to be Harrison, the rising sophomore who came to Ohio State with as much – if not more – recruiting hype as those stars who preceded him. At 6-6, 265 pounds, Harrison certainly looks the part, and he managed to find his way onto the field in all 14 games as a true freshman in 2019, racking up 24 tackles, 5 for a loss and 3½ sacks, while playing on the second-most snaps among all defensive ends on the roster.
"He's really just matured," Johnson said of Harrison. "He has really done a great job of just maturing as a young player. He listens very well, and he's very coachable. He has all the attributes, what we look for in a player. Zach is a guy where you tell him to do something and he's doing it exactly as you asked him to do. And that's what you want your players to do. Zach, from his freshman year coming in the door, he was different and when he finished the season, the way he played, the ceiling is very high for him going into his sophomore season. I'm very pleased with where he's at right now."
However, Johnson was quick to dismiss the need for Harrison to immediately step into Young's shoes, especially as a player who came to Ohio State as an elite athlete whom many recruiting analysts considered to be a "raw" or developmental prospect.
"He's got to block the noise from the outside that he has to be the next guy and really continue to concentrate on his development," Johnson said. "That's what I've been talking to him about. 'Just be the best player you can be, Zach. Don't worry about the standards set before you. That's great, but you have to be your own player.'
"And that way, he doesn't look at himself and say, 'Hey, I've got to do this, I've got to do that. I've got to get so many sacks.' It's tough doing that, when you start chasing those kind of things. He's done a good job, he's listening. He's done a good job of understanding what it takes to be an elite player, but at the same time he's got to be himself."
If Harrison is unable to reach the level of those former standouts in 2020, Ohio State may need to find its strength up front in its depth, which has been as much a constant under Johnson as that star production. The Buckeyes have rotated defensive linemen constantly under Johnson's lead and are looking to do so again in 2020, with a rotation that Johnson expects to go five-players deep on the outside, similar to what Ohio State did in 2017.
"I think 2017 is a year that we had a lot of depth," Johnson said, referencing a group that featured Nick Bosa, Cooper, Jashon Cornell, Jayln Holmes, Sam Hubbard and Tyquan Lewis. "I think that with Tyreke Smith and Zach (Harrison) and all the other guys, it gives us a chance to have five good guys get going to play with a backup, either Noah Potter or Darrion Henry-Young as we go forward. But it gives me a chance to move those guys around, and we can play fresh. I'm really big on having guys playing fresh and playing fast, and that gives us a chance to do that."
Even though it means more competition for playing time, Ohio State's five-man rotation isn't shying away from sharing the limelight.
"I think it's great," Smith said of the rotation. "I think everybody can learn from everybody. Everybody is different, rushes different, has different strengths and weaknesses and we're all like brothers on the D-line unit. The five defensive ends, we're really tight and we can take constructive criticism (from each other). When we mess up on something, we're good enough and we're tight enough that we can tell each other, 'Hey man, you've got to do this better,' without taking it personally. I think that goes a long way because we can only get better and better from there. The sky is the limit for us."
Star or not, with the brotherhood that he's built in his room and a rotation to lean on, Johnson isn't fretting about the performance of defensive line this season, and his players certainly aren't either. As they tell it, they're right where they want to be.
"We never stopped working, ever since that last game last year against Clemson, and I think, especially Javontae (Jean-Baptiste), Zach and Tyreke, Coop and myself, I think we took that personally and respond by being the best defensive ends that we can be," Tyler Friday said.
"The key thing that Coach (Johnson) keeps telling us, and the most exciting part, is that we're a bunch of no-names. We don't have a Bosa, we don't have a Chase Young right now, but that's just how we like it."