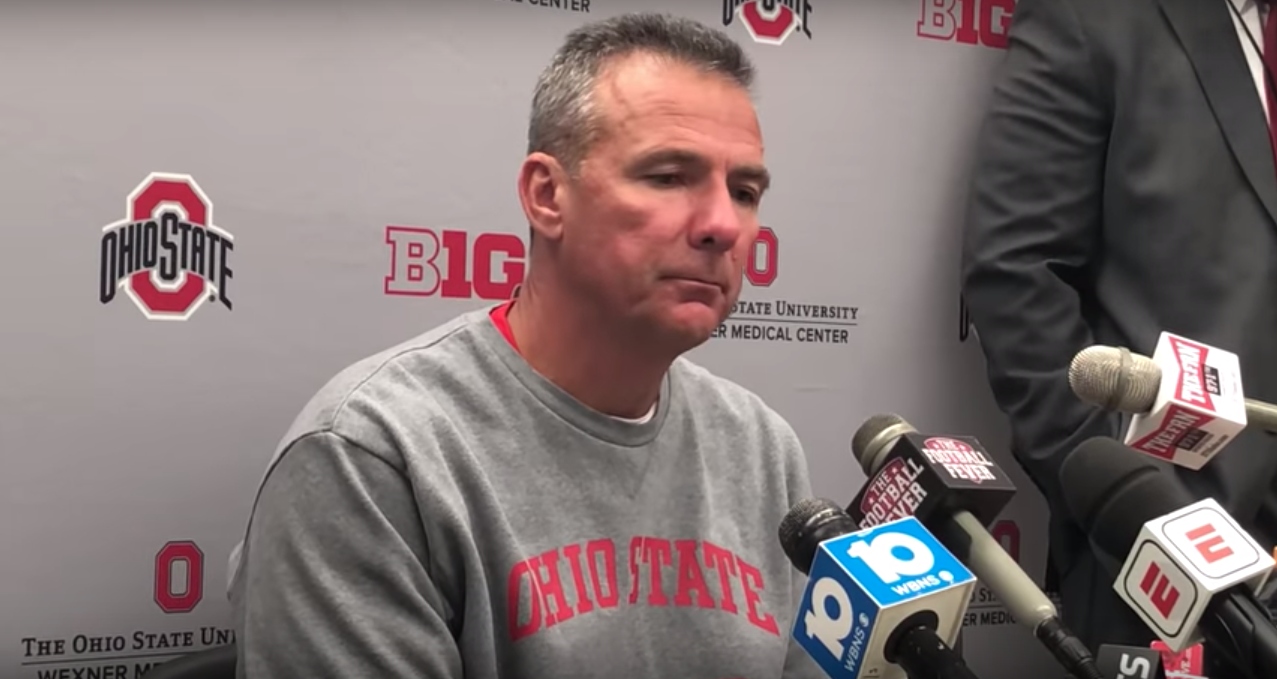 For the fourth straight week, Ohio State showed up stuck at No. 10 in the College Football Playoff rankings. The updated standings, however, came with a twist.
From No. 11 to No. 9, Central Florida jumped inside the top 10 over the Buckeyes, making the Golden Knights the highest-ranked Group of Five team in the CFP era.
"We spend considerable time talking about UCF and Ohio State," Playoff chairman Rob Mullens said. "And while UCF may not have the depth and talent of Ohio State, the committee felt that — right now, today, after week 12 — UCF has the more all-around complete team."
In its prime-time matchup for week 12, UCF (10-0, 7-0 AAC) stepped up against then-No. 24 Cincinnati (9-2, 5-2) for a 38-13 rout.
"We don't really talk about certain categories or labels in the room — we talk about resumes," Mullens said. "And we watched UCF have a strong performance against Cincinnati. Their offense continued to be consistent, saw some improvement in their defense."
On the flip side, OSU (10-1, 7-1 Big Ten) needed overtime to survive a 52-51 victory at Maryland (5-6, 3-5).
"And then when you watched Ohio State, you saw a team that struggled a bit at Maryland," Mullens said. "And in the end, again, the committee felt that UCF was the more complete team at this time and moved them up to No. 9."
The rest of the top 10 remained the same.
No. 1 Alabama (11-0, 7-0 SEC), No. 2 Clemson (11-0, 8-0 ACC), No. 3 Notre Dame (11-0) and No. 4 Michigan (10-1, 8-0 Big Ten) have been atop the rankings for the past three weeks.
The next four — No. 5 Georgia (10-1, 7-1 SEC), No. 6 Oklahoma (10-1, 7-1 Big 12), No. 7 Louisiana State (9-2, 5-2 SEC) and No. 8 Washington State (10-1, 7-1 PAC-12) — have also remained unchanged since week 11.
Since the CFP began in 2014, a one-loss team from the Big Ten has not been left out of the final four. Ohio State made the Playoff in 2014, downing Alabama and Oregon en route to the inaugural title. Two years later, the Buckeyes fell to Clemson in the 2016 semifinals.
OSU closes out its regular season Saturday in Columbus with the Wolverines, who sit atop the Big Ten East. The winner of the noon kickoff on FOX from Ohio Stadium clinches the division and punches its ticket to the conference championship game Dec. 1 at Lucas Oil Stadium in Indianapolis against No. 19 Northwestern (7-4, 7-1).
Complete Rankings
Alabama
Clemson
Notre Dame
Michigan
Georgia
Oklahoma
LSU
Washington State
UCF
Ohio State
Florida
Penn State
West Virginia
Texas
Kentucky
Washington
Utah
Mississippi State
Northwestern
Syracuse
Utah State
Texas A&M
Boise State
Pittsburgh
Iowa State