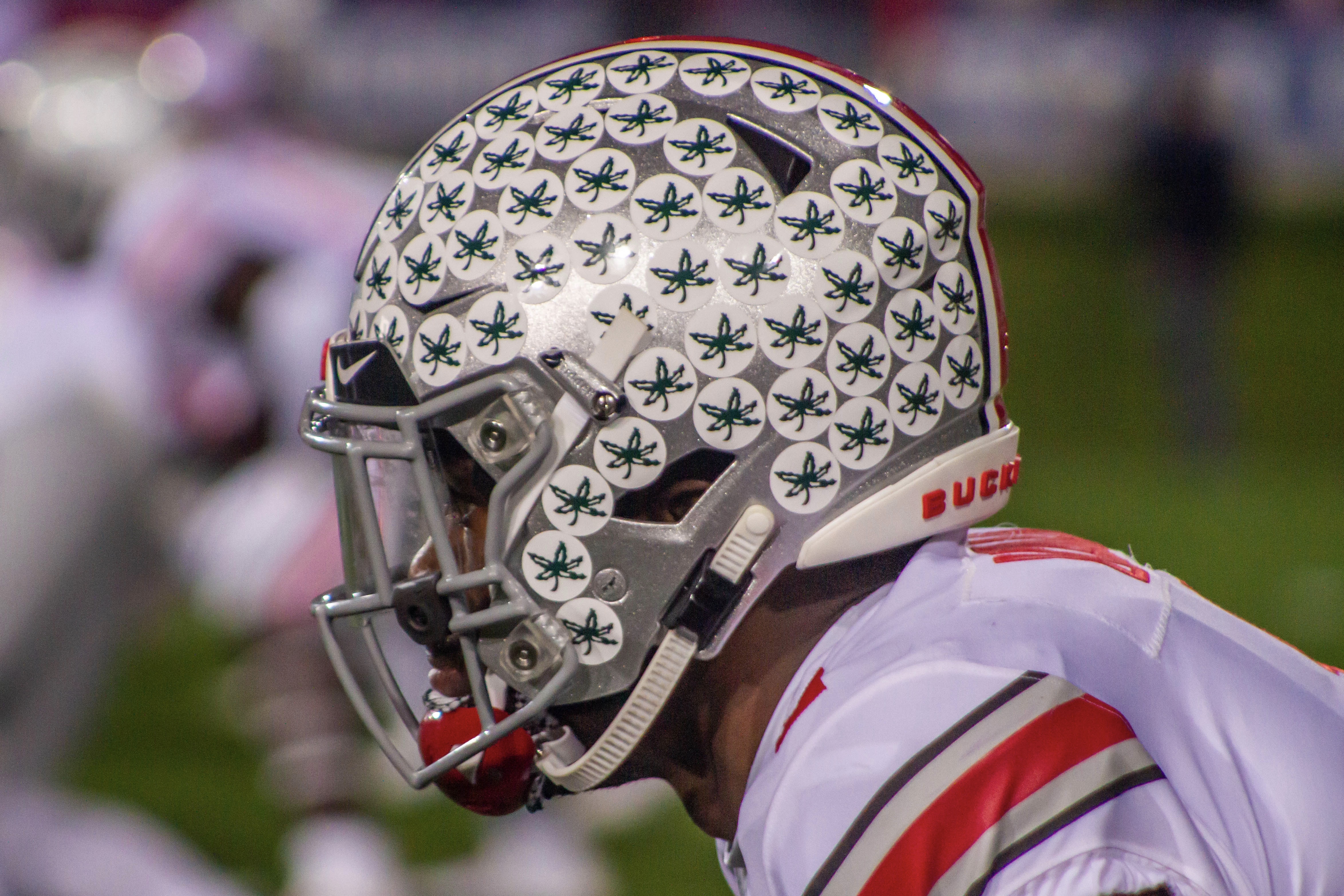 Following a 52-3 road win over Northwestern on Oct. 18, Ohio State is up one spot in the latest AP Poll, from fourth to third.
For the first time all season, Ohio State has moved ahead of the unbeaten Clemson Tigers, who took care of Louisville 45-10 but has struggles at times this season, and nearly fell to North Carolina on Sept. 28, before pulling out a 21-20 win. The rest of the top five outside of those two remains the same, with Alabama at one after a 35-13 win over Tennessee, while LSU sits at second, and Oklahoma rounds out the top five.
Behind them, Penn State is up a spot to sixth following its 28-21 win over Michigan, Florida us up two spots to seventh, Notre Dame remains at eighth, Auburn is up two spots to ninth, and Georgia remains at No. 10. Wisconsin fell from sixth to No. 13 after its 24-23 last season loss to Illinois, just a week ahead of its Noon matchup with Ohio State in Columbus.
The Big Ten placed six teams in the poll this week, led by the Buckeyes, Nittany Lions and Badgers. Behind Wisconsin, Undefeated Minnesota is up to No. 17, Michigan fell three spots to No. 19 and Iowa is up to No. 20 after a 26-20 win over Purdue. No one in the conference received votes.
| Rank | | Team | PV Rank | Conference | Points | |
| --- | --- | --- | --- | --- | --- | --- |
| 1 | | Alabama (7-0) | 1 | SEC | 1,486 | |
| 2 | | LSU (7-0) | 2 | SEC | 1,462 | |
| 3 | | Ohio State (7-0) | 4 | Big Ten | 1,429 | |
| 4 | | Clemson (7-0) | 3 | ACC | 1,408 | |
| 5 | | Oklahoma (7-0) | 5 | Big 12 | 1,343 | |
| 6 | | Penn State (7-0) | 7 | Big Ten | 1,224 | |
| 7 | | Florida (7-1) | 9 | SEC | 1,138 | |
| 8 | | Notre Dame (5-1) | 8 | IA Independents | 1,058 | |
| 9 | | Auburn (6-1) | 11 | SEC | 1,054 | |
| 10 | | Georgia (6-1) | 10 | SEC | 1,031 | |
| 11 | | Oregon (6-1) | 12 | Pac-12 | 979 | |
| 12 | | Utah (6-1) | 13 | Pac-12 | 852 | |
| 13 | | Wisconsin (6-1) | 6 | Big Ten | 767 | |
| 14 | | Baylor (7-0) | 18 | Big 12 | 732 | |
| 15 | | Texas (5-2) | 15 | Big 12 | 627 | |
| 16 | | SMU (7-0) | 19 | American Athletic | 587 | |
| 17 | | Minnesota (7-0) | 20 | Big Ten | 577 | |
| 18 | | Cincinnati (6-1) | 21 | American Athletic | 468 | |
| 19 | | Michigan (5-2) | 16 | Big Ten | 440 | |
| 20 | | Iowa (5-2) | 23 | Big Ten | 347 | |
| 21 | | Appalachian State (6-0) | 24 | Sun Belt | 286 | |
| 22 | | Boise State (6-1) | 14 | Mountain West | 225 | |
| 23 | | Iowa State (5-2) | | Big 12 | 185 | |
| 24 | | Arizona State (5-2) | 17 | Pac-12 | 134 | |
| 25 | | Wake Forest (6-1) | | ACC | 118 | |