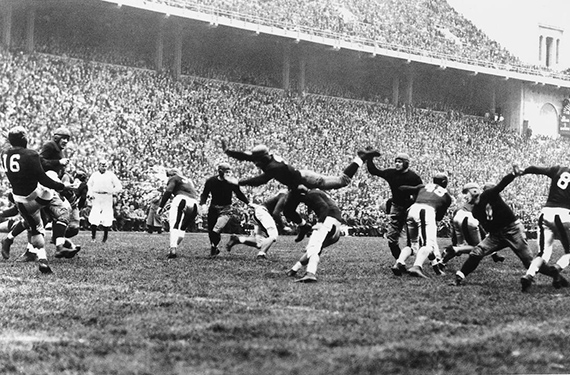 Former Buckeye head football coach Francis Schmidt will be inducted into the Ohio State Athletics Hall of Fame in the class of 2020. 
We delved into the Buckeye Sports Bulletin archives and uncovered our coverage of Schmidt's tenure as Ohio State head coach, which included the birth of "gold pants" and "the game of the century" against Notre Dame.
Schmidt famously started the gold pants tradition after refusing to back down from the behemoth that was Michigan football. Schmidt said of the Wolverines, "They put their pants on one leg at a time, same as everybody else."
The Buckeyes went on to dominate Michigan 34-0 in 1934 and to commemorate Schmidt's statement, the "Gold Pants Club" was born.
This installment of BSB Reprints features in-depth coverage of Schmidt starting the gold pants tradition and coaching in the game of the century.
.
Download PDF