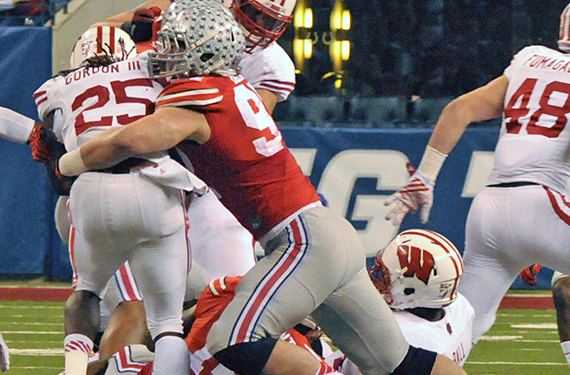 The Ohio State-Wisconsin rivalry has seen each team spoil each other's seasons in recent years.
In 2010, the No. 1 Buckeyes traveled to Camp Randall Stadium to take on the No. 18 Badgers with Terrelle Pryor leading the way at quarterback. Ohio State fell 31-18 at the hands of the Wisconsin on Oct. 16, 2010.
Four years later, Ohio State would need a convincing win against Wisconsin in the Big Ten Championship game to propel itself into the first College Football Playoff.
With Cardale Jones engineering a high-powered Ohio State offense, the Buckeyes bested the Badgers in the title game, 59-0.
This installment of BSB Reprints travels back to both to 2010 when the Buckeyes were upset by the Badgers, as well as 2014 when the Scarlet and Gray dominated on its way to a national title.
.
Download PDF