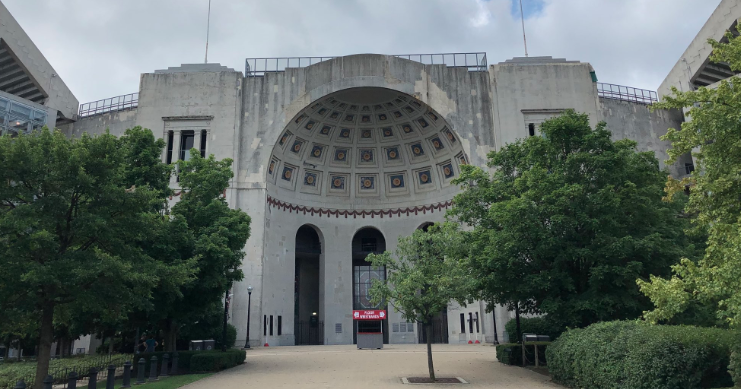 The Big Ten announced future conference schedules from 2022 through 2025 with multiple Ohio State matchups against West Division opponents such as Wisconsin, Iowa and Northwestern.
In addition to their East Division contests each season, the Buckeyes play all seven teams in crossover games. OSU most notably faces Wisconsin four times in as many years, plus two home-and-home battles apiece with Iowa and Northwestern. Ohio State plays Illinois, Minnesota, Nebraska and Purdue in single games over the four-season span.
Over the next eight years, the Buckeyes take on a handful of programs among their crossover contests. Updated schedules, with nonconference slates included, can be found below.
2018 Ohio State Schedule
Sept. 1 – Oregon State – 12 noon on ABC
Sept. 8 – Rutgers – 3:30 p.m. on BTN
Sept. 15 – vs. TCU* – 8 p.m. (EDT) on ABC
Sept. 22 – Tulane
Sept. 29 – at Penn State
Oct. 6 – Indiana – 3:30 or 4 p.m. on TBA
Oct. 13 – Minnesota
Oct. 20 – at Purdue
Oct. 27 – Off
Nov. 3 – Nebraska
Nov. 10 – at Michigan State
Nov. 17 – at Maryland
Nov. 24 – Michigan – Noon on FOX
Dec. 1 – Big Ten Championship Game – 8 p.m. on FOX
*AT&T Stadium; Arlington
2019 Ohio State Schedule
Aug. 31 – Florida Atlantic
Sept. 7 – Cincinnati
Sept. 14 – at Indiana
Sept. 21 – Miami (Ohio)
Sept. 28 – at Nebraska
Oct. 5 – Michigan State
Oct. 12 – Off
Oct. 19 – at Northwestern
Oct. 26 – Wisconsin
Nov. 2 – Off
Nov. 9 – Maryland
Nov. 16 – at Rutgers
Nov. 23 – Penn State
Nov. 30 – at Michigan
Dec. 7 – Big Ten Championship Game
2020 Ohio State Schedule
Sept. 5 – Bowling Green
Sept. 12 – at Oregon
Sept. 19 – Buffalo
Sept. 26 – Rutgers
Oct. 3 – Off
Oct. 10 – Iowa
Oct. 17 – at Michigan State
Oct. 24 – at Penn State
Oct. 31 – Nebraska
Nov. 7 – Indiana
Nov. 14 – at Maryland
Nov. 21 – at Illinois
Nov. 28 – Michigan
Dec. 5 – Big Ten Championship Game
2021 Ohio State Schedule
Sept. 4 – at Minnesota
Sept. 11 – Oregon
Sept. 18 – Tulsa
Sept. 25 – Akron
Oct. 2 – at Nebraska
Oct. 9 – Purdue
Oct. 16 – Off
Oct. 23 – at Rutgers
Oct. 30 – Michigan State
Nov. 6 – at Indiana
Nov. 13 – Maryland
Nov. 20 – Penn State
Nov. 27 – at Michigan
Dec. 4 – Big Ten Championship Game
2022 Ohio State Schedule
(One non-conference game/date TBD)
Sept. 3 – Notre Dame
Sept. 17 – Toledo
Sept. 24 – at Michigan State
Oct. 1 – at Penn State
Oct. 8 – Rutgers
Oct. 15 – Iowa
Oct. 22 – Off
Oct. 29 – Indiana
Nov. 5 – at Northwestern
Nov. 12 – Wisconsin
Nov. 19 – at Maryland
Nov. 26 – Michigan
2023 Ohio State Schedule
(Two non-conference games/dates TBD)
Sept. 2 – at Indiana
Sept. 23 – at Notre Dame
Oct. 7 – Maryland
Oct. 14 – at Purdue
Oct. 21 – Penn State
Oct. 28 – at Wisconsin
Nov. 4 – at Rutgers
Nov. 11 – Michigan State
Nov. 18 – Minnesota
Nov. 25 – at Michigan
2024 Ohio State Schedule
(Two non-conference games/dates TBD)
Sept. 7 – at Washington
Sept. 28 – Illinois
Oct. 5 – Rutgers
Oct. 12 – at Nebraska
Oct. 26 – Wisconsin
Nov. 2 – at Maryland
Nov. 9 – at Penn State
Nov. 16 – Indiana
Nov. 23 – at Michigan State
Nov. 30 – Michigan
2025 Ohio State Schedule
(One non-conference game/dates TBD)
Aug. 30 – at Texas
Sept. 13 – Washington
Sept. 20 – at Indiana
Sept. 27 – at Iowa
Oct. 4 – Maryland
Oct. 11 – at Wisconsin
Oct. 25 – at Rutgers
Nov. 1 – Northwestern
Nov. 15 – Penn State
Nov. 22 – Michigan State
Nov. 29 – at Michigan
2026 Ohio State Schedule
Sept. 5 – Texas
Sept. 19 – Boston College
2027 Ohio State Football Schedule
Sept. 18 – at Boston College