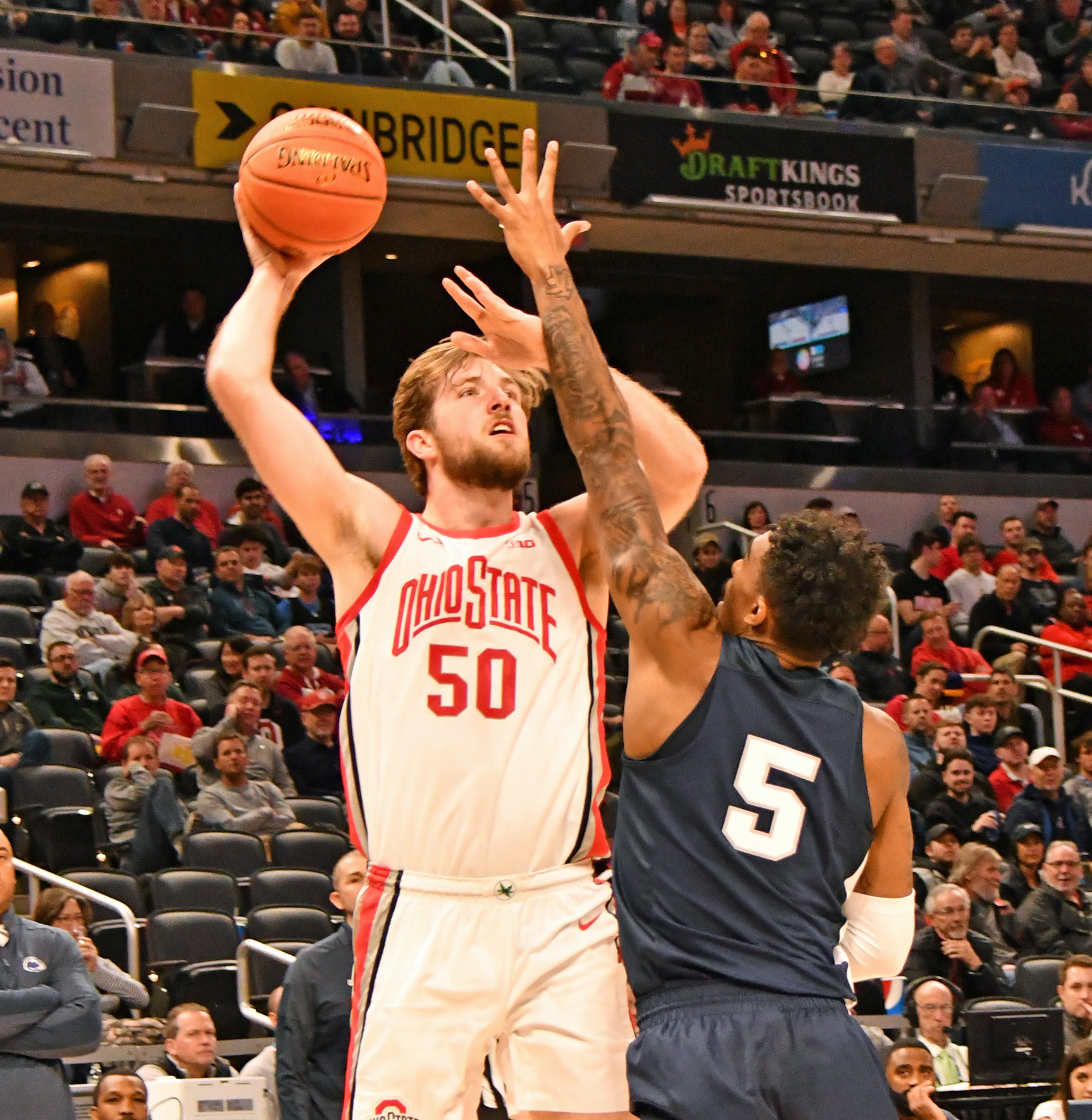 No. 7 Ohio State will tip off Friday's games, set to take on No. 10 Loyola Chicago at 12:15 p.m. on CBS. While the Buckeyes will be the main focus for most, plenty of action will be going on elsewhere, including games that could impact Ohio State if it moves on in the tournament.
Also taking the court Friday will be four other teams from the Big Ten. The conference will certainly be looking for a better showing after No. 12 Indiana fell to No.5 Saint Mary's and No. 5 Iowa was upset by No. 12 Richmond on Thursday.
FRIDAY'S GAMES TO WATCH
No. 7 Ohio State vs. No. 10 Loyola Chicago (12:15 p.m., CBS): This game has been written about extensively, but this is a reminder that Ohio State likely has one of the more difficult first-round matchups in the field. In one sense, the Ramblers should be favored over the Buckeyes because Loyola Chicago has a higher Kenpom rating – 24th in the country – than Ohio State's ranking of 31st.
Center Zed Key and forward Kyle Young are game-time decisions for Ohio State. The Buckeyes will need all the help they can get to contend with Loyola's guard duo of Lucas Williamson and Braden Norris, who combined to average 24.3 points, 7.8 rebounds and 6.9 assists per game. Whoever moves on will have their hands full against either No. 2 Villanova or No. 15 Delaware.
No. 3 Purdue vs. No. 14 Yale (2 p.m., TBS): Another Big Ten team taking the court Friday will be Purdue, who fell in the Big Ten Tournament finals to Iowa, finishing the regular season with a 27-7 record.
The Boilermakers are looking for a bounceback tournament performance after being upset by No. 13 North Texas last year. Purdue, despite three Sweet 16 appearances since 2017, made just one Elite Eight in 2019 and are looking for the school's first Final Four appearance since 1980. They are led by the duo of Jaden Ivey and Zach Edey, who combine to average 32.0 points and 12.7 rebounds per game.
To do so, they'll have to contend with the Ivy League Tournament champion Yale, who finished the season with a 19-11 record. Coming into the tournament, the Bulldogs have won 11 of their last 13 games. Senior guard Azar Swain averages nearly 20 points per game.
No. 2 Villanova vs. No. 15 Delaware (2:45 p.m., CBS): While Loyola Chicago or Ohio State can feel pretty good about their odds of facing Villanova, it's apparent – especially in Ohio State's history, and with No. 2 Kentucky's loss on Thursday – that the two seed over the fifteen seed is not the foregone conclusion it once was.
The Wildcats are 26-7 this season and won the Big East Tournament with wins over St. John's, UConn and Creighton, of which the latter two are NCAA tournament teams. Villanova spreads the ball well, with six players averaging at least nine points per game, led by Collin Gillespie with 15.9 per game. The Blue Hens, meanwhile, are 22-12 and secured a spot in the tournament by winning Colonial Athletic Association Tournament.
No. 7 Michigan State vs. No. 10 Davidson (9:40 p.m., CBS): Michigan State enters the tournament after an up-and-down season in which it finished 22-12, but lost five of seven to close the regular season. The Spartans fell to Purdue in the Big Ten Tournament semifinals after upsetting Wisconsin in the quarterfinals. They average just 72.1 points per game – 148th in the country – and have just one player, Gabe Brown, averaging at least 10 points.
Davidson is making its first NCAA tournament appearance since 2018, falling in the Atlantic 10 Tournament to Richmond but finishing the season with a 27-6 record, enough to qualify for an at-large bid. The Wildcats have two players – Foster Loyer and Hyunjung Lee – averaging over 16 points per game, with Loyer shooting 44.5 percent from deep on nearly six attempts per game.
The Spartans join Ohio State in being slim favorites over their 10-seeded opponent, as Michigan State is favored by just 1.5 points.
No. 3 Wisconsin vs. No. 14 Colgate (9:50 p.m., TBS): One of the evening's nightcaps will be Big Ten regular-season champion Wisconsin taking on Colgate. Sophomore Johnny Davis, a National Player of the Year candidate who is averaging 19.7 points per game, is helping to lead the Badgers along with senior Brad Davison, who is adding 14.5 points per game.
Wisconsin is looking for its first Sweet 16 appearance since 2017, and to do so, it will have to contend with a Colgate team that has five players averaging double-digit scoring. The Raiders won the Patriot League Tournament and enter the NCAA tournament on a 15-game winning streak.
The full schedule for Friday can be found below:
| | | | |
| --- | --- | --- | --- |
| Teams | Time | Network | Odds |
| No. 7 Ohio State vs. No. 10 Loyola Chicago | 12:15 p.m. | CBS | Ohio State -1.5 |
| No. 2 Auburn vs. No. 15 Jacksonville State | 12:40 p.m. | truTV | Auburn -15.5 |
| No. 3 Texas Tech vs. No. 14 Montana State | 1:45 p.m. | TNT | Texas Tech -15.5 |
| No. 3 Purdue vs. No. 14 Yale | 2 p.m. | TBS | Purdue -15.5 |
| No. 2 Villanova vs. No. 15 Delaware | 2:45 p.m. | CBS | Villanova -15.5 |
| No. 7 USC vs. No. 10 Miami (Fla.) | 3:10 p.m. | truTV | USC -1.5 |
| No. 6 Alabama vs. No. 11 Notre Dame | 4:15 p.m. | TNT | Alabama -3.5 |
| No. 6 Texas vs. No. 11 Virginia Tech | 4:30 p.m. | TBS | Texas -1.5 |
| No. 4 Illinois vs. No. 13 Chattanooga | 6:50 p.m. | TNT | Illinois -7.5 |
| No. 2 Duke vs. No. 15 Cal State Fullerton | 7:10 p.m. | CBS | Duke -18.5 |
| No. 6 LSU vs. No. 11 Iowa State | 7:20 p.m. | TBS | LSU -3.5 |
| No. 1 Arizona vs. No. 16 Wright State | 7:27 p.m. | truTV | Arizona -21.5 |
| No. 5 Houston vs. No. 12 UAB | 9:20 p.m. | TNT | Houston -8.5 |
| No. 7 Michigan State vs. No. 10 Davidson | 9:40 p.m. | CBS | Michigan State -1.5 |
| No. 3 Wisconsin vs. No. 14 Colgate | 9:50 p.m. | TBS | Wisconsin -7.5 |
| No. 8 Seton Hall vs. No. 9 TCU | 9:57 p.m. | truTV | Seton Hall -1.5 |