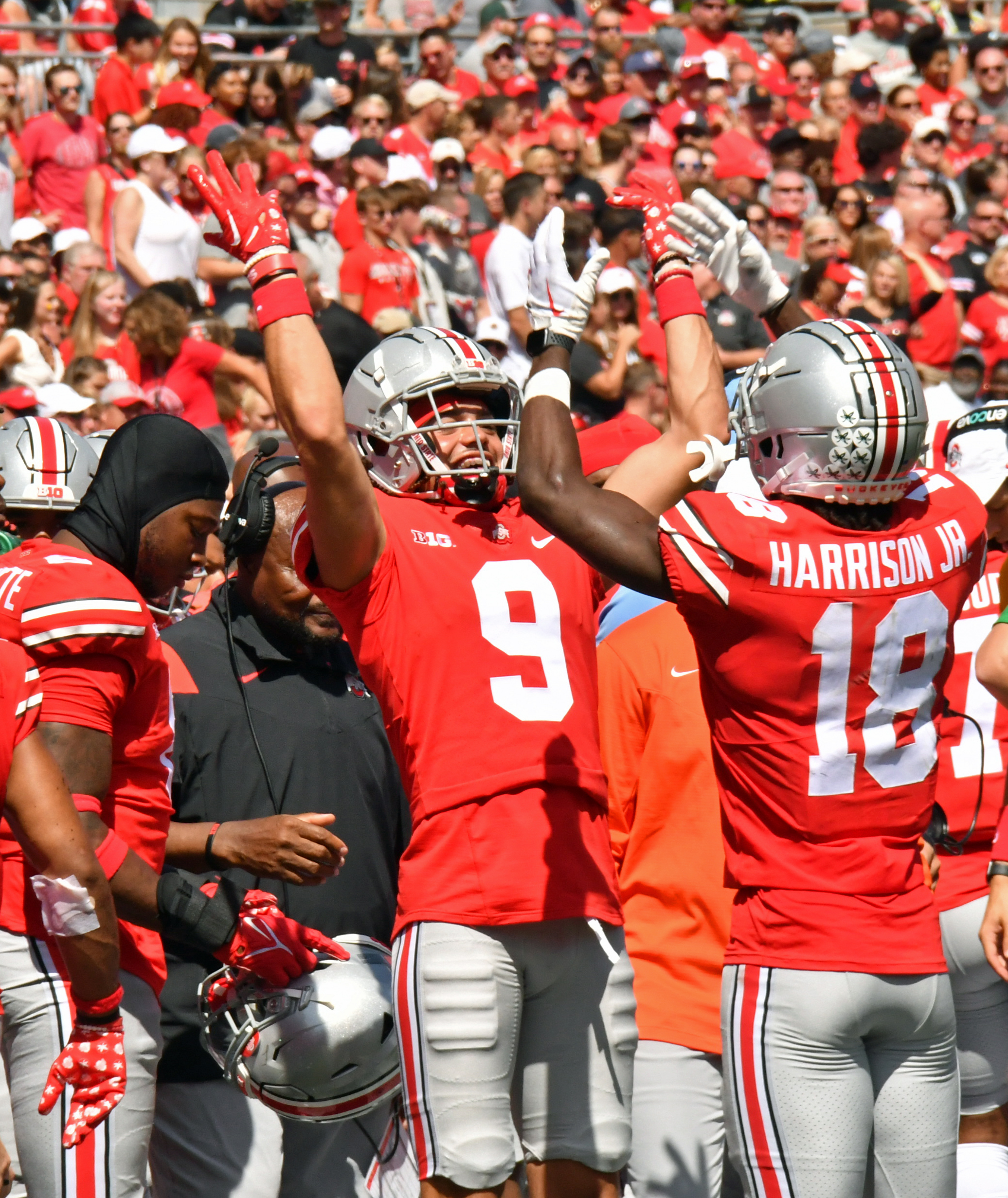 Ohio State sits at 2-0 on the season following wins against Notre Dame and Arkansas State, and the Buckeyes will now look to move to 3-0 with a win over Toledo (2-0) this Saturday.
This will be the final non-conference matchup of Ohio State's season before Big Ten play begins at home against Wisconsin on Sept. 24. We're taking a look at what the Rockets will bring into Ohio Stadium this Saturday.
Check back every Monday at BuckeyeSports.com for a brief preview of the Buckeyes' upcoming opponent, with stories and features throughout the week.
OPPONENT: Toledo Rockets
The Rockets are coached by Jason Candle, who is entering his seventh year as the lead man at Toledo. The Rockets are 2-0 on the season with a 37-0 win over Long Island and a 55-10 win over Massachusetts.
Led by quarterback Dequan Finn, had a high-scoring offense last season – 33.4 points and 435.5 yards per game – and look primed to continue that this year, averaging 46.0 points and 419 yards per game. The defense ranked top 40 in most metrics last season, including points allowed (21.8, 28th), yards allowed (349.9, 36th) and passing defense (198 yards per game, 22nd).
Through two games this season, the Rockets have allowed just 10 points and 363 yards of offense. The shutout was the first for Toledo since a 45-0 win over FCS-level Murray State on Sept. 14, 2019.
The Toledo Rockets are located in Toledo, Ohio, and has an enrollment of 13,185 students. When playing at home, the Rockets take the field at the Glass Bowl with a capacity of 26,248.
GAME INFO: Ohio Stadium, 7 p.m. ET, FOX
SERIES HISTORY: This is the fourth meeting between Ohio State and Toledo, with the Buckeyes holding a 3-0 record.
The first matchup came on Sept. 12, 1998, in a 49-0 win for the Buckeyes at Ohio Stadium. It took 11 years for the teams to match up again until they met in a neutral site game in Cleveland, Ohio, a 38-0 win for Ohio State on Sept. 19, 2009.
The most recent matchup was on Sept. 10, 2011, in a 27-22 win for the Buckeyes at Ohio Stadium.
| | | | |
| --- | --- | --- | --- |
| Date | Opponent | Location | Time/Result |
| Sept. 3 | Notre Dame | Columbus, Ohio | W, 21-10 |
| Sept. 10 | Arkansas State | Columbus, Ohio | W, 45-12 |
| Sept. 17 | Toledo | Columbus, Ohio | 7 p.m., FOX |
| Sept. 24 | Wisconsin | Columbus, Ohio | TBA, ABC |
| Oct. 1 | Rutgers | Columbus, Ohio | 3:30 p.m., TBA |
| Oct. 8 | Michigan State | East Lansing, Mich. | TBA |
| Oct. 22 | Iowa | Columbus, Ohio | TBA |
| Oct. 29 | Penn State | State College, Pa. | TBA |
| Nov. 5 | Northwestern | Evanston, Ill. | TBA |
| Nov. 12 | Indiana | Columbus, Ohio | TBA |
| Nov. 19 | Maryland | College Park, Md. | TBA |
| Nov. 26 | Michigan | Columbus, Ohio | 12 p.m., FOX |
| Dec. 3 | Big Ten Championship Game | Indianapolis, Ind. | 8 p.m., FOX |