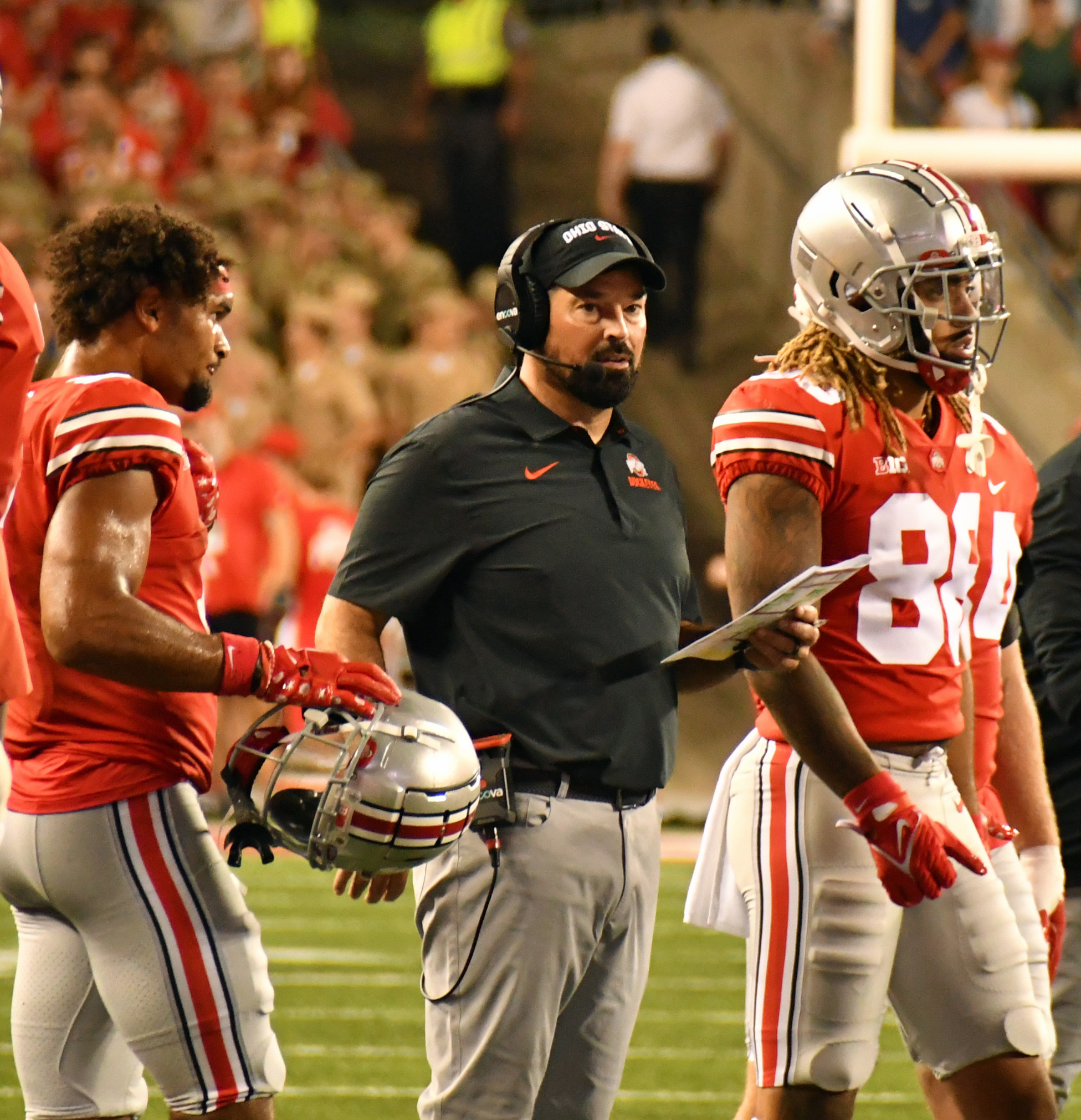 The season-opening 21-10 win against No. 5 Notre Dame (0-1) was just about everything that No. 2 Ohio State (1-0) could have asked for. The defense had an impressive debut under defensive coordinator Jim Knowles, allowing just 10 points and 253 total yards, but the offense experienced some unusual struggles following the loss of Jaxon Smith-Njigba.
Following the taxing opener against the Irish, this week will provide a brief respite for Ohio State in the form of Arkansas State (1-0), and we're taking a look at what the Red Wolves will bring into Ohio Stadium this Saturday.
Check back every Monday at BuckeyeSports.com for a brief preview of the Buckeyes' upcoming opponent, with stories and features throughout the week.
OPPONENT: Arkansas State Red Wolves
The Red Wolves, coached by second-year lead man Butch Jones (formerly of Cincinnati and Tennessee) are coming off a 2-10 season in which they allowed 38.6 points per game and 506.0 yards per game.
The offense put up a respectable 397.2 yards per game behind quarterbacks James Blackman and Layne Hatcher, who split time under center for the Red Wolves. Blackman is back this year after Hatcher transferred to Texas State and will be joined on the offense by running backs Johnnie Lang and Brian Snead, formerly of Ohio State.
Arkansas State is located in Jonesboro, Ark., and has an enrollment of 9,350 students. When playing at home, the Red Wolves take the field at Centennial Bank Stadium with a capacity of 30,964.
GAME INFO: Ohio Stadium, 12 p.m. ET, Big Ten Network
SERIES HISTORY: This is the first-ever meeting between Ohio State and Arkansas State. The Buckeyes have a 2-0 record against teams from the Sun Belt (or 3-0, counting the vacated win in 2010 against Marshall):
| | | | |
| --- | --- | --- | --- |
| Team | Date | Result | Location |
| Marshall | Sept. 11, 2004 | W, 24-21 | Columbus |
| Troy | Sept. 20, 2008 | W, 28-10 | Columbus |
QUICK QUOTES
Arkansas State quarterback James Blackman on his message to the young members of the team about playing at Ohio Stadium: "Don't be too overwhelmed. They put their pads on just like us. The ball still has to be kicked off. We put in the work. They put in the work. Just don't get too overwhelmed by the crowd, the environment you're in — embrace it. You should want to be in that type of environment."
| | | | |
| --- | --- | --- | --- |
| Date | Opponent | Location | Time/Broadcast/Result |
| Sept. 3 | Notre Dame | Columbus, Ohio | W, 21-10 |
| Sept. 10 | Arkansas State | Columbus, Ohio | 12 p.m., BTN |
| Sept. 17 | Toledo | Columbus, Ohio | 7 p.m., FOX |
| Sept. 24 | Wisconsin | Columbus, Ohio | Time TBA, ABC |
| Oct. 1 | Rutgers | Columbus, Ohio | 3:30 p.m., TBA |
| Oct. 8 | at Michigan State | East Lansing, Mich. | TBA |
| Oct. 22 | Iowa | Columbus, Ohio | TBA |
| Oct. 29 | at Penn State | University Park, Pa. | TBA |
| Nov. 5 | at Northwestern | Evanston, Ill. | TBA |
| Nov. 12 | Indiana | Columbus, Ohio | TBA |
| Nov. 19 | at Maryland | College Park, Md. | TBA |
| Nov. 26 | Michigan | Columbus, Ohio | 12 p.m., FOX |
| Dec. 3 | Big Ten Championship Game | Indianapolis, Ind. | 8 p.m., FOX |