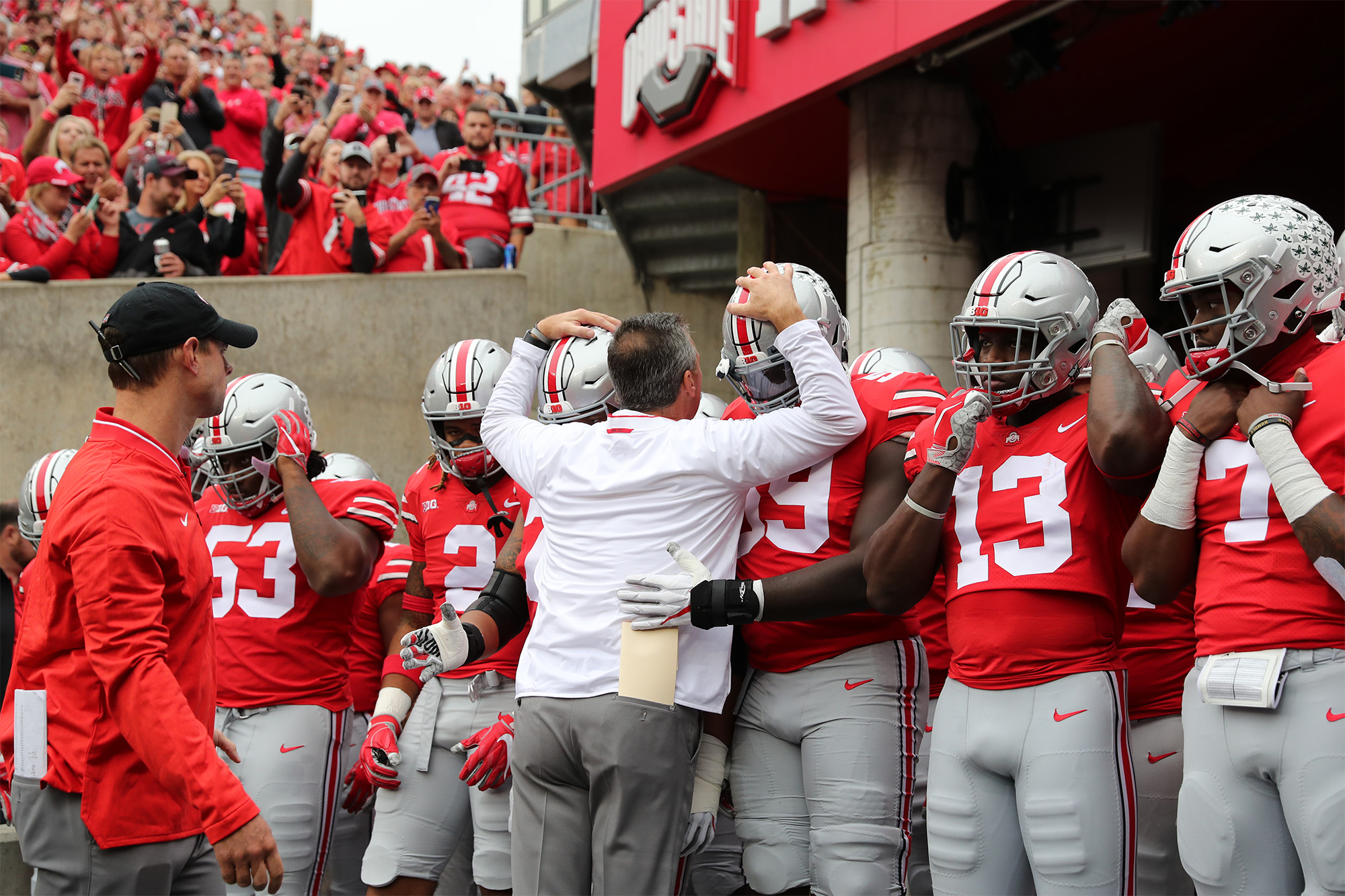 Ohio State and Penn State projected to be a top-10 matchup as both teams won through the first four weeks of the season, but the latest polls confirmed it Sunday. In possession of the same rankings for both national polls, the No. 4 Buckeyes face the No. 9 Nittany Lions for a top-10 matchup Saturday at 7:30 p.m. on ABC.
The primetime clash at Beaver Stadium in University Park, Pa., features the Big Ten's top two teams after OSU and PSU emerged from week four at 4-0 and 1-0 in conference play. While Ohio State remained ranked fourth for the third straight week following its 49-6 pasting of Tulane, Penn State inched up from 10th to ninth after its 63-24 rout of Illinois.
The Buckeyes follow No. 3 Clemson, No. 2 Georgia and No. 1 Alabama while the Nittany Lions traded places with No. 10 Auburn. Around the conference, No. 14 Michigan and No. 15 Wisconsin round out the rest of the Big Ten with No. 21 Michigan State. Iowa and Maryland received votes, respectively, with 31 and six.
In its entirety, the AP Top 25 for week five is embedded below.
AP Poll

| RANK | TEAM | RECORD | PTS | 1st VOTES | PREV |
| --- | --- | --- | --- | --- | --- |
| 1 | ALABAMA | 4-0 | 1,523 | 60 | 1 |
| 2 | GEORGIA | 4-0 | 1,422 | – | 2 |
| 3 | CLEMSON | 4-0 | 1,409 | 1 | 3 |
| 4 | OHIO STATE | 4-0 | 1,363 | – | 4 |
| 5 | LSU | 4-0 | 1,238 | – | 6 |
| 6 | OKLAHOMA | 4-0 | 1,201 | – | 5 |
| 7 | STANFORD | 4-0 | 1,143 | – | 7 |
| 8 | NOTRE DAME | 4-0 | 1,067 | – | 8 |
| 9 | PENN STATE | 4-0 | 1,001 | – | 10 |
| 10 | AUBURN | 3-1 | 987 | – | 9 |
| 11 | WASHINGTON | 3-1 | 946 | – | 10 |
| 12 | WEST VIRGINIA | 3-0 | 923 | – | 12 |
| 13 | UCF | 3-0 | 727 | – | 16 |
| 14 | MICHIGAN | 3-1 | 698 | – | 19 |
| 15 | WISCONSIN | 3-1 | 662 | – | 18 |
| 16 | MIAMI (FL) | 3-1 | 571 | – | 21 |
| 17 | KENTUCKY | 4-0 | 541 | – | – |
| 18 | TEXAS | 3-1 | 308 | – | – |
| 19 | OREGON | 3-1 | 297 | – | 20 |
| 20 | BRIGHAM YOUNG | 3-1 | 270 | – | 25 |
| 21 | MICHIGAN STATE | 2-1 | 256 | – | 24 |
| 22 | DUKE | 4-0 | 244 | – | – |
| 23 | MISSISSIPPI STATE | 3-1 | 241 | – | 14 |
| 24 | CALIFORNIA | 3-0 | 118 | – | – |
| 25 | TEXAS TECH | 3-1 | 106 | – | – |