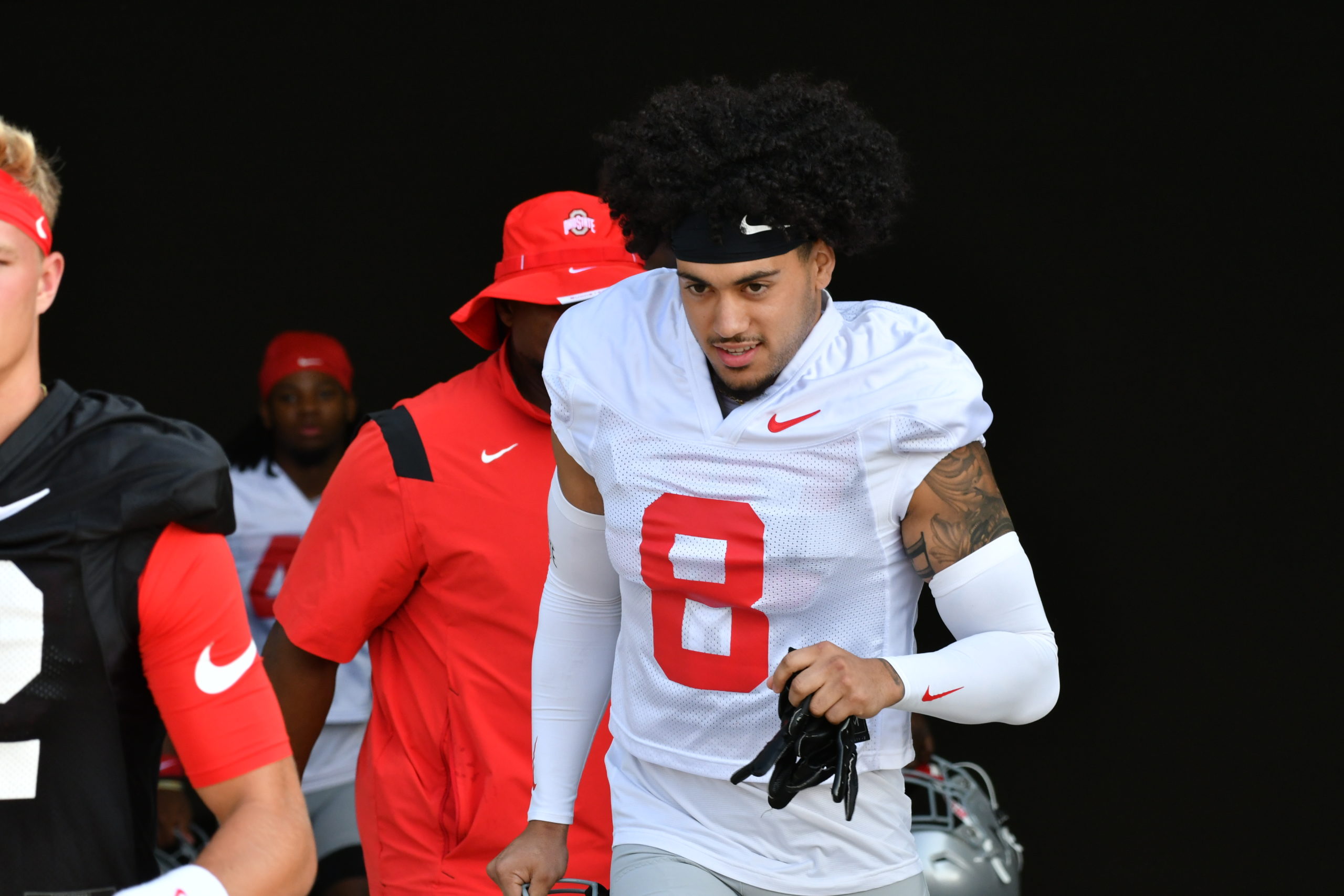 Ohio State's fall camp kicked off on Thursday, and a handful of Buckeyes were boasting new jersey numbers when they took the field at the Woody Hayes Athletic Center.
Four returning players will wear new numbers this season, including safeties Cameron Martinez (No. 13 to No. 3), Lathan Ransom (No. 20 to No. 8) and Kye Stokes (No. 37 to No. 13), as well as cornerback Ryan Turner (No. 29 to No. 12). Additionally, transfer cornerback Davison Igbinosun – who wore No. 20 during the spring – will now wear No. 1 for Ohio State, the most recent Buckeye cornerback to wear that number since Jeff Okudah from 2017-19.
In addition, two new members of the team received their jersey assignments. Transfer linebacker Nigel Glover, who committed to Ohio State earlier this week, was already at practice with the Buckeyes today wearing No. 37. The other addition to the roster was walk-on punter Joe McGuire out of Australia, who will wear No. 42 for the Buckeyes.
| Number | Name | Position | Ht. | Wt. | Year | Hometown | Previous School |
| --- | --- | --- | --- | --- | --- | --- | --- |
| 1 | Davison Igbinosun | CB | 6-2 | 187 | Sophomore | Union, N.J. | Union |
| 2 | Kourt Williams II | SAF | 6-1 | 228 | R-Junior | Harbor City, Calif. | St. John Bosco |
| 2 | Emeka Egbuka | WR | 6-1 | 205 | Junior | Steilacoom, Wash. | Steilacoom |
| 3 | Cameron Martinez | SAF | 5-10 | 190 | R-Junior | Muskegon, Mich. | Muskegon |
| 3 | Miyan Williams | RB | 5-9 | 226 | R-Junior | Cincinnati, Ohio | Winton Woods |
| 4 | Julian Fleming | WR | 6-2 | 205 | Senior | Catawissa, Pa. | Southern Columbia |
| 5 | Dallan Hayden | RB | 5-10 | 203 | Sophomore | Memphis, Tenn. | Christian Brothers |
| 6 | Kyle McCord | QB | 6-3 | 215 | Junior | Philadelphia, Pa. | St. Joseph's Prep |
| 6 | Sonny Styles | SAF | 6-4 | 228 | Sophomore | Pickerington, Ohio | Pickerington Central |
| 7 | Jordan Hancock | CB | 6-1 | 185 | Junior | Swanee, Ga. | North Gwinnett |
| 7 | Kyion Grayes | WR | 6-0 | 185 | R-Freshman | Chandler, Ariz. | Chandler |
| 8 | Lathan Ransom | SAF | 6-1 | 207 | Senior | Tucson, Ariz. | Salpointe Catholic |
| 8 | Cade Stover | TE | 6-4 | 251 | R-Senior | Mansfield, Ohio | Lexington |
| 9 | Jayden Ballard | WR | 6-2 | 196 | R-Sophomore | Massillon, Ohio | Massillon Washington |
| 10 | Xavier Johnson | WR | 6-2 | 215 | Graduate | Cincinnati, Ohio | Summit Country Day |
| 10 | Denzel Burke | CB | 6-1 | 190 | Junior | Scottsdale, Ariz. | Saguaro |
| 11 | C.J. Hicks | LB | 6-3 | 230 | Sophomore | Dayton, Ohio | Archbishop Alter |
| 11 | Brandon Inniss | WR | 6-0 | 190 | Freshman | Hollywood, Fla. | American Heritage |
| 12 | Lincoln Kienholz | QB | 6-3 | 185 | Freshman | Pierre, S.D. | T.F. Riggs |
| 12 | Ryan Turner | CB | 5-11 | 189 | R-Freshman | Hollywood, Fla. | Chaminade-Madonna Prep |
| 13 | Kye Stokes | SAF | 6-1 | 192 | Sophomore | Seffner, Fla. | Armwood |
| 14 | Kojo Antwi | WR | 5-11 | 194 | Sophomore | Suzanne, Ga. | Lambert |
| 14 | Ja'Had Carter | SAF | 6-0 | 203 | Senior | Richmond, Va. | Henrico |
| 14 | Tristan Gebbia | QB | 6-2 | 205 | Graduate | Calabasas, Calif. | Calabasas |
| 15 | Jelani Thurman | TE | 6-6 | 253 | Freshman | Fairburn, Ga. | Langston Hughes |
| 15 | Calvin Simpson-Hunt | CB | 6-0 | 175 | Freshman | Waxahachie, Texas | Waxahachie |
| 16 | Mason Maggs | QB | 6-2 | 215 | R-Freshman | Dublin, Ohio | Coffman |
| 16 | Lorenzo Styles Jr. | CB | 6-1 | 192 | Junior | Pickerington, Ohio | Notre Dame |
| 17 | Mitchell Melton | LB | 6-3 | 253 | R-Junior | Silver Spring, Md. | Good Counsel |
| 17 | Carnell Tate | WR | 6-2 | 191 | Freshman | Chicago, Ill. | IMG Academy |
| 18 | Marvin Harrison Jr. | WR | 6-4 | 208 | Junior | Philadelphia, Pa. | St. Joseph's Prep |
| 18 | Jyaire Brown | CB | 5-11 | 180 | Sophomore | New Orleans, La. | Lakota West |
| 19 | Chad Ray | QB | 6-2 | 210 | R-Senior | Dublin, Ohio | Scioto |
| 19 | Chip Trayanum | RB | 5-11 | 233 | Senior | Akron, Ohio | Arizona State |
| 20 | Arvell Reese | LB | 6-4 | 225 | Freshman | Cleveland, Ohio | Glenville |
| 21 | Jayden Bonsu | SAF | 6-1 | 210 | Freshman | Newark, N.J. | St. Peter's Prep |
| 21 | Evan Pryor | RB | 5-10 | 198 | R-Freshman | Cornelius, N.C. | William Amos Hough |
| 22 | Steele Chambers | LB | 6-1 | 232 | R-Senior | Roswell, Ga. | Blessed Trinity Catholic |
| 23 | Omari Abor | DE | 6-3 | 268 | R-Freshman | Duncanville, Texas | Duncanville |
| 24 | Nolan Baudo | WR | 5-10 | 170 | Freshman | Chicago, Ill. | Marist |
| 24 | Parker Lewis | K | 6-3 | 220 | R-Junior | Phoenix, Ariz. | Saguaro |
| 25 | Malik Hartford | SAF | 6-2 | 183 | Freshman | West Chester, Ohio | Lakota West |
| 25 | Kai Saunders | RB | 6-2 | 205 | Sophomore | Northville, Mich. | Northville |
| 26 | Cedrick Hawkins Jr. | SAF | 6-0 | 175 | Freshman | Titusville, Fla. | Cocoa |
| 26 | Cayden Saunders | RB | 5-10 | 190 | R-Junior | Northville, Mich. | Northville |
| 28 | Reid Carrico | LB | 6-2 | 235 | R-Sophomore | Ironton, Ohio | Ironton |
| 28 | TC Caffey | RB | 5-10 | 215 | R-Freshman | Hubbard, Ohio | Hubbard |
| 29 | Jesse Mirco | P | 6-4 | 215 | Junior | Fremantle, Australia | Christian Brothers |
| 30 | Will Hartson | RB | 6-9 | 205 | Freshman | Massillon, OH | Washington |
| 30 | Cody Simon | LB | 6-2 | 239 | Senior | Jersey City, N.J. | St. Peter's Prep |
| 32 | Brenten Jones | SAF | 6-1 | 205 | R-Freshman | Steubenville, Ohio | Steubenville |
| 32 | TreVeyon Henderson | RB | 5-10 | 214 | Junior | Hopewell, Va. | Hopewell |
| 33 | Devin Brown | QB | 6-3 | 213 | R-Freshman | Draper, Utah | Corner Canyon |
| 33 | Jack Sawyer | DE | 6-4 | 265 | Junior | Pickerington, Ohio | Pickerington North |
| 34 | Chase Brecht | RB | 6-0 | 205 | R-Sophomore | Powell, Ohio | Olentangy Liberty |
| 34 | Colin Kaufmann | CB | 5-10 | 188 | R-Freshman | Avon, Ohio | Avon |
| 34 | Brennen Schramm | WR | 6-1 | 185 | Freshman | Medina, Ohio | Medina |
| 35 | Tommy Eichenberg | LB | 6-2 | 239 | R-Senior | Cleveland, Ohio | St. Ignatius |
| 36 | Gabe Powers | LB | 6-4 | 230 | R-Freshman | Marysville, Ohio | Marysville |
| 37 | Nigel Glover | LB | 6-3 | 215 | Freshman | Clayton, Ohio | Northmont |
| 38 | Cameron Kittle | DB | 6-0 | 182 | R-Junior | Glouster, Ohio | Trimble |
| 38 | Jayden Fielding | K | 6-0 | 175 | Sophomore | League City, Texas | IMG Academy |
| 39 | Andrew Moore | DB | 5-11 | 190 | R-Sophomore | Cleveland | Cleveland Heights |
| 41 | Josh Proctor | SAF | 6-2 | 205 | Graduate | Owasso, Okla. | Owasso |
| 42 | Joe McGuire | P | 6-2 | 235 | Freshman | Melbourne, Australia | Prokick Austrailia |
| 43 | John Ferlmann | LS | 6-2 | 225 | R-Sophomore | Phoenix, Ariz. | Boulder Creek |
| 43 | Dianté Griffin | CB | 5-8 | 185 | R-Freshman | Lima, Ohio | Lima Senior |
| 44 | J.T. Tuimoloau | DE | 6-4 | 271 | Junior | Edgewood, Wash. | Eastside Catholic |
| 46 | Jace Middleton | TE | 6-4 | 215 | Junior | Lewis Center, Ohio | Olentangy |
| 46 | Ryan Rudzinksi | SAF | 6-4 | 190 | Freshman | Columbus, Ohio | Bishop Watterson |
| 48 | Max Lomonico | LS | 6-3 | 215 | R-Sophomore | Pickerington, Ohio | Pickerington Central |
| 49 | Patrick Gurd | TE | 6-4 | 240 | R-Junior | New Albany, Ohio | New Albany |
| 50 | Alec DelSignore | LB | 6-2 | 215 | Freshman | Youngstown, Ohio | Cardinal Mooney |
| 51 | Mike Hall Jr. | DT | 6-2 | 285 | R-Sophomore | Streetsboro, Ohio | Streetsboro |
| 51 | Luke Montgomery | OL | 6-4 | 298 | Freshman | Findlay, Ohio | Findlay |
| 52 | Joshua Mickens | DE | 6-5 | 225 | Freshman | Indianapolis, Ind. | Lawrence Central |
| 53 | Will Smith Jr. | DL | 6-3 | 290 | Freshman | Dublin, Ohio | Coffman |
| 54 | Toby Wilson | OL | 6-2 | 290 | R-Sophomore | Lewis Center, Ohio | Olentangy |
| 55 | Matthew Jones | OL | 6-4 | 312 | Graduate | Brooklyn, N.Y. | Erasmus Hall |
| 56 | Kayden McDonald | DL | 6-3 | 310 | Freshman | Suwanee, Ga. | North Gwinnett |
| 57 | Jalen Pace | LB | 6-0 | 229 | R-Sophomore | St. Louis | Mary Institute and Saint Louis Country Day School |
| 58 | Ty Hamilton | DT | 6-3 | 295 | R-Junior | Pickerington, Ohio | Pickerington Central |
| 59 | Victor Cutler Jr. | OL | 6-3 | 295 | R-Senior | West Monroe, La. | West Monroe |
| 59 | Landon Smith | DL | 6-2 | 277 | Junior | Powell, Ohio | Olentangy Liberty |
| 60 | Cade Casto | DL | 6-2 | 260 | Junior | Strongsville, Ohio | Robert Morris |
| 61 | Caden Davis | DE | 6-5 | 220 | Freshman | Mason, Ohio | William Mason |
| 62 | Joshua Padilla | OL | 6-3 | 293 | Freshman | Huber Heights, Ohio | Wayne |
| 62 | Bryce Prater | DL | 6-0 | 279 | R-Sophomore | West Lafayette, Ohio | Ridgewood |
| 63 | Julian Goines-Jackson | OL | 6-1 | 316 | Sophomore | Zanesville, Ohio | Youngstown State |
| 64 | Quinton Burke | OL | 6-4 | 301 | R-Junior | Lancaster, Ohio | Lancaster |
| 65 | Zen Michalski | OL | 6-7 | 310 | R-Sophomore | Floyds Knobs, Ind. | Floyd Central |
| 66 | Enokk Vimahi | OL | 6-4 | 310 | R-Senior | Kahuku, Hawaii | Kahuku |
| 67 | Austin Siereveld | OL | 6-5 | 317 | Freshman | Liberty Township, Ohio | Lakota East |
| 68 | George Fitzpatrick | OL | 6-6 | 305 | R-Freshman | Englewood, Col. | Cherry Creek |
| 69 | Trey Leroux | OL | 6-7 | 315 | R-Junior | Norwalk, Ohio | Norwalk |
| 70 | Josh Fryar | OL | 6-6 | 320 | R-Junior | Beech Grove, Ind. | Beech Grove |
| 71 | Josh Simmons | OL | 6-6 | 305 | R-Sophomore | San Diego, Calif. | San Diego State |
| 74 | Donovan Jackson | OL | 6-4 | 320 | Junior | Bellaire, Texas | Episcopal |
| 75 | Carson Hinzman | OL | 6-4 | 300 | R-Freshman | Hammond, Wisc. | Saint Croix Central |
| 76 | Miles Walker | OL | 6-5 | 285 | Freshman | Greenwich, Conn. | Brunswick |
| 77 | Tegra Tshabola | OL | 6-6 | 327 | R-Freshman | West Chester, Ohio | Lakota West |
| 78 | Jakob James | OL | 6-5 | 297 | R-Junior | Cincinnati, Ohio | Elder |
| 80 | Noah Rogers | WR | 6-2 | 194 | Freshman | Rolesville, N.C. | Rolesville |
| 81 | Sam Hart | TE | 6-5 | 248 | R-Sophomore | Aurora, Colo. | Cherokee Trail |
| 82 | David Adolph | WR | 6-4 | 205 | R-Freshman | Dublin, Ohio | Jerome |
| 83 | Joop Mitchell | WR | 5-10 | 180 | R-Sophomore | Wyoming, Ohio | Wyoming |
| 84 | Joe Royer | TE | 6-5 | 252 | R-Junior | Cincinnati, Ohio | Elder |
| 85 | Bennett Christian | TE | 6-5 | 248 | R-Freshman | Acworth, Ga. | Allatoona |
| 86 | Bryson Rodgers | WR | 6-2 | 175 | Freshman | Zephyrhills, Fla. | Wiregrass Ranch |
| 87 | Reis Stocksdale | WR | 5-9 | 188 | R-Sophomore | Morrow, Ohio | Little Miami |
| 88 | Gee Scott Jr. | TE | 6-3 | 240 | Senior | Seattle, Wash. | Eastside Catholic |
| 89 | Zak Herbstreit | TE | 6-2 | 240 | R-Sophomore | Nashville, Tenn. | Montgomery Bell Academy |
| 90 | Jaden McKenzie | DT | 6-2 | 290 | R-Senior | Wake Forest, N.C. | Wake Forest H.S. |
| 91 | Tyleik Williams | DT | 6-3 | 320 | Junior | Manassas, Va. | Unity Reed |
| 92 | Caden Curry | DE | 6-3 | 259 | Sophomore | Greenwood, Ind. | Center Grove |
| 93 | Hero Kanu | DT | 6-4 | 305 | R-Freshman | Rancho Santa Margarita, Calif. | Santa Margarita Catholic |
| 94 | Jason Moore | DL | 6-6 | 260 | Freshman | Hyattsville, Md. | DeMatha Catholic |
| 95 | Casey Magyar | K | 5-10 | 198 | R-Sophomore | Dublin, Ohio | Coffman |
| 95 | Tywone Malone | DT | 6-4 | 315 | R-Sophomore | Jamesburg, N.J. | Bergen Catholic |
| 96 | Collin Johnson | LS | 6-0 | 209 | R-Sophomore | New Albany, Ohio | New Albany |
| 97 | Kenyatta Jackson | DE | 6-5 | 252 | R-Freshman | Hollywood, Fla. | Chaminade-Madonna Prep |
| 98 | Austin Snyder | K | 5-7 | 170 | Junior | Groveport, Ohio | Findlay |