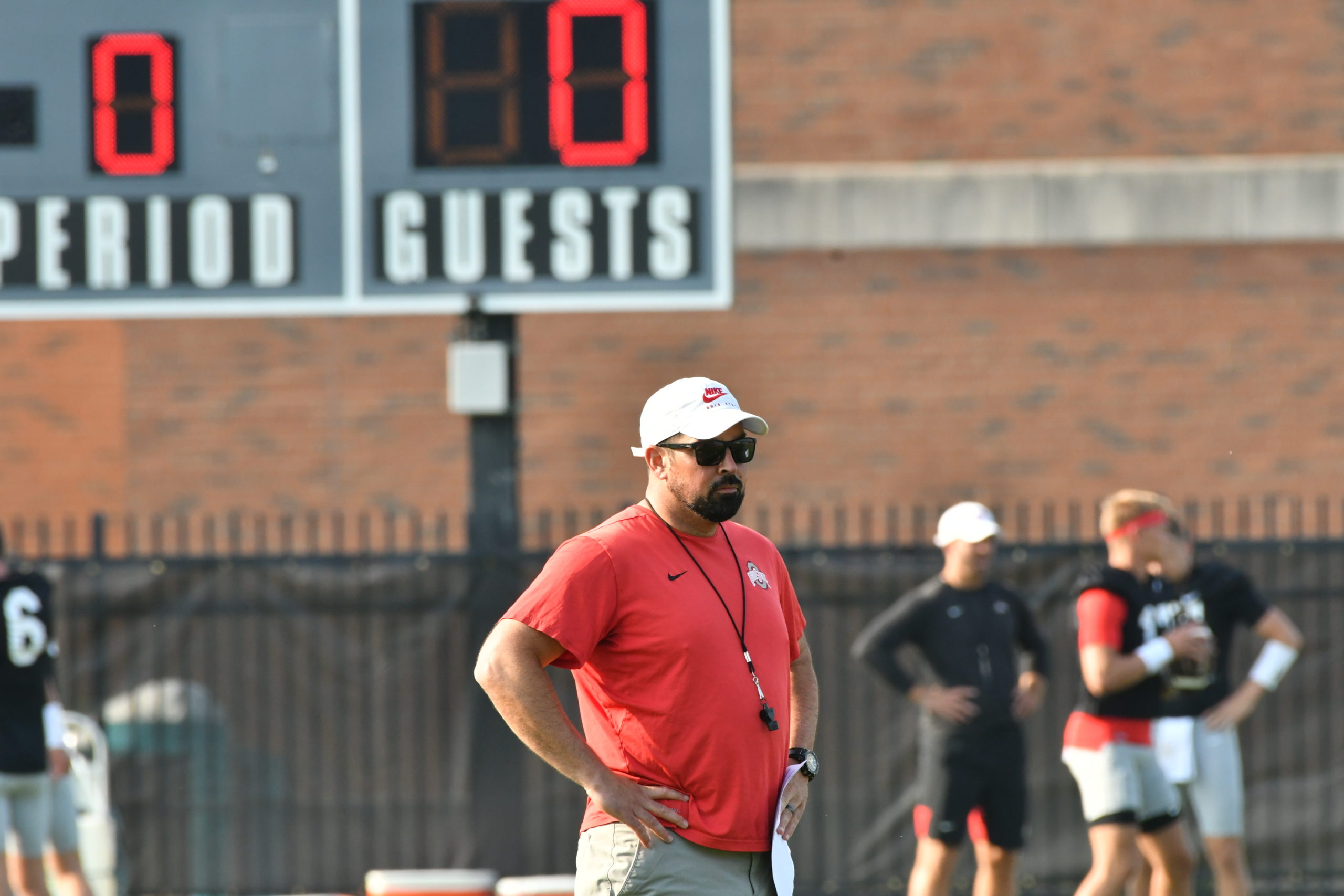 With just 12 days to go until Ohio State's season opener at Indiana on Sept. 2, head coach Ryan Day said Monday that he is not ready to name a starting quarterback between Kyle McCord and Devin Brown.
"Both graded out champions in the last scrimmage, both have gotten better, but to this point right now, as honestly as I can say it, there's not one that's won the job, there's not one that's lost the job," he said. "There's been times over this camp where I've felt like one was going to take over and the other came back – it's like a horse racing, (one) kept pulling away and the other would catch up."
McCord and Brown have been entrenched in a battle since the spring to becomes Ohio State's next signal caller following the departure of C.J. Stroud to the NFL. While McCord entered the competition with an additional year on Brown, heading into his redshirt sophomore season while Brown is just a redshirt freshman, it has remained too close to call for Ohio State's coaching staff.
"I asked the staff this weekend after the scrimmage, I just took a straw poll, and it was almost split right down the middle," he said. "So, what does that mean? I think it's going to continue to go on this week. We'll go from there, right? Is there a chance that both of them could play in the first game? I think the answer is yet, there's a chance. But we're going to keep working. We don't have to make that decision right now, but I can tell you that I am pleased with their progress, and our staff feels strong with both of them playing. Where it goes, we'll keep putting one foot in front of the other."
Declining to name a quarterback on Monday, it appears increasingly likely that the competition – which Day said earlier this year he would like to have an answer for coming out of the spring – could stretch beyond the opener at Indiana. After playing the Hoosiers, Ohio State will host Youngstown State and Western Kentucky, which could offer a chance for the Buckeyes to continue gauging their options with both signal callers getting a chance to play.
Regardless of who ultimately wins out, Day said the team feels confident in either McCord or Brown to lead the team when the season begins.
"I think, first off, that our staff feels confident with both of them, which is exciting," he said. "I think this is two good players getting after it. I think they're making each other better. We've got them more reps than I think we have anyone else in the camps that I've been here."
While the prospect of entering the season raises reasonable concerns, with the eventually starter either not having enough time to prepare with the first team or the competition providing a perception that neither quarterback is able to pull ahead, Day said that situations like this one with two capable quarterbacks "have a way of working themselves out."
"I can't sit here and honestly say – and I met with the quarterbacks – and they agreed, there's not one that's that much further ahead," he said. "But they both graded out champions in the scrimmage, they're both playing very well, and that's very good. We have confidence in them.
"We talked about this before – you don't know until you get into the game what exactly you have, and practice is good, practice gives us a snapshot of what you're going to see in a game, but once you start getting tackled and you're in that situation and you're live, that's a another thing," he continued. "We'll keep trying to figure it out one day at a time, but I've been in situations – not very many – where you don't have a quarterback, and that's not a good feeling. We're going to have a quarterback – we may have two – and if they deserve to play, they're going to play."