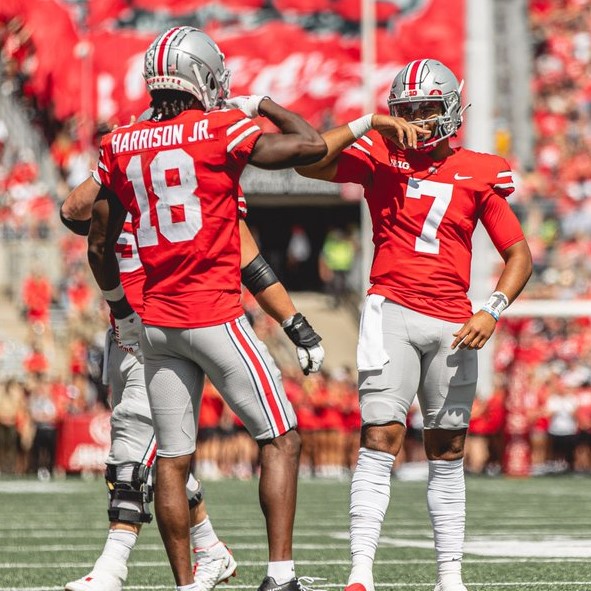 Andy Anders: Second Straight Cakewalk For Ohio State.
There's still no certainty whether or not junior wide receiver Jaxon Smith-Njigba will play, if he does I'd expect it to be in a limited capacity just to get his feet back under him before the Wisconsin game next week. Regardless, the Buckeyes should be able to move the ball with ease on the offensive side. Toledo has some interesting pieces in the front seven between former Ohio State linebacker Dallas Gant, who's collected 20 tackles through two games, and its returning sack leader in senior outside linebacker Jamal Hines. It shouldn't be enough to account for the Buckeyes' speed and skill, however.
I think the Rockets have a chance to move the ball a touch against Ohio State's defense given how dual-threat quarterbacks have given the team issues in the past. Sophomore quarterback DeQuan Finn already has 138 rushing yards this season to lead the team, in addition to his 388 passing yards. That said, if Ohio State can keep him contained, Toledo's front should be overmatched.
The Buckeyes take another step forward and receive the full benefits of one final tune-up prior to conference play.
Ohio State 52, Toledo 10
Jack Emerson: The Rockets Will Be Grounded
I was, once again, a bit too aggressive with my prediction for the Arkansas State game last week, as I expected Ohio State's offense to break 60 against the Red Wolves. The Buckeyes did get their typically high-powered passing attack back on track against Arkansas State, and I think they'll have similar success in that area against Toledo on Saturday, but I'll go a little more conservative in my offensive prediction for this game.
I'm most excited to see how Ohio State's defense will adjust to the dual-threat ability of Toledo quarterback Dequan Finn. Although they've already played a dual-threat quarterback in Notre Dame's Tyler Buchner, Finn carries much more experience and has already shown that he can control a game with both his arm and legs during his career.
While I like what Jason Candle is building in Toledo, I think the talent gap will show on Saturday and the Buckeyes will win comfortably.
Ohio State 49, Toledo 20
Braden Moles: The Streak Lives On
Ohio State has not lost to an in-state opponent since a 7-6 loss to Oberlin in 1921, and that streak won't be ending on Saturday at Ohio Stadium.
Toledo boasts a solid squad – one led by seventh-year head coach Jason Candle – that is among the Group of Five schools have to offer, but the talent discrepancy will be too large this weekend for the Rockets to make a meaningful impact.
Even so, I think this could also be a tougher test for the defense than Notre Dame was, because the Rockets have an actual functioning quarterback in Dequan Finn, so I'll be interested to see how defensive coordinator Jim Knowles' defense adjusts throughout the game.
Ohio State's offense should get into a groove and leave little doubt in this one, but the defense could take some lumps early on before settling in.
Ohio State 48, Toledo 17