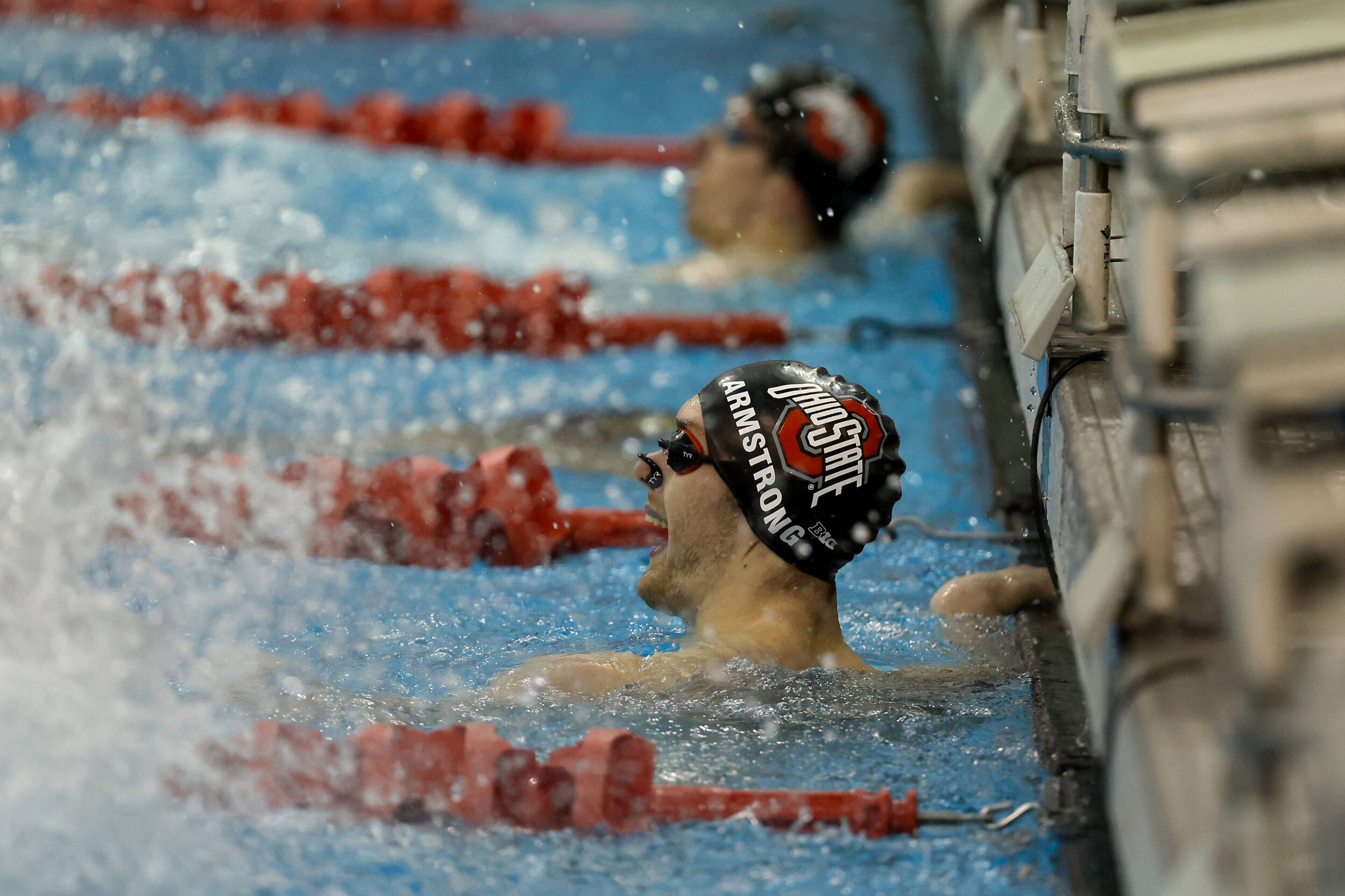 Ohio State swimming's Hunter Armstrong became a world record holder at the Phillips 66 International Team Trials on Thursday when he won the 50m backstroke in 23.71 seconds.
Armstrong beat the previous world record by 0.09 seconds, and he won the event by over two-tenths of a second.
"Based on how Hunter was training leading up to the meet, we as a staff discussed the possibility of him making a run at the world record in the 100m back," Ohio State director of swimming and diving Bill Dorenkott on April 28. "To make the team in the 100m free, set the world record in the 50m back with the 100m back to come is pretty surreal."
On April 30, Armstrong returned to the water for the 100m backstroke. Following his record-breaking performance, the junior Buckeye won the event at a school-record pace of 52.20 seconds. His time was the fastest in the world this year, and he bested world-record holder Ryan Murphy in the swim.
With the collection of wins, Armstrong qualified for the 2022 FINA World Championship that will take place this summer. After setting American and U.S. Open records in the preliminary sessions, he set the tone for his races. The Dover, Ohio, native is quickly becoming one of the nation's best swimmers, and he might be entering the world conversation after the summer season closes.
"I told Hunter after the (50m backstroke) swim to stay humble and stay hungry," Dorenkott said. "He will always be the small-town kid from Dover, Ohio. Now, he happens to be a world-record holder. Ohio State boasts an aquatic legacy in swimming, diving and synchronized swimming that rivals any program in the world, and we have one of the finest staff in the country. We are just getting started."
Charlie Clark and Amy Fulmer also broke records at the International Team Trials. Clark finished off the meet with a second-place finish in the 800m freestyle. His 7:50.07-second race lowers his previously held school record by over eight seconds. The Sandusky, Ohio, native earned two second-place results over the weekend, including a Buckeye-record 1500m freestyle win.
Fulmer clocked a personal-best in the 50m freestyle with a 25.60-second finish. She also broke the women's 100m backstroke school record to bring the Ohio State record to eight at the International Team Trials.
OHIO STATE RECORDS BROKEN
50 freestyle – Hunter Armstrong – 22.00
100 freestyle – Hunter Armstong – 48.25
400 freestyle – Charlie Clark – 3:49.36
800 freestyle – Charlie Clark – 7:50.07
1500 freestyle – Charlie Clark – 14:51.78
50 backstroke – Hunter Armstrong – 23.71 (world record)
100 backstroke – Hunter Armstrong – 52.20
100 backstroke – Amy Fulmer – 1:00.48
DORENKOTT NAMED TO TEAM USA COACHING STAFF
After the Phillips 66 International Trials, Dorenkott was added to the USA Swimming coaching staff as an assistant for the 2022 World Championships. He will serve as one of five assistant coaches for the United States.
The 2022 World Championships will be Dorenkott's fourth time coaching with Team USA on an international coaching staff. He was an assistant coach at the 2001 World University Games in Beijing, the 2003 Pan Am Games in Santo Domingo, Dominican Republic and the 2007 Japan International Grand Prix in Chiba, Japan.
WRESTLING
Several Ohio State wrestlers competed at the U.S. Open in Las Vegas over the weekend, including nine current Buckeyes and three incoming recruits in the class of 2022.
Ohio State redshirt Andre Gonzales took second place in the U20 Freestyle competition at 57kg, while future Buckeyes Nic Bouzakis and Nic Feldman won their respective championships at 61kg and 125kg. Incoming freshman Jesse Mendez finished third in the Senior Freestyle competition at 61kg.
In the Senior Greco-Roman, Ohio State redshirt senior Tate Orndorff took third at 130kg with a 4-1 record. He will return to the Buckeyes lineup next season at the heavyweight position. Ohio State redshirt junior Sammy Sasso finished fifth in the 70kg freestyle and will return to wrestle at 149 pounds in 2022-23.
Dylan Koontz also represented Ohio State at the U.S. Open. He placed third overall in the Senior Greco-Roman 60kg bracket after recording a 3-1 record. He has one additional year of eligibility at 125 pounds if he chooses to return to Columbus next season.
RESULTS
Senior Greco-Roman
60kg Bracket
60kg | Dylan Koontz lost in the semifinals to Ildar Hafizov (Army (WCAP) | VSU, 8-0 1:36
Koontz was 4-1 in the tournament, winning the third-place bout over Mitchel Brown (AFRTC)
77kg Bracket
77kg | Fritz Schierl lost in the quarterfinals to Alec Ortiz (Minnesota Storm) | VPO1, 6-2
After an opening-round "bye," Schierl was 1-2 in the tournament.
130kg Bracket
130kg | Tate Orndorff lost in the semifinals to Cohlton Schultz (SKWC) | VSU, 8-0
Orndorff finished 4-1, taking third place overall
Senior Freestyle
65kg Bracket
65kg | Jordan Decatur lost to Patricio Lugo (HWC/TMWC)) | VPO1, 14-8
Decatur finished with a 2-2 record in the tournament.
70kg Bracket
70kg | Sammy Sasso lost in the quarterfinals to Jordan Oliver (SKWC) | VPO1, 7-1
Sasso finished fifth overall with a 4-2 after an opening-round "bye."
125kg Bracket
125kg | Tate Orndorff lost in round of 16 to W. Hendrickson (AFRTC) | VPO1, 16-11
Orndorff finished 1-2 in the event.
U20 Freestyle
57kg Bracket
57kg | Andre Gonzales lost in the finals to Troy Spratley (Texas Pride Wrestling Club), VP0, 9-0
Gonzales finished second overall with a 4-1 record.
61kg Bracket
61kg | Alex Flerlage lost in the round of 32 to K. Junnigan (PRTC) | VSU, 10-0
Flerlage finished 1-2 in the event
74kg Bracket
74kg | Bryce Hepner lost in the round of 32 to Alex Facundo (NLWC) | VCU, 11-0 5:37
Hepner finished 1-2 at the tournament.
Future Buckeyes
U20 Freestyle
U20 61kg Bracket
61kg | Nic Bouzakis won the U20 61kg Freestyle title over Dylan Chappell (BVRTC) | VSU1, 12-2 2:07
Bouzakis was 4-0 in the tournament
U20 125kg Bracket
125kg | Nicholas Feldman won the U20 125kg Freestyle title over Ryan Boersma (TSWC) |
VSU, 10-0 0:53
Feldman finished the event with a 4-0 record.
Senior Freestyle
61kg Senior Freestyle Bracket
61kg | Jesse Mendez lost to Daniel Deschazer (Gopher Wrestling Club-RTC) | VPO1, 6-5
Mendez wrestled back through the consolation bracket to finish third with a 6-1 record.