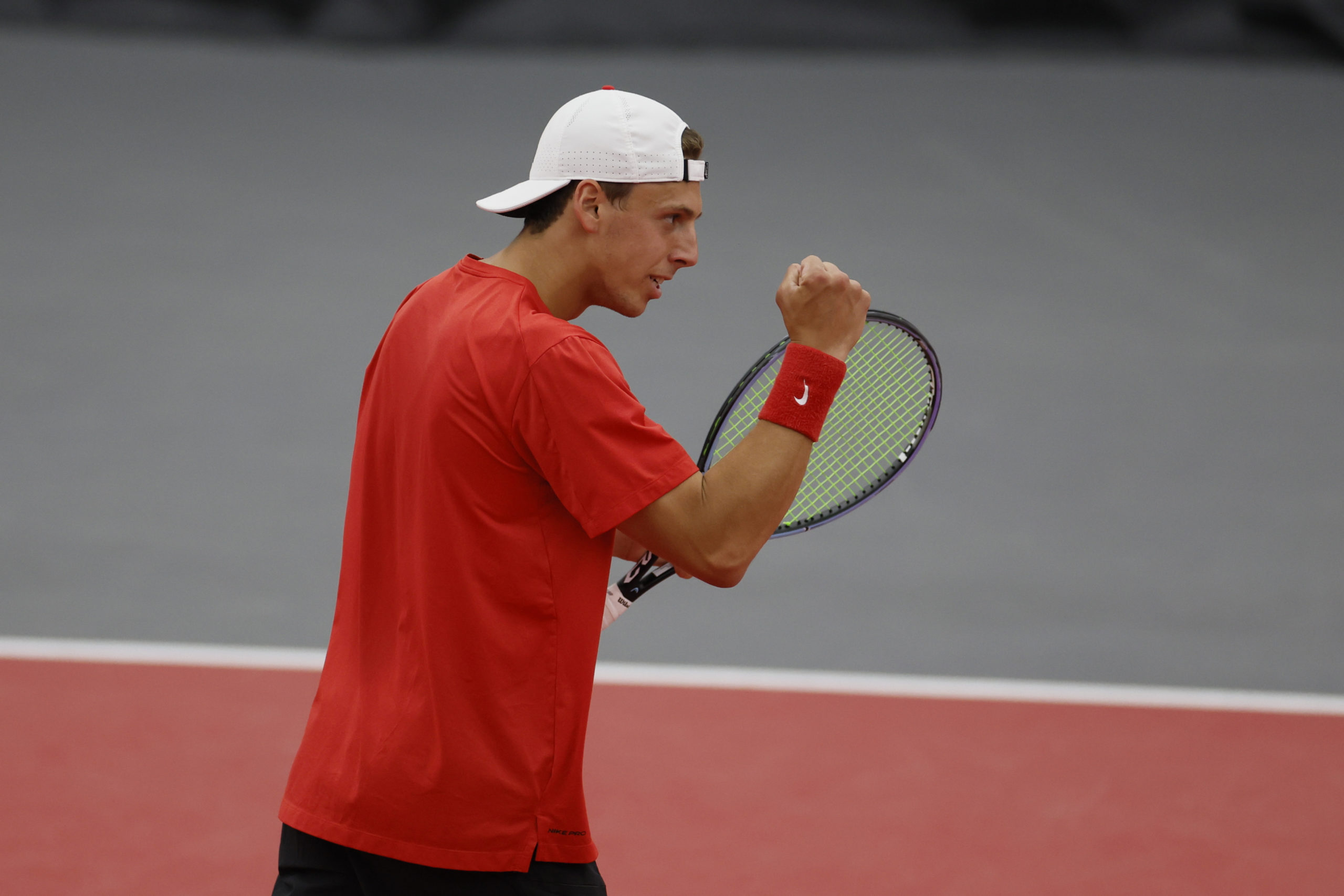 Both of Ohio State's tennis programs are making a deep run into their respective NCAA tournaments, with both teams advancing to the NCAA Super Regional this weekend.
The men dominated their first- and second-round matchups, sweeping both ETSU and Louisville, 4-0, to advance in the tournament. Against ETSU on May 6, Ohio State split the first set of doubles matches, but Cannon Kingsley and JJ Tracy responded with a 7-5 win over Dimitri Badra and Juan Lobisano to take the doubles point, and the Buckeyes dominated the remainder of the singles matches for the shutout.
Taking on the Cardinals the following day, the Buckeyes quickly secured their doubles point before taking all six singles matches, completing yet another shutout to move to 31-2 on the season. Third-seeded Ohio State will host No. 15 Arizona at the Auer Tennis Complex on Saturday at noon, with the winner to face either No. 11 Harvard or No. 6 Georgia on May 18 in the NCAA Quarterfinals.
As for the women, they dominated Xavier in their first-round matchup on May 5, earning a 4-0 win after winning the doubles point and winning three-consecutive singles matches. In the second round against Vanderbilt the next day, Ohio State dropped the doubles point but won four singles matches to secure an eventual 4-2 win over the Commodores.
"I'm just really happy for our players," said head coach Melissa Schaub. "They have worked hard and it wasn't easy after dropping the doubles point today. We came out with confidence starting singles and were able to maintain that level throughout. We are excited to get a chance to compete again."
No. 10 Ohio State will face No. 7 Stanford on Friday in Palo Alto, Calif., with the winner to play either No. 2 Texas A&M or No. 15 Tennessee on May 17. The Buckeyes will also see two players – Irinia Cantos Siemers and Sydni Ratliff – compete as at-large selections in the 2023 NCAA Singles Championships from May 22-27 at the USTA National Campus in Orlando, Fla.
Softball Walks-Off Rutgers In Big Ten Tournament
Ohio State saw a dramatic ending to the team's opening-round matchup in the Big Ten Softball Tournament on Wednesday, as the sixth-seeded Buckeyes picked up a 7-4 win over No. 11 Rutgers off a walk-off, three-run home run from senior Sam Hackenbracht.
Hackenbracht finished with four hits, two home runs and drove in five of the team's seven runs against the Scarlet Knights. Ohio State will move on to play No. 3 Minnesota on Thursday at 11 a.m. on the Big Ten Network.
Prior to the game, four members of the softball team earned conference honors. Sophomore shortstop Kami Kortokrax and sophomore outfielder Melina Wilkison were named first-team All-Big Ten, while Kortokrax was also named to the conference's all-defense team, and Hackenbracht was a second-team All-Big Ten honoree. Fifth-year senior Meggie Otter was Ohio State's sportsmanship honoree.
Kortokrax has started all 51 games this season for Ohio State, and batted .338 in 23 conference games. She added four home runs and 19 RBI in conference play and has five multi-RBI games in Big Ten play. Wilkison had a .784 slugging percentage and a .430 on-base percentage with 17 RBI, while Hackenbracht led the Buckeyes with a .421 batting average in conference play.
Myers Drafted Into Premier Lacrosse League
Former Ohio State men's lacrosse attacker Jack Myers was selected with the No. 20 overall pick in the 2023 Premier Lacrosse League College Draft on Tuesday by the Chrome Lacrosse Club, joining Ohio State alumni Jesse King and Ryan Terefenko.
Myers, who recently completed his fifth and final season with Ohio State, led the Buckeyes with 42 points this past season, adding 20 goals and a team-high 22 assists. He had 11 multi-point games and notched a team-high nine points in the season-opening win over Air Force.
He finished his Ohio State career with 236 points – 121 goals and 115 assists. He is just the third Buckeye in program history to reach 100 career assists and is only the sixth to reach 200 points.
Baseball Set For Final Home Stand
Ohio State's baseball team – holding a 24-25 overall record and a 6-15 mark in conference play as of Wednesday – is out of contention for the Big Ten Tournament, but the Buckeyes are still looking to finish the season on a positive note.
The Buckeyes began an eight-game home stand on Tuesday, picking up a 2-0 win over UCF. They saw six pitchers throw at least one inning, combining to allow just five hits and issue just two walks to seven strikeouts, while infielder Marcus Ernst and catcher Matthew Graveline each drove in a run.
Ohio State hosts Central Michigan on Wednesday, UNC Greensboro from May 12-14 and will close out the season with a three-game series against Michigan from May 18-20. The Big Ten Tournament will run in Omaha, Neb., from May 23-28 for the top-eight teams in the conference.