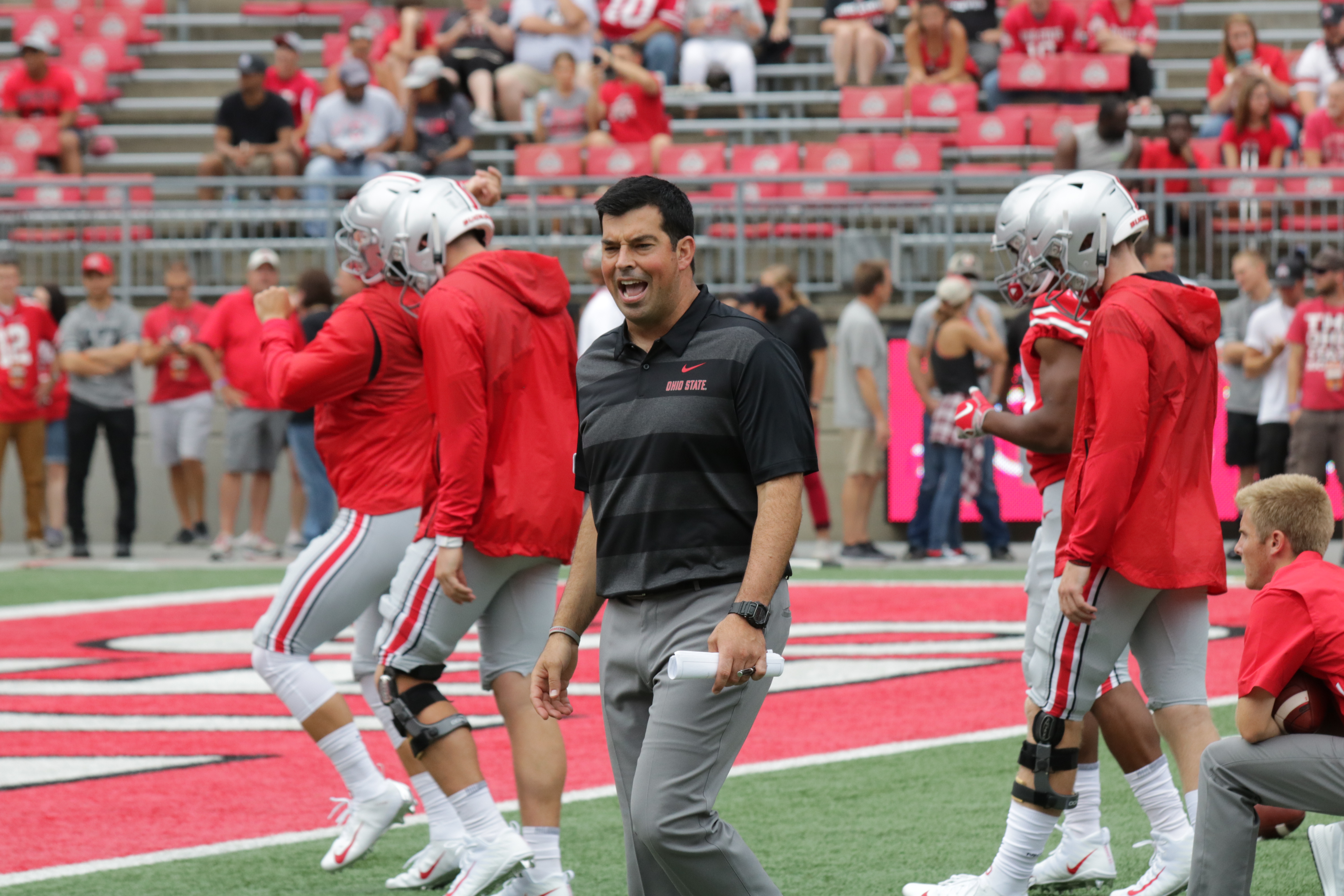 The Ohio State football team is set to open spring practice the week of March 4, marking the start of on-field preparation for Ryan Day's first season as head coach.
With camp approaching, the Buckeyes added a talented athlete at a key position of need Monday night in the form of transfer offensive lineman Jonah Jackson, who was a starter and team captain last season. The move provides a huge boost for Ohio State as Jackson will be expected to compete for – and likely win – a starting job for the 2019 season. It also added to a bit of a numbers crunch for Day and his staff as the Buckeyes will be at 87 scholarship players when Jackson arrives the summer as things stand.
The numbers isn't staggering – Ohio State has to be at 85 scholarship players for the start of fall camp to comply with NCAA rules – but it means there will need to be at least two changes to the roster by that time. That could be in the form of another transfer – Tate Martell (Miami) and Keandre Jones (Maryland) have already left this year – or a potential medical waiver. There's also the possibility that a former walk-on like offensive lineman Kevin Woidke, who was recently placed on scholarship, could return to walk-on status for the fall.
The move to add Jackson was still key for the Buckeyes. Departures during the spring are common and could become even more prevalent going forward with the NCAA's new transfer rules, which are much more player friendly, including the establishment of the transfer portal. Ohio State has already added two players through the portal – Jackson and quarterback Justin Fields from Georgia – in addition to losing Martell, Jones and walk-on quarterback Kory Curtis (Bryant University).
Adding depth at offensive line was a top priority for Day's staff over the past two months since he took over for Urban Meyer. Before the addition of Jackson, the Buckeyes had just 14 scholarship linemen for this year, including Woidke and not-yet-enrolled freshmen Harry Miller, Enokk Vimahi and Dawand Jones.
The Buckeyes could still be in the market for another quarterback as well with just three scholarship players on the roster right now – Fields, redshirt freshman Matthew Baldwin and fifth-year senior Chris Chugunov, a former West Virginia transfer. Adding another signal caller would be important for depth reasons, but would lead to the need for a third departure before fall camp.
As always, the numbers crunch will be an ongoing storyline until the roster is set for the 2019 Buckeyes. Ohio State's full scholarship chart can be found below.
POS
C/O 2017
C/O 2018
C/O 2019
C/O 2020
C/O 2021
C/O 2022
C/O 2023
*QB*
GEBBIA
-
–
-
MCCORD
BROWN (RS)
KIENHOLZ
*RB*
-
-
-
M. WILLIAMS (RS)
HENDERSON
PRYOR (RS)
HAYDEN
-
*WR*
-
X. JOHNSON (RS)
-
FLEMING
BALLARD (RS)
EGBUKA
HARRISON
ANTWI
GRAYES (RS)
INNISS
RODGERS
ROGERS
TATE
*TE*
-
-
STOVER (RS)
ROYER (RS)
SCOTT
HART (RS)
CHRISTIAN (RS)
THURMAN
*OL*
-
M. JONES (RS)

CUTLER (RS)
VIMAHI (RS)
FRYAR (RS)
JAMES (RS)
LEROUX (RS)
JACKSON
MICHALSKI (RS)
SIMMONS
FITZPATRICK (RS)
HINZMAN (RS)
TSHABOLA (RS)
MONTGOMERY
PADILLA
SIEREVELD
WALKER
*DE*
-
-
-
MELTON (RS)
SAWYER
TUIMOLOAU
ABOR (RS)
CURRY
JACKSON (RS)
MICKENS
MOORE
*DT*
-
-
MCKENZIE (RS)
HAMILTON (RS)
HALL (RS)
MALONE (RS)
T. WILLIAMS
KANU (RS)
MCDONALD
SMITH JR.

*LB*
-
-
CHAMBERS (RS)
EICHENBERG (RS)
SIMON
TRAYANUM
CARRICO (RS)
HICKS
POWERS (RS)
REESE
*CB*
-
-
–
-
BURKE
HANCOCK
BROWN
IGBONUSIN
TURNER (RS)
MATHEWS
SIMPSON-HUNT
*S*
-
PROCTOR

-
CARTER
MARTINEZ (RS)
RANSOM
K. WILLIAMS (RS)
-
STOKES
STYLES
BONSU
HARTFORD
HAWKINS
*K*
-
–
-
LEWIS (RS)
–
–
-
*P*
-
–
–
–
MIRCO
–
-
*LS*
-
–
–
–
FERLMANN (RS)
–
-
*TOTALS*
1
4
6
16
18
20
20