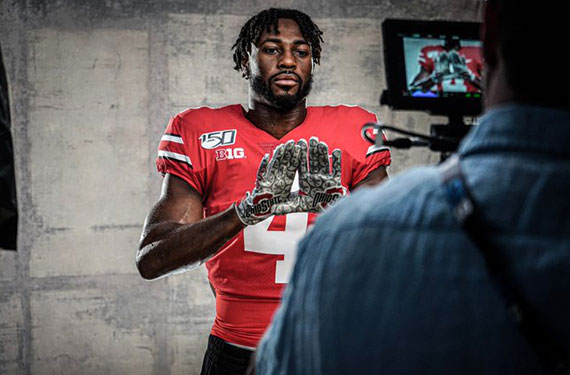 As our Andrew Lind first reported last fall, Ohio State — along with every other FBS and FCS school — will wear a uniform patch during the upcoming season to celebrate college football's 150th anniversary.
And while we've known for months what the patch will look like, we finally got a glimpse of it on the Buckeyes' actual uniforms from a photoshoot at Big Ten Media Days on Friday morning.
💪 Buckeyes in uniform? Can't think of a better way to get hype about fall❗️

Day ✌️of #B1GMediaDays is underway. More from Chicago at https://t.co/AkyTA4KD2L#GoBucks pic.twitter.com/rDUOEw22hh

— Ohio State Buckeyes (@OhioStAthletics) July 19, 2019
Ohio State wore a similar uniform patch in 1994 to celebrate the 125th anniversary of the Nov. 6, 1869, game between Rutgers and Princeton. Not every team was required to do so that season, however.
The recommended location of the CFB150 patch is on the right chest above the conference logo, though not every team has followed that. Teams in Division II and III, as well as the NAIA and junior college levels, will wear a helmet decal, meanwhile.
Here's a mockup of what it will look like on Ohio State's home, road and black alternate uniforms:
Like every other FBS and FCS school, Ohio State will wear a uniform patch during the 2019 season to celebrate the 150th anniversary of college football's first game: pic.twitter.com/dwApHnCgOW

— Ohio State Uniforms (@OSUniforms) June 25, 2019