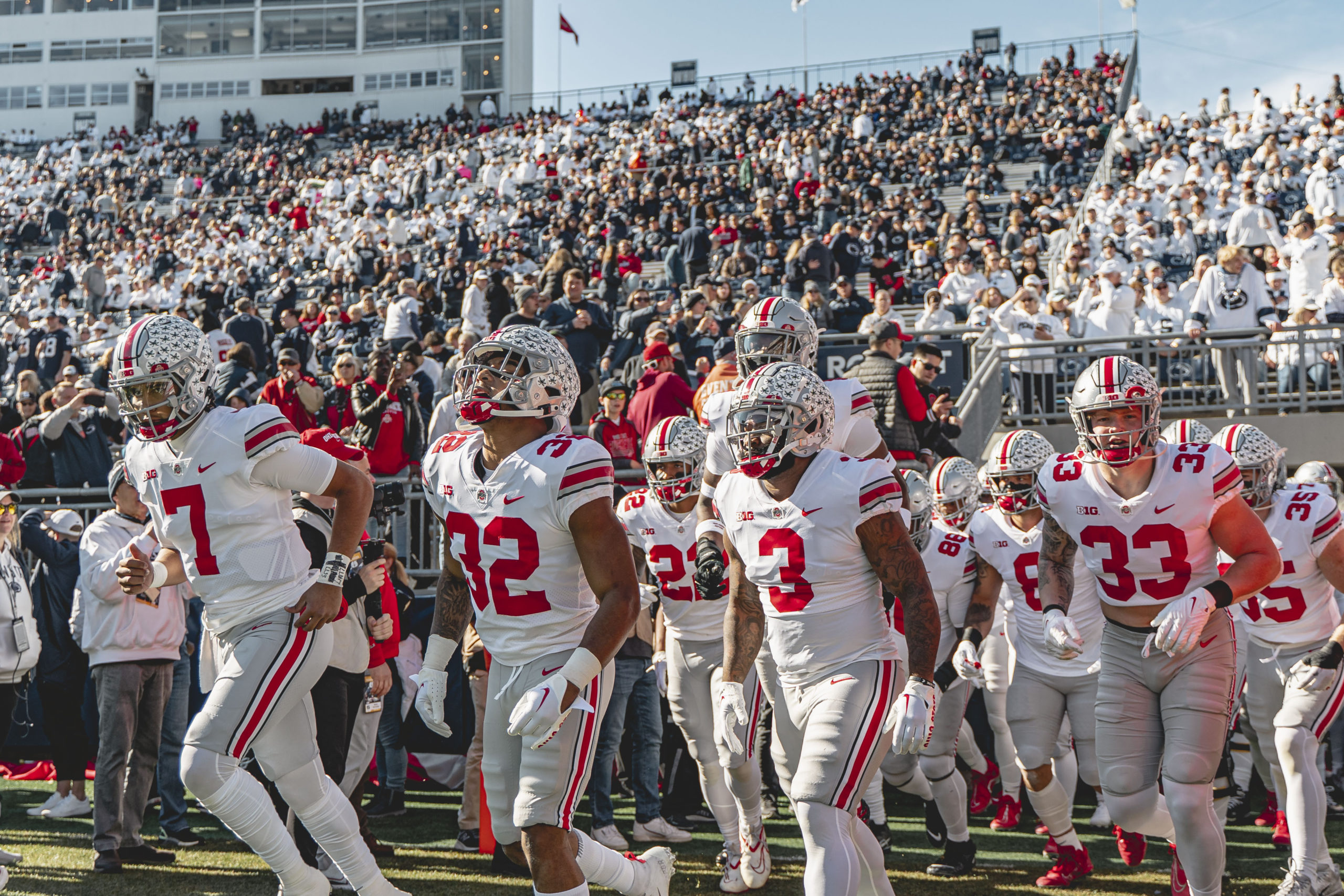 After taking down then-No. 13 Penn State 44-31 at Beaver Stadium on Saturday, Ohio State remained at No. 2 in the most recent Associated Press rankings. However, the Buckeyes share the second spot with Tennessee — who is coming off a 44-6 win over then-No. 19 Kentucky 44-6.
Georgia remained at No. 1, collecting 1,528 points while garnering 30 first-place votes. The Buckeyes and Volunteers each followed, amassing 1,500 points with Tennesee carrying a slight edge in first-place votes with 18 compared to OSU's 15. Michigan and Clemson rounded out the top five, while No. 6 Alabama, No. 7 TCU, No. 8 Oregon, No. 9 USC and No. 10 UCLA completed the top 10.
While Ohio State and Michigan checked in as top-five teams, No. 14 Illinois and No. 16 Penn State also represented the Big Ten. The Fighting Illini rose three spots after taking down Nebraska 26-9 while the Nittany Lions fell three positions after the loss to Ohio State at home.
The highest riser was Kansas State, which rose nine spots to No. 13 after blowing out then-No. 9 Oklahoma State 48-0 — causing the Cowboys to drop nine spots to No. 18. Despite the large fall from Oklahoma State, it was outdone by Wake Forest — which fell 10 slots to No. 20 after a 48-21 loss to Louisville.
| | | | |
| --- | --- | --- | --- |
| Ranking | Team | Points | Change |
| No. 1 | Georgia (8-0) | 1,528 (30) | N/A |
| T-No. 2 | Ohio State (8-0) | 1,500 (15) | N/A |
| T-No. 2 | Tennessee (8-0) | 1,500 (18) | +1 |
| No. 4 | Michigan (8-0) | 1,378 | N/A |
| No. 5 | Clemson (8-0) | 1,312 | N/A |
| No. 6 | Alabama (7-1) | 1,258 | N/A |
| No. 7 | TCU (8-0) | 1,220 | N/A |
| No. 8 | Oregon (7-1) | 1,135 | N/A |
| No. 9 | USC (7-1) | 1,010 | +1 |
| No. 10 | UCLA (7-1) | 979 | +2 |
| No. 11 | Mississippi (8-1) | 905 | +4 |
| No. 12 | Utah (6-2) | 876 | +2 |
| No. 13 | Kansas State (6-2) | 772 | +9 |
| No. 14 | Illinois (7-1) | 741 | +3 |
| No. 15 | LSU (6-2) | 679 | +3 |
| No. 16 | Penn State (6-2) | 641 | -3 |
| No. 17 | North Carolina (7-1) | 542 | +4 |
| No. 18 | Oklahoma State (6-2) | 513 | -9 |
| No. 19 | Tulane (7-1) | 455 | +4 |
| No. 20 | Wake Forest (6-2) | 388 | -10 |
| No. 21 | North Carolina State (6-2) | 285 | +3 |
| No. 22 | Syracuse (6-2) | 205 | -6 |
| No. 23 | Liberty (7-1) | 136 | N/A |
| No. 24 | Oregon State (6-2) | 129 | N/A |
| No. 25 | UCF (6-2) | 111 | N/A |